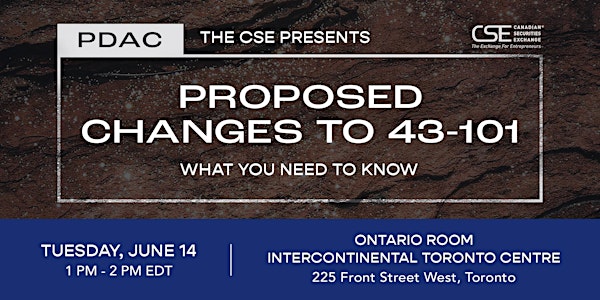 Proposed Changes to 43-101: What You Need to Know
The CSE is excited to host Proposed Changes to 43-101: What You Need to Know, taking place on June 14 during PDAC.
When and where
Location
Ontario Room, Intercontinental Toronto Centre 225 Front Street West Toronto, ON M5V 2X3 Canada
About this event
The CSE is thrilled to host our exclusive event, Proposed Changes to 43-101: What You Need to Know, taking place on June 14, 2022 from 1:00-2:00 PM EDT at the InterContinental Toronto Centre.
Stay at the forefront of the proposed changes to the 43-101 legislation that will have an impact on your mining company and better prepare your required comments.
Following the PDAC Investor Luncheon, the CSE's Anna Serin will be joined by the CSE's Listings Manager and In-House Geologist, Darcy Krohman, and Alixe Cormick, a lawyer at Venture Law Corporation, to discuss the changes during this one-hour panel.
Tickets to this event are limited and admission is on a first come, first served basis. Secure your spot by registering now.
We hope to see you there!
_________________________________________________________________
Alixe Cormick, Founder & Public Company Lawyer
Venture Law Corporation
Alixe Cormick is the founder of Venture Law Corporation. She concentrates her legal practice in the areas of public company listings, mergers and acquisitions, and secondary and exempt market financings. Alixe has assisted over 150 companies listing on stock exchanges and trading boards in North America. She has also assisted in the sale of over 100 private issuers.
She is on the advisory board of the National Crowdfunding Association of Canada and the commercialization advisory board of the Life Science Institute of British Columbia. She is also on the advisory board of two private tech companies. She is an active angel investor and a member of Vancouver Angel Technology Network and Pacific Northwest Keiretsu Forum. Alixe regularly speaks on regulatory reform, raising capital, and going public at conferences in Asia and North America.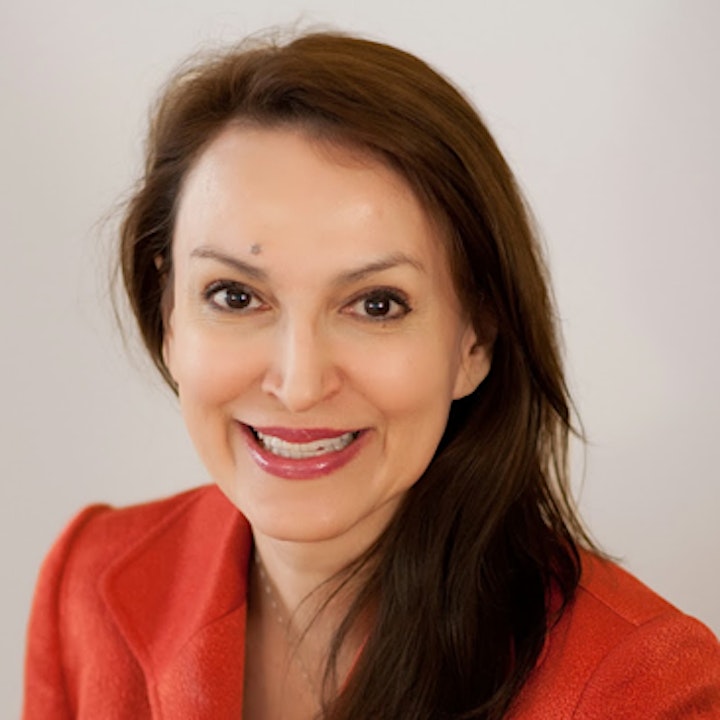 _________________________________________________________________
Darcy Krohman, CSE's Listings Manager and In-House Geologist
Canadian Securities Exchange
Darcy Krohman is a Professional Geoscientist and Chartered Professional Accountant (CPA, CA) with over 40 years of experience in the mining and mineral exploration industries. He's held positions and/or offices of geologist, mining analyst, securities analyst, exchange listings manager, Chief Executive Officer, Chief Financial Officer and VP Exploration and has been a Director and/or Qualified Person for several public mining companies. He has extensive experience having worked in numerous domestic and foreign jurisdictions in North, South & Central America, Europe, Australia, South Asia, the Caribbean and the South Pacific.
Mr. Krohman was previously a Senior Securities Analyst and Geologist with the British Columbia Securities Commission and was an integral member of the BCSC team responsible for the initial drafting of National Instrument 43-101 – Standards of Disclosure for Mineral Projects. He is currently a Listing Manager and Geologist with the Canadian Securities Exchange and is an observer member of the joint CSA – CIM, Mining Technical Advisory and Monitoring Committee.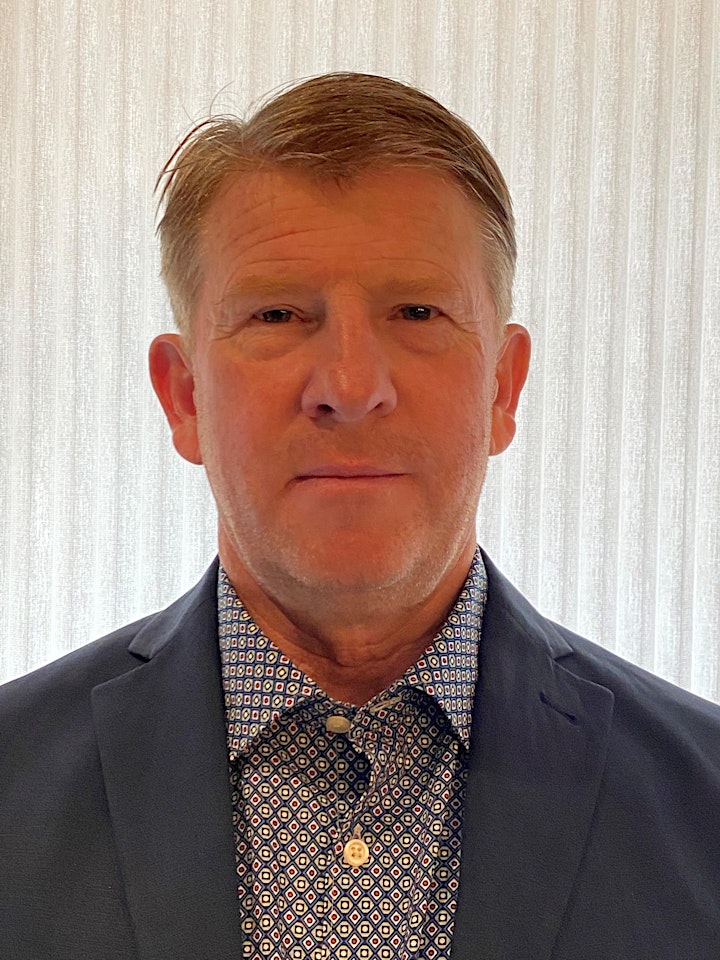 _________________________________________________________________
Anna Serin, Director, Listings Development Western Canada / US and Vancouver Branch Lead
Canadian Securities Exchange
Anna Serin has 20 years of experience in securities and corporate finance. She has an unwavering passion, perseverance and commitment to the capital markets and investment industry. She joined as Director of Listings Development with the Canadian Securities Exchange in 2016 and focuses on many areas of business and professional development initiatives within the community. Anna has worked with public companies providing all of their corporate and restructuring needs in the small cap space.