Prospecting For Geniuses ... at Things Other Than Prospecting
Refund Policy
Contact the organizer to request a refund.
Description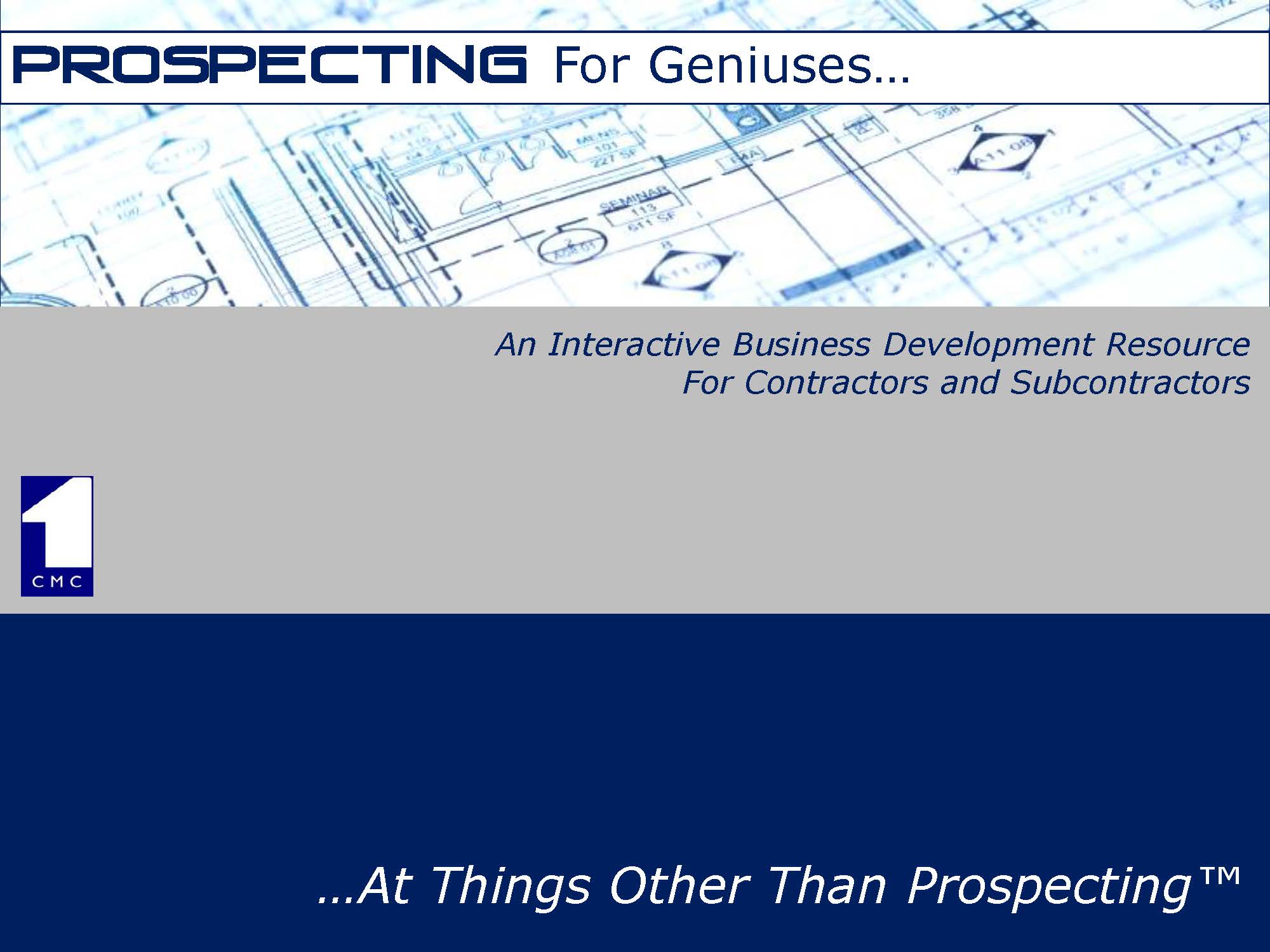 A one of a kind -- Interactive business development solution
created for the A/E/C marketplace
We have all heard of the famous "For Dummies . . . " seires of books: such as Wine Tasting, Personal Financing, Raising Chickens, etc. for Dummies.
Well, we don't work with dummies.
Our clients are extremely talented at their core offering but many are not as skilled at sales and marketing, which is why we created our For Geniuses™ series.
Each module is an interactive solution for the busy executive who knows that buying a book alone is not likely a workable solution.
In this program, at the comfort of your desk, via a webconnection, Bobby Darnell will walk you through step by step, in a live, interactive session.
You will learn techniques for prospecting that will move you forward to closing without cold calling.
You will learn how I was able to:

Get a one-on-one meeting with the now CEO of the Home Depot;

Get my client a web presentation with eight decision-makers at Wal-mart.

Get a one-on-one teleconference with the CEO of an international building product manufacturing company . . .
without making one phone call.
You will learn:
How to increase your prospecting efforts by at least five-fold;

How to develop a near 'autopilot' approach to reaching new prospects;

How to use our proven templates for a soflt approach;

Contact mining and storage and why this is extremely important;

How to get others to help you find the best point of contact;

How to differentiate your approach from others;

Why Memorial Day, Independence Day and Labor Day are your friends;

How social media is more than just the latest buzzword;

How 'posturing' can make you easier to find than your competitor;
My first job out of college was with CMD - Construction Market Data, (Now called Reed Construction Data) a company that produced construction information that primarily served as project leads for its subscribers.

At that time, I thought I wanted to go into finance, investment planning and eventually become a CFP. My attitude upon taking the job at CMD was, "Well, I will work here until I find something I like. Apart from family and friends, my 13 years at CMD turned out to be one of the biggest blessings of my life.

At CMD I eventually became responsible for training all the researchers and
sales teams on our data collection methods, data standards, how we developed relationships with architects, engineers, developers, building owners, etc.

My final two years I worked with our National Sales team in helping our
large data customers understand and effectively use those leads for building newbusiness.

With the sale of CMD in 2001 came new opportunities and the question became...what next?


My goal was to take some time off, play a lot of golf and do 'nothing' for at least a month. That lasted two days. I then started poking around company websites, looking for ideas for a new career.

I believed that I understood data so I ventured to the website of the largest business data company I knew of, searched until I found some names and email addresses and sent them a cover letter and my resume.
About a week later, I got a reply.

They wanted to talk to me about a consulting gig for one of their companies that had hit a revenue plateau. My next move was to my local bookstore where I purchased a copy of 'Getting Started in Consulting' by Alan Weiss.
I put together my proposal, they accepted and then I was off to New York for a week, my first paid consulting job. After that, I was hooked and as they say, the rest is history.
We built Construction Market Consultants on the foundation of our unapologetic passion for business and the free-market system.

Helping companies build their business has proven the old adage true that if
you find a job you love, you will never work again the rest of your life. If you have a question, give me a buzz, I love talking shop.
Satisfaction 100 per cent guaranteed