Location
Kingbridge Centre
12750 Jane Street
King City, ON L7B 1A3
Canada
Refund policy
Contact the organizer to request a refund.
Eventbrite's fee is nonrefundable.
We are very excited to announce Canada's ONLY Prosperity and Wellness Retreat taking place at the breathtaking Kingsbridge Centre!
About this event
A day devoted to deepening your understanding of the connection between mind, body and spirit through yoga and numerous other wellness practices - paired with powerful financial insights and a harmonious wealth creation workshop. Elevate your wellness and wealth, body and bank account!
Release the weight of the last few years and step into a new phase of hope, abundance, and positive momentum.
Arrive at the incredible, secluded forest setting of the Kingsbridge Centre for an unforgettable day of physical, intellectual, emotional and spiritual growth. Follow our set schedule, or customize the day by combining it with hiking, relaxing by the fire or simply enjoying the scenery.
If you follow the set agenda, we invite you to start the day with a powerful meditation focused on cultivating self-love, abundance and clarity.
Next, enjoy a music-infused Hatcha Yoga taught by an experienced, fun and inspiring instructor. Open your mind and heart to discover your unconscious -beliefs about money and how you can shift them if they don't serve you. Enjoy building new relationships over a delicious lunch before you are led on a journey into the principles of harmonious wealth creation led by an experienced yogi and a financial planner. Allow us next to guide you through an introduction to Tapping or EFT (Emotional Freedom Technique), a powerful stress relief technique used to treat anxiety, depression, stress and phobias. Yoga, followed by a closing sound bath and meditation.
The day would not be completed without time to connect by the fire or simply share what you experienced during the day while taking in the beautiful grounds.
Every element has been carefully designed to create an experience of community, love and abundance.
You'll leave deeply refreshed with a sense of renewal and love.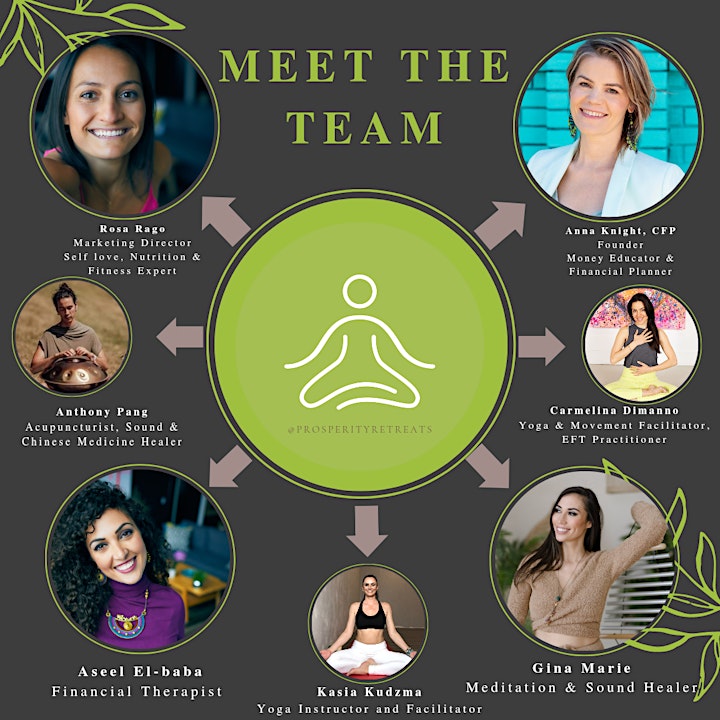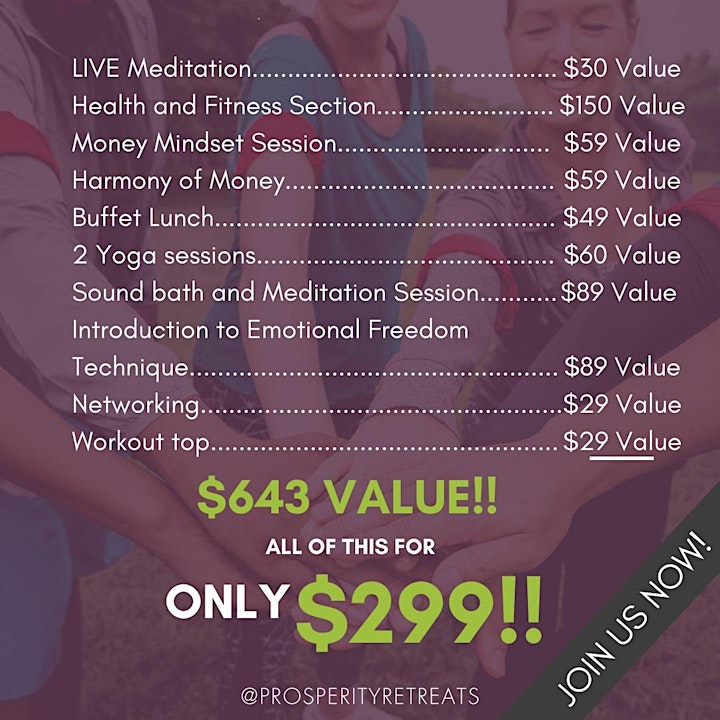 This is Canada's ONLY retreat where you will experience radical wellness, mindset & money transformation in one day, delivered to you by the very best minds in wellness, spirituality, psychology and financial planning.
Space is limited, so get your ticket today.
PRICE: $299 FULL RETREAT, with PROMO of 2 tickets for $499 until August 31st
Our retreat includes:
Full Day Retreat As per Agenda
Hot Lunch
Copy of "The Million Dollar Difference" book OR Copy of your own "Financial Wellness Journal"
Outdoor Activities (full use of Kingsbridge Centre for the Day - nature walks, outdoor swimming pool)
Welcome Gift Bag
Please bring your YOGA MAT
To purchase a group of tickets, please contact us at info@prosperityretreats.com
The team behind the Prosperity and Wellness Retreat is made up of seasoned professionals in finance, financial psychology, wellness and event marketing and production. On average each team member has around 18 years of experience in their respective field.
Our events are intended to open a new conversation around wealth building and support you in adopting a fresh, holistic yet FUN way to build wealth and health.
Our team comprises:
Anna Knight, CFP - Founder/Financial Planner, Author, Money Educator & Owner, Simplicity Financial - www.simplicityfinancial.ca
Jameel Brown - Co-Founder/Owner, DotSixProductions - www.dotsixproductions.com
Vic Jagmohan: Owner, National Credit Canada - www.nationalcredithelp.ca
Asee El-Baba: Financial Therapist, Holistic Optimal Wealth www.holisticoptimalwealth.com
Gina Marie: Coach & Occupational Therapist - ginamarie.ca
Anthony Pang: practitioner of the Healing Arts - @AnthonyWellness
Carmelinda DiMallo; Wellness Event & Retreat Producer, Yoga & Movement Facilitator, Conscious Dj & EFT - www.carmelindadimanno.com
Kasia Kudzma, Yoga by Kasia - @yogawithkasia
Rosa Rago: Self Love Expert - - www.iamrosarago.com