PROTECTING BLASPHEMERS is an annual major event of CFI Canada, hosted by the Victoria branch, honoring the blasphemers of the year."
About this event
Protecting Blasphemers is an annual panel discussion highlighting the most recent blasphemy issues of the year. We aim to discover the areas where the global secular community needs to do progress in terms of building support mechanisms to protect blasphemers running from persecution all around the world.
This year's event is in loving memory of Tom Flynn of the Center for Inquiry. Don't miss this event, as the video footage is not public until the next year's event.
Protecting Blasphemers III panel will be held on Zoom on December 14th, 2021, Tuesday at 2pm PST. The event is projected to take 2 hours. This year's speakers are; Founder of the Refugee Relief Rana Ahmad, President of Center for Inquiry USA Robyn Blumner, President of Atheist Alliance International Dr. Howard Burman, President of Atheist Republic Susanna McIntyre, and your host Human Rights Chair of Centre for Inquiry Canada Onur Romano.
We rely entirely on donations and memberships to allow us to bring you events such as this. Please become a member or make a donation. This is a free event; we ask that people pay what they can. Your donations support the work of Centre for Inquiry Canada, and help us to bring you more events like this. CFIC is a registered educational charity; tax receipts will be provided for donations of $20 or more.
To join CFIC family: https://centreforinquiry.ca/membership/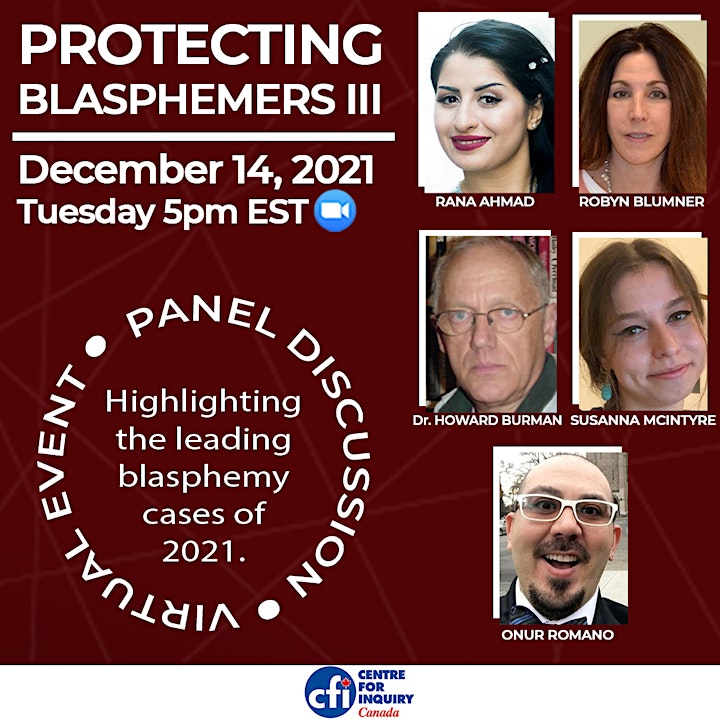 Organizer of Protecting Blasphemers III