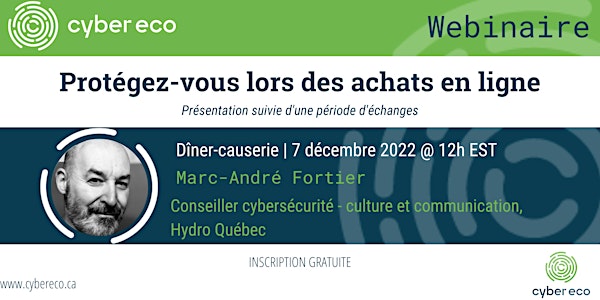 Protégez-vous lors des achats en ligne
Cybereco vous invite au webinaire sur les achats en ligne pour échanger avec Marc-André Fortier.
About this event
Le magasinage en ligne a rendu l'achat d'articles de partout dans le monde plus facile que de se rendre en magasin. Malgré l'attrait de pouvoir faire vos achats depuis le confort de son chez soi, vous devez toujours avoir votre cybersécurité à l'esprit et rester à l'affut des cyber attaques et fraudes potentielles.
Afin de mieux vous outiller à faire vos transactions de façon sécuritaire, Cybereco vous invite à son midi causerie sur le thème des achats en ligne. Ce webinaire vous permettra d'identifier les différents risques associés à l'achat en ligne et vous présentera des façons de mitiger ces risques.
Conférencier: Marc-André Fortier, Conseiller cybersécurité : culture et communication- Hydro Québec.
*****************************************************************************************************************
Online shopping has made it easier to buy items from around the world than going to the store. Despite the appeal of shopping from the comfort of your own home, you should always keep your cyber security in mind and be on the lookout for potential cyber attacks and fraud.
In order to better equip you to make your transactions in a secure manner, Cybereco invites you to its lunchtime seminar on the theme of online purchases. This webinar will allow you to identify the various risks associated with online purchases and will present ways to mitigate these risks. Speaker: Marc-André Fortier, Cybersecurity Advisor: Culture and communication - Hydro Québec.