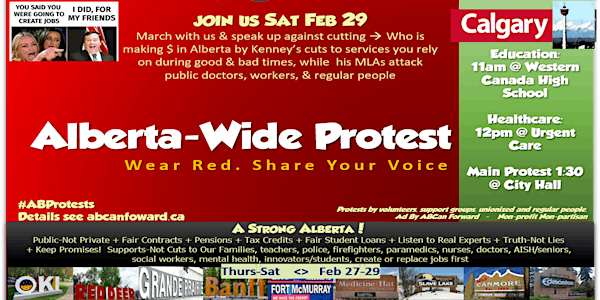 Protest Alberta Wide > YYC +Others Feb 29/ YEG Feb 29>Better Gov't/Budget
Event Information
Location
Legislature Building
10800 97 Avenue Northwest
Edmonton, AB T5K 2B6
Canada
Mega-Protest Alberta-Wide >Better Gov't & Budget! YEG 4pm Feb 27 / YYC 11am Feb 29 / Detailed Schedules Below #ABProtests #ABPublicUnited
About this event
Alberta-Wide Protest
>Protecting Services You Rely On – It Matters!
Wear Red. Share Your Voice
March & speak before Kenney cuts more from relied on services for massive handouts to corporations – it must end! We are just entering these woods and need everyone out. We know your provincial groups are on board while it is up to us locals to drive real change with people on the ground.
LOCATIONS Feb 27-29
Edmonton, Calgary, Lethbridge, Grande Prairie, Red Deer, Ft Mac, Medicine Hat, Slave Lake, Banff, and more
*Tickets not needed, only to plan for safety etc. Calgary Police will be there to support safety of everyone :) Maps and more will be posted soon!
_______________________________________
CALGARY:
11 AM MARCH TO CITY HALL 11am: Western Canada High School---Focus on Education / Post Secondary Education & Training Issues --> 641 17 Ave SW 12:15p: Sheldon Chumir Urgent Care---Focus on Healthcare --> 1213 4 St SW MAIN PROTEST (1:30pm) 1:30: Main Protest @City Hall --- with a focus on all major issues for public workers (unions) and Albertan needs (AISH, programs, etc.) --> Info booths at City Hall from 11-3 --> Materials, maps, and more will be posted soon --> Short Speaker list evolving --> Open-Mic at City Hall 12:30-1:15 & after 2:30 _______________________________________ SCHEDULES & DATES Thurs Feb 27 EDMONTON --> 3:30pm at Conv Centre to Legislature https://www.facebook.com/events/534141660533969/ Saturday Feb 29 CALGARY --> 11am march, main protest 1:30 City Hall https://www.facebook.com/events/550183105803155/ https://www.eventbrite.ca/e/84567950015?ref=eios Red Deer --> 1pm City Hall https://www.facebook.com/events/734914833583689/ Grande Prairie --> Noon-1:30 TBA https://www.facebook.com/events/605114083654772/ Lethbridge --> 11:30-2 TBA https://www.facebook.com/events/3307301645951676/ Fort Mac --> TBA, Noon https://www.facebook.com/events/239363467062029/ Banff/Canmore --> TBA, Noon https://www.facebook.com/events/274864970151481/ Medicine Hat --> TBA, Noon https://www.facebook.com/events/144545819953035/ ANY Rural Town & Slave Lake -->Go to the area city hall, Noon https://www.facebook.com/events/837999856623977/ For DETAILED Info As Planned & Event Schedules: https://abcanforward.ca/schedule/ OR https://www.facebook.com/pg/ABCanForward/events #ABProtests _______________________________________ WHAT TO BRING? • If you have your own signs, bring them :) • We recommend layering clothes, bring water etc. • Use your device to find chants & more: www.abcanforward.ca/ • Find an info booth at City Hall during the day to know more about your issues • Friends! • Tweet under hashtag #ABProtests or #ABPublicUnited • Wear red if you can! Red has been a colour worn to represent the passion people have for public education. To show unity on this march, everyone is invited to wear red. Let's make them not only hear us but see us coming too. --> Check on event day these sites: www.Abcanforward.ca/schedule www.Abcanforward.ca/chants www.Abcanforward.ca/issues (problem-solving based solutions) www.Abcanforward.ca/research ACCESSIBILITY/UNIQUE NEEDS • Please contact us should support be needed beyond typical downtown streets • We recommend avoiding the march for added safety if roads are unplowed or icy GOV'T / MEDIA REQUESTS • Please contact us at admin@abcanforward.ca ________________________________________ WHY A PROTEST? Did our MLAs go back and respect #pension and #tuition payers? Did they resect the #election commissioner? How about respecting you and me with honesty instead of secrets? Have they cut out the 5-star plus treatment of their buddies? How about hiring experts instead of their much less skilled friends? Investing in us? Protecting children and seniors? Our public health system? We hoped we wouldn't need this, but now we need it more than ever. We saw very little change toward good government after the fall. We hoped regular hard-working people would be working again, with innovation building and jobs returning. We hoped our premier's team would use hope instead of scaring away investment and fearmongering. We hoped Kenney would lash out at Wexit, but instead, he lashed out at #nurses, aides, #doctors, #teachers, school boards, #unions, the prime minister (while asking for money lol!) This is an opportunity for individuals across all public sector professions to unite together against the premier's relentless and ruthless sweeping cuts to what Albertans need most. Take a stand against the privatization of Alberta's public services. Since this government took office, unemployment has increased while the quality of public services in our province has decreased, and a number of our public services have made steady moves towards privatization or being eliminated entirely. Now it is ALL of Alberta together to protect the future of ourselves, our families, friends, and small businesses. Many cities over 3 days. We Are Ready. Consider this notice, MLAs of Alberta. Everyone needs a chance to develop in this province while we progressively advance together. ________________________________________ Who Are We: ABCan Forward is non-partisan, non-union while progressive and has members from all over Alberta. The protests are made of many people and groups, all concerned that our Alberta Advantage is being covertly stolen for elite friends of a small minority since the loss of what was our more balanced political system. We believe the false narratives strung together to create fear are doing much more harm in a time Alberta and our environment are changing faster than we are. Our future deserves a future. And all of us working together. The Raging Grannies, unions, non-union groups, disability and equality groups and more are participating. UCP, NDP, & other speakers may be invited, while they are not organizers. Items for a Strong Albertan Economy: Public-Not Private + Fair Contracts + Pensions + Tax Credits + Fair Student Loans + Listen to Real Experts + Truth-Not Lies + Keep Promises! Supports-Not Cuts to Our Families, teachers, police, firefighters, paramedics, nurses, doctors, AISH/seniors, social workers, mental health, innovators/students, create or replace jobs first ________________________________________ Use Hashtags #ABProtests #ABPublicUnited #MarchForWhatMatters #ABArtsMatter #FundABStudents #ProtectAlbertans #ABCanForward Some Groups Which May Represent You: #SOSAlberta #FriendsMedicare #ABFNIM #CalgarySJ #PIAlberta #RebootAB #PSACanada #CUPEAB #AUPE #UNAAB #UFCW401 #ABFed #ISTSE #HSAA #ATAAlberta #ASBA #YYCLabour #ABLabour #YYCFire #ABPeaceO #ABDoctors #ABNurses #ABTeachers #ABInnovates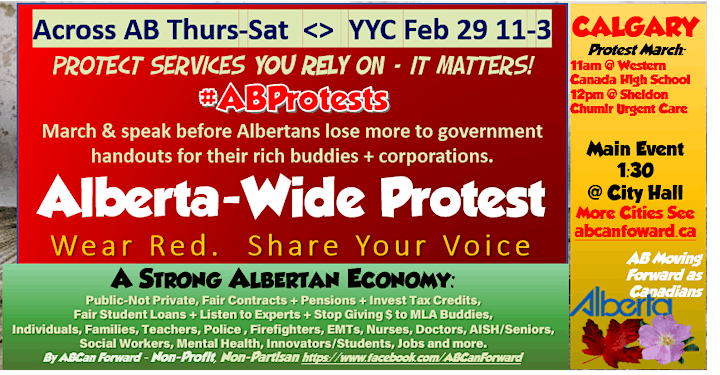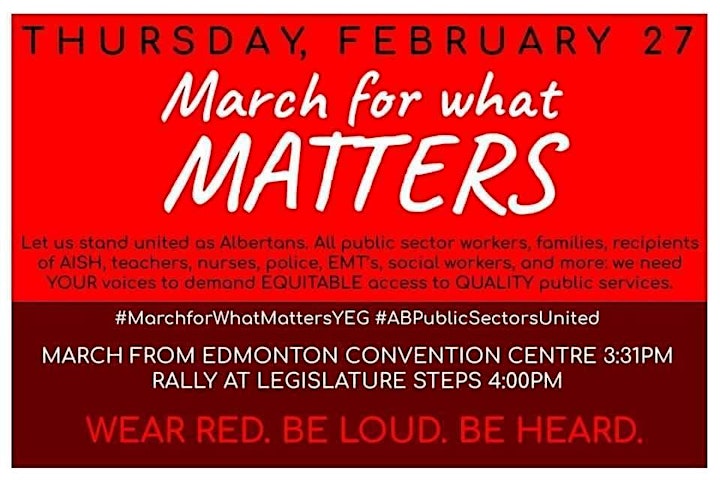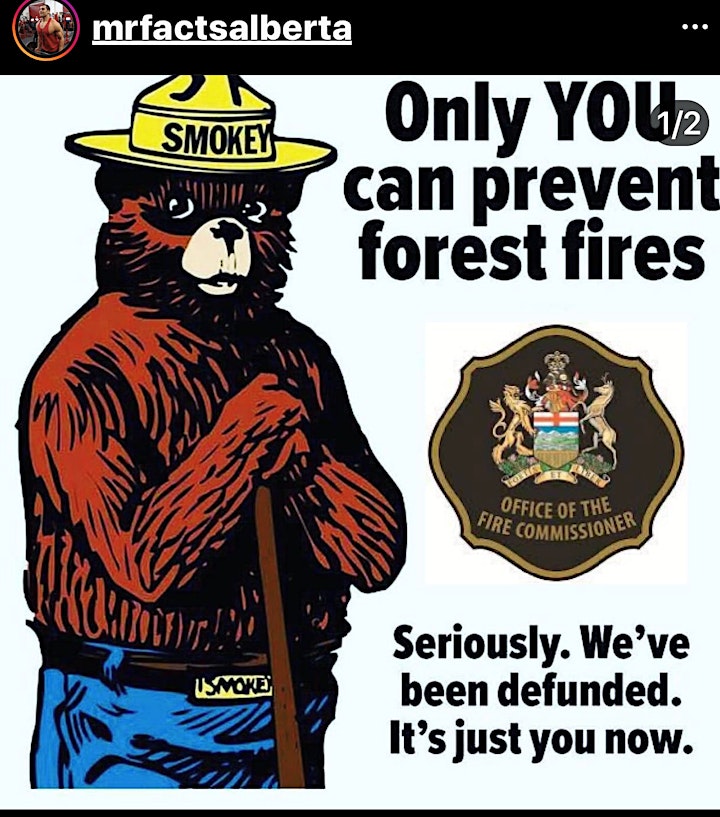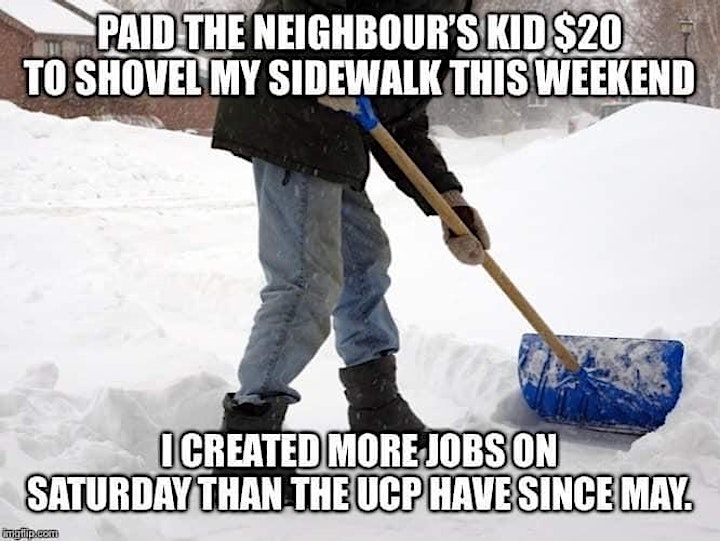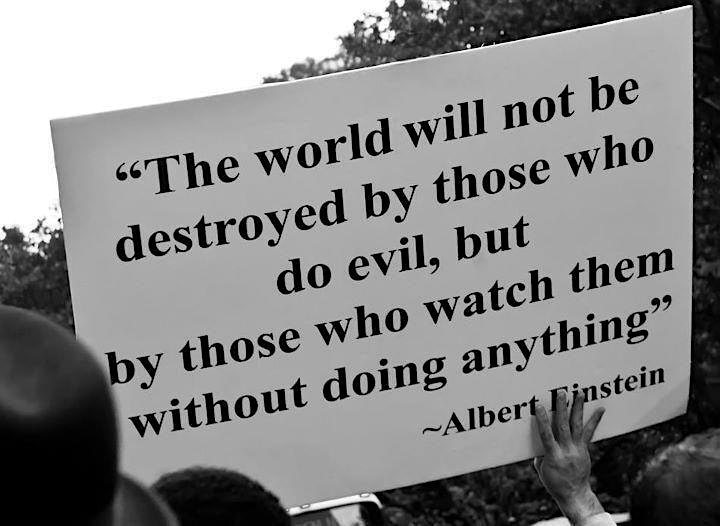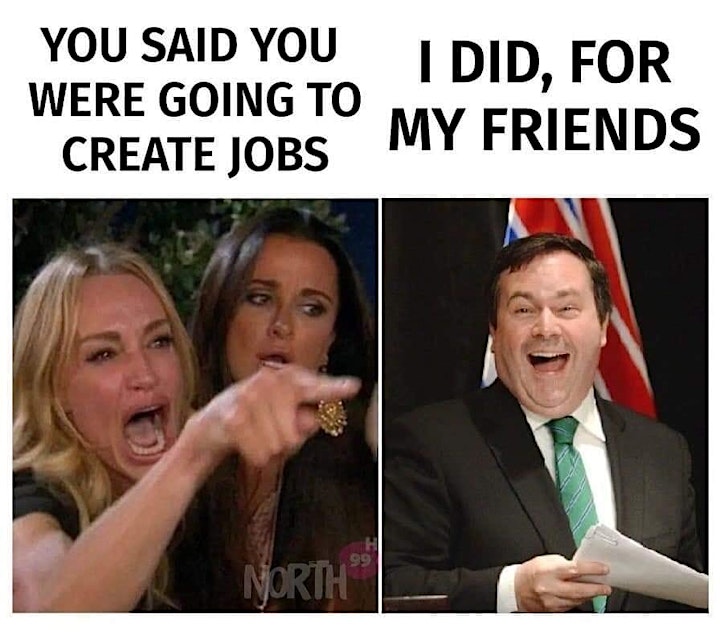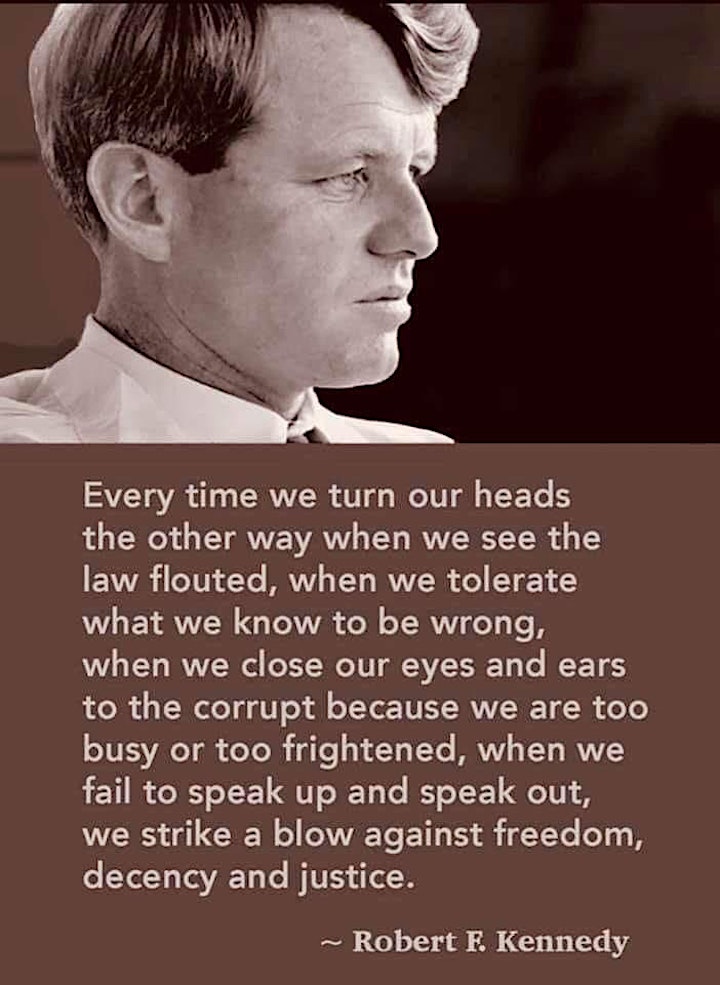 Date and time
Location
Legislature Building
10800 97 Avenue Northwest
Edmonton, AB T5K 2B6
Canada