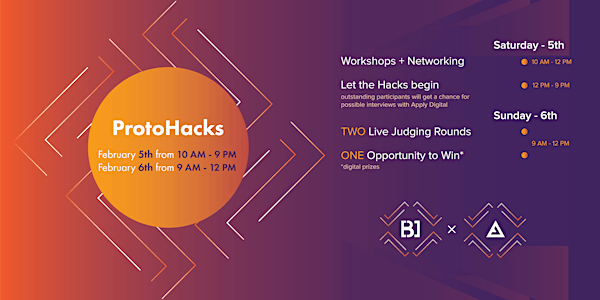 ProtoHacks
BizHacks is back with a new concept, ProtoHacks. Apply Digital is our new sponsor!
About this event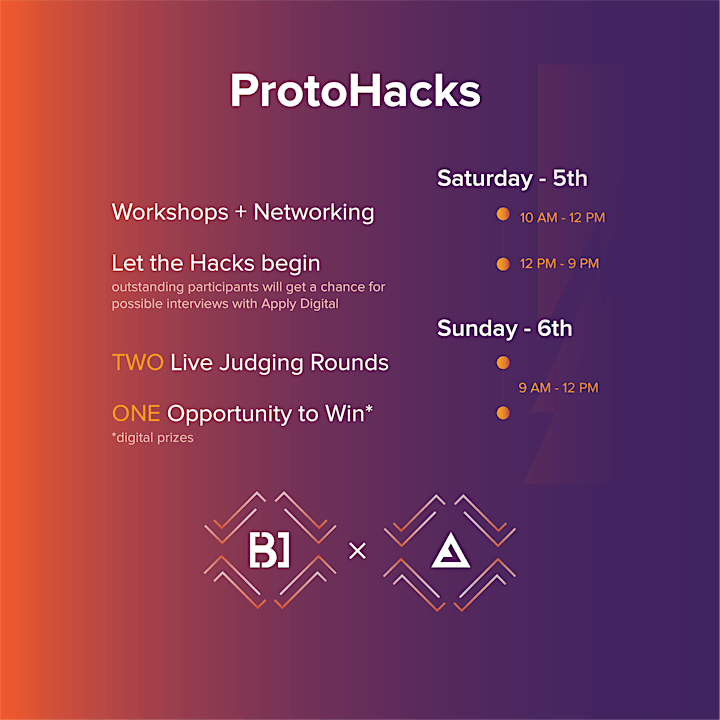 ⚡️ WELCOME TO THE ONE AND ONLY PROTOHACKS! ⚡️
New year, new goals! Bizhacks presents you with 𝗣𝗿𝗼𝘁𝗼𝗛𝗮𝗰𝗸𝘀 powered by 𝘼𝙥𝙥𝙡𝙮 𝘿𝙞𝙜𝙞𝙩𝙖𝙡!
💢 𝗣𝗿𝗼𝘁𝗼𝗛𝗮𝗰𝗸𝘀 Registration 💢
Registration : Jan 17th, 2022 - Jan 28th, 2022
Limited number of early bird and general tickets available!
"Prototyping" is an activity where teams will build a basic design or "wireframe" to show the possible solutions to solve the business problems, before investing lots of resources into the product. A lot of companies, especially in the tech industry, are encouraging teams to build prototypes, so that businesses can see the potential solutions, learn quickly of what's working and what's not working, fail quickly, and move on.
💢 𝗪𝗛𝗬 𝗦𝗛𝗢𝗨𝗟𝗗 𝗬𝗢𝗨 𝗝𝗢𝗜𝗡? 💢
If you heard about prototyping before, this event is for you to showcase your skills. If you have not heard about this concept before, it is completely fine too! This event will allow you to learn how to solve business problems using rapid prototyping skills, and at the end, sell your ideas to industry professionals!
💢 𝗪𝗛𝗘𝗡 𝗜𝗦 𝗣𝗥𝗢𝗧𝗢𝗛𝗔𝗖𝗞𝗦? 💢
𝐒𝐚𝐭𝐮𝐫𝐝𝐚𝐲, 𝐅𝐞𝐛𝐫𝐮𝐚𝐫𝐲 𝟓𝐭𝐡
Workshop + networking session (10am to 12pm)
hackathon (12pm to 9pm)
𝐒𝐮𝐧𝐝𝐚𝐲, 𝐅𝐞𝐛𝐫𝐮𝐚𝐫𝐲 𝟔𝐭𝐡
Judging - 9am - 12pm
💢 𝗛𝗢𝗪 𝗗𝗢𝗘𝗦 𝗜𝗧 𝗪𝗢𝗥𝗞? 💢
𝐑𝐞𝐚𝐥 𝐛𝐮𝐬𝐢𝐧𝐞𝐬𝐬 𝐜𝐚𝐬𝐞𝐬:
Cases will be released when the hackathon begins (February 5th, 12pm)
Multiple cases will be available. Participants are free to choose whatever case they are interested in.
𝐖𝐨𝐫𝐤𝐬𝐡𝐨𝐩 & 𝐧𝐞𝐭𝐰𝐨𝐫𝐤𝐢𝐧𝐠:
Our major sponsor Apply Digital will introduce themselves on Saturday morning. Diverse industry professionals from Apply Digital with different backgrounds such as technology, strategy, and operations will come and network with students.
𝟗 𝐡𝐨𝐮𝐫𝐬 𝐨𝐟 𝐩𝐫𝐨𝐭𝐨𝐭𝐲𝐩𝐞-𝐭𝐡𝐞𝐦𝐞𝐝 𝐡𝐚𝐜𝐤𝐚𝐭𝐡𝐨𝐧:
Teams can solve the case you select. Come up with a solution, by having design and data to back up your proposal. Successful teams should have a hybrid of business and technology focus, and understand how to deliver the most value to customers within a limited time.
After 9 hours of prototyping, all teams are required to submit their deck or demo to our platform (details TBA)
𝟐 𝐫𝐨𝐮𝐧𝐝𝐬 𝐨𝐟 𝐥𝐢𝐯𝐞 𝐣𝐮𝐝𝐠𝐢𝐧𝐠:
All teams will be back on Sunday morning to present their solutions.
Depending on the number of teams that we have, the best 5 to 10 teams will be shortlisted to the second round.
𝐓𝐨𝐩 𝟑 𝐭𝐞𝐚𝐦𝐬 will be rewarded with a prize. Participants can get potential job interviews!!
💢 WHO CAN PARTICIPATE 💢
When you register, you have two options:
1. Register as an individual and get placed into a team
2. Register with your friends in a team of 3 - 5 people.
There are a few ways to form a team if you don't have one; we will randomly assign you to a team after the registration closing date, or you may feel free to look for team members by posting on our Facebook event page or through our Discord platform. You will get the access to Discord after registration.
Simply form your team through your Eventbrite account; this can be found under the "Order Details" of your "Tickets" page. Team Captains may add members up to a maximum of 5 members! Those who do not have a team may join or form new teams.
Teams that do not have at least THREE members by the registration closing date will be randomly assigned team members.
Fun Tip: Teams that have performed well in the past have had diverse members from both technology and business backgrounds.
For more updates, follow us on Facebook and Instagram!
BizHacks Facebook page:
https://www.facebook.com/bizhacks.ca/
BizHacks Instagram page:
https://www.instagram.com/bizhacks.ca/
BizHacks Website:
https://bizhacks.ca
#eventtech #network #networking #case-competition #competition #event #technology #business #businesstech #biz #bizevent #industry #team #teamwork #work #group #canada