Project: Humanity present to you: "The Rhizome" - a festival of verbatim theatre as you've never seen it before.
About this event
Over the past 16 months, Four theatre creators (Richard Lam, Lucy Rose Coren, Alten Wilmot, and Katey Wattam) were resourced to develop work in response to the question: what does pandemic-proof verbatim theatre look like?
The result isThe Rhizome: a digital festival that takes attendees through an interactive journey through the imaginations and practices of these remarkable artists. This is a one of a kind, and unique journalistic event that brings the real-life voices of interview subjects into a virtual, live, and interactive documentary.
About the Artists and Workshops:
Richard Lam
The Candlemaker's Game is a solitaire-like experience that invites you to consider "someone you don't talk to anymore". We all tell ourselves stories about the things we have lived through. Sometimes those stories are great sources of comfort, and sometimes they twist into labyrinths so complicated that we lose ourselves inside them. With guidance drawn from conflict management tools, divination, and tabletop gaming, The Candlemaker's Game allows you to explore the labyrinths you have built from your own stories and relationships.
Lucy Rose Coren
It's a Shame is being created in collaboration with folks within Toronto's sex work industry. Using OnlyFans as a "digital theatre," Lucy brought together a small audience for one night only to interact with the platform and experience verbatim theatre without proxies – which is to say sex workers speaking to their own lived experiences of the industry today. In The Rhizome explore the various crossroads, aesthetic and ethical, that Lucy navigated.
Alten Wilmot
How does the artist maintain their dignity and self-worth in a capitalist system? Alten is developing a performance that layers interview transcripts with contemporary dance, and puts this in conversation with three dimensional light and projections. The space comes alive and simultaneously traps its storytellers, all in an effort to create and better understand a "mesmerizing overwhelm."
Katey Wattam
Katey Wattam explores Debwewin (truth) and verbatim theatre as entities that both co-exist, intermingle and clash. By working with folks somatically and helping them listen to their bodies, she seeks to build a space of rest and regulation. How do we need to take care of ourselves to be in relation? How can we build relationship(s) in a good way? How can we hold others' stories that honours their Debwewin?
Event Details:
*PREVIEW* Saturday, June 18 — 2 pm, doors at 1:30pm
Tuesday, June 21 — 7:00 pm, doors at 6:30pm
Wednesday, June 22 — 7:00pm, doors at 6:30pm
Thursday, June 23 — 7:00pm, doors at 6:30pm
The event lasts approximately 1.5 hours, although you can customize your own personal journey through the sites of The Rhizome.
This event was made possible through the generous support of the Canada Council of the Arts's "Digital Now" program, and the festival space was created by Talk Media
About Gather.Town
This platform brings the feeling of in-person interactions into virtual spaces that are not only realistic, but simple to use. You can explore a Gather.Town map that combines video calling with the ability to physically explore and meet people, and is accessible for folks of all ages - all you need is a laptop, webcam, and Google Chrome.
*For this event, we recommend an internet speed of:
10mbps download speed
3mbps upload speed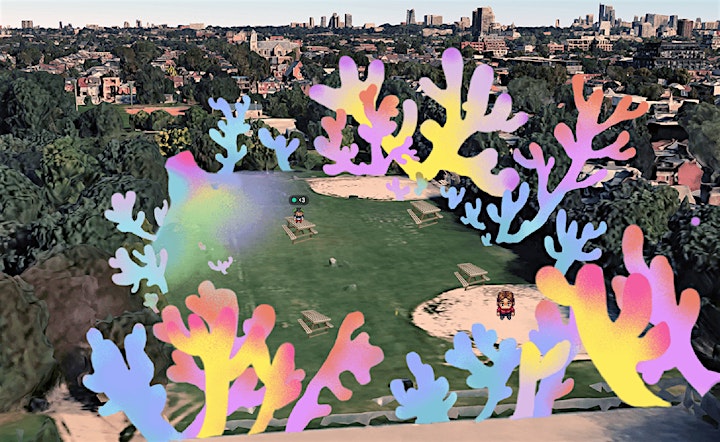 Why "The Rhizome"?
Like a ginger root – which stems and shoots out in an unpredictable patter – this festival echoes the Proximity Lab's dynamic and non-linear approaches. Alongside others moving through this digital world, you'll engage with artefacts and findings that offer insight into what artists are caring about right now, and how they see a place for socially-engaged theatre.
As educator Dave Cormier puts it, the rhizome is "a commitment to multiple paths." As theatre rebounds in the coming weeks and months and years, we're hopeful that something like the Proximity Lab thinktank inspires the ways in which we can "come back better."
Within The Rhizome, you will have three opportunities to try Katey's exercises and explore your Debwewin using a verbatim theatre process.
Commonly Asked Questions:
Do I have to live in the GTA to attend?
You don't! We highly recommend this event for those living in the Greater Toronto Area as this is the location of our Proximity Lab. But The Rhizome can be experienced and explored by folks living across Canada and beyond.
What if I want to come with a group?
This event is even MORE fun when you come with a group of familiar faces! However, each person will have to use their own computer and grab their own ticket.
Can my computer handle this?
Gather is fully compatible on all operating systems. We highly suggest using Chrome.
Gather recommends the following system specifications:
2.4 ghz dual core, 8 gb RAM
For internet speed, they recommend:
10 mbps download speed
3 mbps upload speed
Do I have to turn my camera on during the event?
Gather will request to use your microphone and camera when logging onto the platform but you will be able to toggle them on or off. We very highly suggest keeping them both on to optimize your experience and to emulate the real world "festival" environment, however it is not obligatory.
Can I share a ticket with my friend?
Given the choose-your-own-adventure and overall social nature of the event, we suggest purchasing tickets separately, so you are able to have a complete experience.
Why do I have to give you my phone number?
We use an app called Subtext, which uses texts to send you information and requests about the event directly. We promise to only send you relevant information leading up to and during the actual event (no spam).