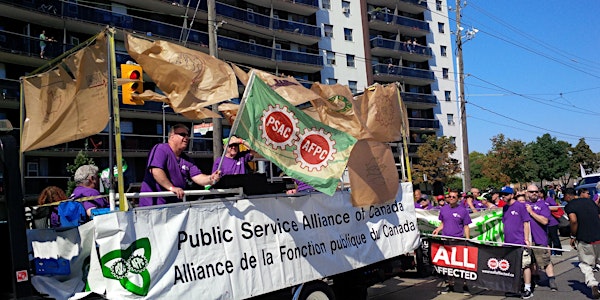 PSAC in The Toronto Labour Day Parade 2022
The Toronto Labour Day Parade is one of the largest gathering of Union Members in Canada to celebrate the victories of workers on the 2nd of
When and where
Location
Sec 9b: Starting Just South of University & Dundas in North Bound Lanes curb side. Ends at Dufferin Gates to Ex 425 University Avenue Toronto, ON M5G 1T6 Canada
About this event
The Toronto Labour Day Parade is one of the largest gathering of Union Members in Canada to celebrate the victories of workers on the 2nd of September's statutory holiday. The Parade usually starts at University and Queen and goes along Queens street to Duffering and souoth to the Dufferin Gates of the CNE GTAC with the help of the Toronto Regional Office, PSAC Area Committees and the OFL's Toronto and York Regional Council has traditionally provided refreshments and admission to the Ex to all participants.
A limited quantity of T-shirts are available this year again. They are for firstly for members marching in the parade. A few extra shirts subject to quantity recieved from PSAC will be made available to volunteers who help with the event in Key areas. T-shirts allocated to registered members can only be held till 9AM. Members who register on the day of the event will be issued unaccounted for T-shirts until supply is exhausted or issued a slip for a T-shirt to be issued at 9AM until sizes are exhausted. 
Prizes draws for participants will be conducted along the parade route. The coupons from the refreshmsnt tickets issued at the beginning of the parade will be used for the draws. In addition, some prizes will be provided to those able to answer a few skill testing questions and those volunteering who helpout in Key area's may also be provided with an appreciation gift.
Come out to enjoy the day, network with colleagues, meet Regional Council Reps,Committee Members, Area Council Delegates and PSAC staff. Stand up and speak out for a fair future for all. Volunteer to Carry a sign or Banner to help us get the message out to defend Quality Public Services, strengthen Fair Collective Bargaining and exercise your right to Vote in the upcomming Federal election.Bring your family and friends to share in the appreciation and  importance of the Labour Movement in your workplace, community and broader society to make everyone's voice matter more.