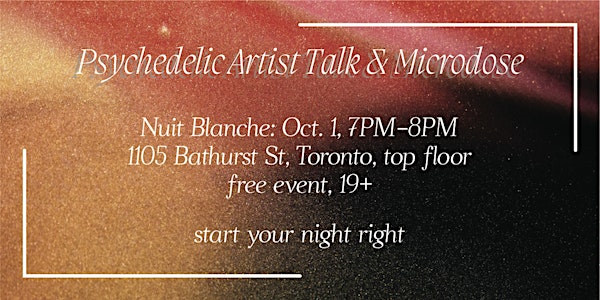 Psychedelic Artist Talk & Microdose
Learn about the revelatory nature of visual art and it's mutual impact on psychedelics with a free legal microdose and artist talk.
When and where
Location
1105 Bathurst St 1105 Bathurst Street Top Floor Toronto, ON M5R 3H1 Canada
About this event
Come and engage in gentle breath-work, art appreciation, and a microdose of psychedelics. Together we will go through some accessible breathing exercises, and learn about the impact of psychedelics on the mind, and the impact of art on the soul.
What is a Microdose?
Microdosing is the act of consuming sub-perceptual amounts of pschedelics. Sub-perceptial means the effects are subtle but can have a noticeable influence on your life.
What will we consume?
Rather than a controlled substance, we will consume 4-ACO-DMT. Psilocybin and 4-ACO-DMT have very similar effects and share similar chemical structures. The effects of 4-ACO-DMT lasts slightly longer (up to 7 hours) than that of psilocybin (4-6 hours). Both psilocybin and 4-ACO-DMT are converted into psilocin in your body after being ingested.
What are the effects?
Many reports of 4-ACO-DMT compare it favourably to psilocybin, describing it as more euphoric, gentle, warm, and colourful. It has also been described as less jarring/scary, and less likely to produce nausea as there is less material to consume.
Is this legal?
4-ACO-DMT are analogues of classic psychedelics and are legal in Canada.
What if I don't want to take a microdose?
Whether you appreciate art, or breathwork your presence is still appreciated and you will enjoy the exploration of art even with a unaltered mind.