Psychedelic Capital Fall - The gold standard for psychedelic investment.
Event Information
Refund policy
Contact the organiser to request a refund.
Eventbrite's fee is nonrefundable.
A virtual psychedelic investment conference covering the top companies, the latest IPOs, the newest opportunities & the deepest insights.
About this event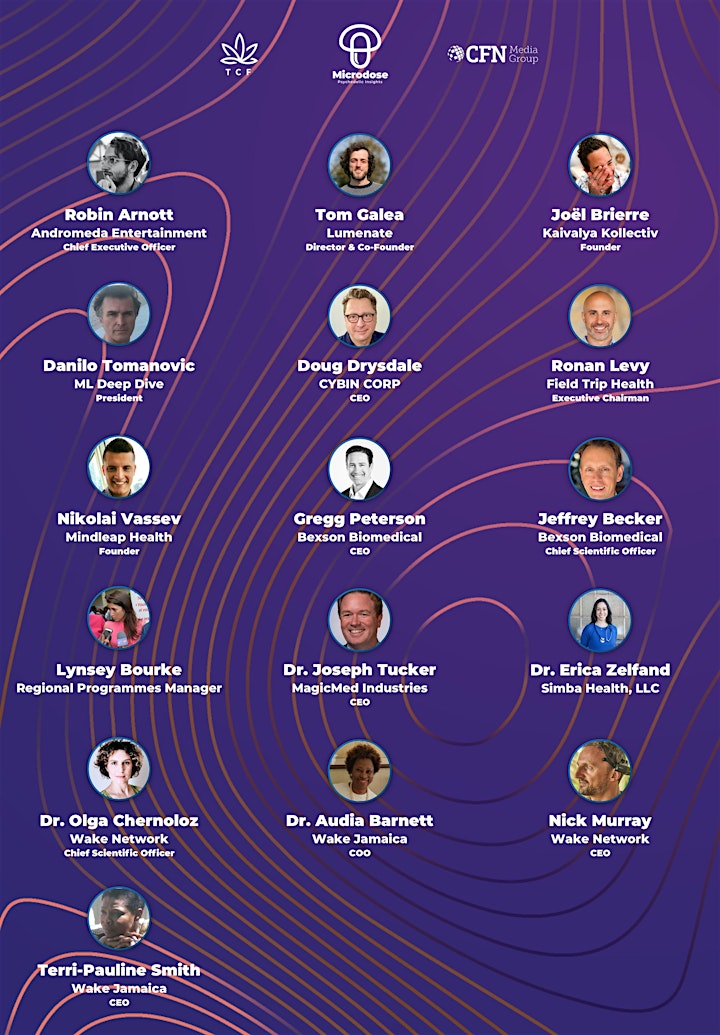 SEPTEMBER 2020 EDITION / MONTHLY
September 30th / 1pm - 5pm / Toronto / Eastern Time
Can't make the live show? Don't worry, we provide access to recordings for every ticket holder.
COMPANY PRESENTATIONS
Looking at long term psychedelic drug discovery, the market for psychedelic clinics and how the two sectors will interact as the industry evolves.
MARKET INSIGHTS
Understanding how responsible go public tracks and sustainable IPO models will become key parts of the psychedelic investment ecosystem.
PSYCHEDELIC CAPITAL
An investor conference series diving deep into psychedelic medicine investment. Each month, we present a curated group of CEOs, capital advisors, and investment luminaries from around the world.
Each session features two tracks. The first looks at the bigger picture, helping investors understand the psychedelic landscape. The second is a chance to hear from the hottest companies directly, in conversation with our experts.
The topics we explore include:
Public Markets & IPOs
Early Stage Opportunities
Business & Operations
Law & Regulation
The Future


Cybin Corp.
Cybin Corp is focused on furthering research and development of Psilocybin based medications through its wholly-owned division, Serenity Life Sciences Inc. Psilocybin is found in certain species of mushrooms and is a non-habit forming naturally occurring psychedelic compound. Research is showing positive results for the treatment of depression, anxiety, PTSD, addictions, eating disorders, ADHD and other indications.

Bexson Biomedical
Bexson Biomedical is developing non-opioid therapies for pain management. Our goal is to provide therapies that provide relief to patients and reduce the rates of opioid addiction.

MagicMed Industries
MagicMed Industries intends to partner with pharmaceutical and other companies to develop psychedelic-derived medicinal and licit consumer goods products. MagicMed's molecular derivatives library, the Psybrary™ is anticipated to be an essential building block from which industry can develop new patented products. The initial focus of the Psybrary™ is on psilocybin, and is expected to be opportunistically expanded to other psychedelics like MDMA, ketamine, ibogaine, mescaline, and ayahuasca.

Wake
Wake has designed a healing journey that integrates mushrooms medicine with the top wellness providers. Their program provides one-on-one support at our psilocybin clinical immersions or from home.
Robin Arnott
CEO, Andromeda Entertainment
Robin Arnott, CEO of Andromeda Entertainment, is a game designer and longstanding public speaker in the industry of consciousness technology. He was featured in Netflix's Screenland and the documentary Game Loading: Rise of the Indies. As the lead developer of SoundSelf: A Technodelic, Robin is an expert in the means by which technology can profoundly impact player consciousness.
Tom Galea
Director & Co-Founder, Lumenate
Tom quit his job as a far-future concept engineer at Jaguar Land Rover to pursue him and his co-founder Jay's vision of making impactful subconscious exploration experiences more accessible than ever. This journey took the pair through months of customer research, stacks of neuroscience papers on altered states of consciousness, hundreds of their own EEG brain scans and the development of a powerful method of inducing immersive psychedelic-like states using only light and sound. Born out of this research, Lumenate is currently applying this method through both group exploration sessions using a custom-designed and built light system, as well as very soon through a unique psychedelic state inducing mobile app.
Joël Brierre
Founder, Kaivalya Kollectiv
Joël Brierre, or Joël the entheogenic yogi, has been a pioneer in the modern entheogenic movement, specifically in the realm of 5-MeO-DMT and Bufo Alvarious toad. His unique approach of applying classical yogic philosophy as geography for both preparation and integration from the entheogenic experience gained attention around the world at the first WBAC (World Bufo Alvarius Congress).
Ronan Levy
Executive Chairman, Field Trip Health
Co-founder of Field Trip Psychedelics, a partner at Grassfed Ventures, a venture capital and advisory firm focused on the cannabis and biotech industries and a director for Trait Biosciences Inc.
Doug Drysdale
CEO, CYBIN CORP
An experienced Corporate Director and CEO: Doug has chaired the Board of a NASDAQ-listed company and, as CEO for the past 12 years, has built and turned-around 3 pharmaceutical companies. During Doug's 30 years of experience in the healthcare sector, he has formed cohesive management teams, recruited board members, completed 15 corporate acquisitions across three continents and has raised $4 billion of both public and private capital.
Doug holds a bachelor's degree in Microbial and Molecular Biology from the University of East Anglia in the U.K. and was recognized as Entrepreneur of the Year by Ernst and Young, in 2012.
Danilo Tomanovic
President, ML Deep Dive
Danilo began his career on Bay Street on the Gold Desk of CIBC Woodgundy and was employee #30 of Toronto-based global risk management firm Algorithmics Inc. He's held executive sales roles with Scotiabank Global Transaction Banking & Peter Munk's luxury super-yacht marina Porto Montenegro / Adratic Marinas.
Danilo is the Founder & President of ML Deep Dive - a company focussed on creating Machine Learning Engineers & ML Software design and development.
Nikolai Vassev
Founder, MindLeap Health
Nikolai has spent the majority of his career helping organizations solve their biggest challenges with innovative technology. His interest in the breakthrough potential of psychedelic medicine led him to start Mindleap Health a company focused on providing an advanced platform for psychedelic aftercare and other mental health services. During his time working at high-growth technology companies, he has formed multi-million-dollar partnerships, sold and led complex data analytics and cybersecurity software projects for various Fortune 500 organizations, as well as for the US and Canadian Governments. Nikolai's mission is to positively impact society by contributing to the broad adoption of psychedelic medicine.
Lynsey Bourke
Regional Programmes Manager
Lynsey Bourke is an international abortion specialist and entheogenic practitioner who is skilled in non-profit, finance and project management. For the last 4 years Lynsey lived and worked in Francophone West Africa, managing a territory of 14 countries—including Gabon—Senior Management at an International NGO that is the largest supplier of contraceptive and abortion care products and pharmaceuticals in the world. Managing a donor budget of around $10 million per year, and 180 team members scattered across the region, Lynsey has on-the-ground experience working with governments, and leading projects in Africa. During her numerous trips to Gabon she was initiated in the Bwiti traditions, becoming passionate about Iboga conservation and funding mechanisms.
Jeffrey Becker, MD
Chief Scientific Officer, Bexson Biomedical
Dr. Becker has over 20 years of research and clinical experience in NMDA-receptor pharmacology and clinical use and is a world-recognized speaker and expert in the neurobiology and clinical use of ketamine.
Gregg Peterson
CEO, Bexson Biomedical
Gregg has over 20 years of experience developing pharmaceutical, medical device, biologic and combination products, leading the commercial launch of over a dozen products globally. He was previously a Global R&D Program Lead for an S&P500 company with a focus on US, EU and AsiaPac.
Dr. Joseph Tucker
CEO, MagicMed Industries
During his two decades of biotechnology C-Suite leadership Dr. Tucker cofounded four companies, taking two public and selling one, while the fourth remains an operating private company. He has raised tens of millions of dollars from investors in the United States, Europe and Canada, during which time his teams took seven drugs into FDA, EMA, and HC-approved clinical trials. Among other achievements Dr. Tucker, in collaboration with Dr. Peter Facchini, was the first to sequence the entire genome of the commercially relevant Papaver somniferum, is a co-inventor of cardiovascular drug candidate APABETALONE, and is the discoverer of the human blindness-associated gene SLC24A1. Dr. Tucker has published in high-ranking journals such as Nature Biotechnology and Nature Chemical Biology, has been interviewed by national newspapers and television, is an inventor on 7 issued and 15 pending patents, and holds a Ph.D. in Biochemistry and Molecular Biology from the University of Calgary.
Dr. Erica Zelfand
Simba Health, LLC
Dr. Erica Zelfand (aka "Dr. Z") is an integrative family physician, medical writer/editor, and teacher. She works with clients of all ages and is deeply committed to a patient-centered, root-cause-oriented, nature-honoring approach to healing. Dr. Z was one of North America's first providers to pursue above-board training in MDMA-assisted psychotherapy with the Multidisciplinary Association of Psychedelic Studies (MAPS) and is an ongoing volunteer "trip sitter," medical lead, and workshop facilitator with psychedelic harm reduction projects at festivals and special events worldwide. She is a regular contributor to various medical and lay publications, and particularly enjoys writing about the clinical relevance of entheogenic medicine. She also loves educating providers on best psychedelic practices, mentoring them one-on-one, and presenting to audiences of all sizes worldwide (from geodesic domes at Burning Man to a hospital amphitheaters).
Nick Murray
CEO, Wake Network
Wake Network is furthering the field of fungi and plant-based medicine.
Leveraging leading edge clinical research, coupled with wellness professionals and technology to lead an effort that is evolving the landscape of how we tackle mental and holistic health.
Wake has developed a gold-standard regenerative feedback loop that allows it to research, monitor and incorporate results from clinical studies on a one-to-one basis.
We are shaping the future of personalized medicine and eradicating ambiguous results from mass medicine and blanket healthcare.
Audia Barnett
COO, Wake Jamaica
Dr. Audia Barnett, has diverse experience as a senior executive in Public & Private Sectors as well as in International Development in home country Jamaica and Canada. She has a passion for empowering women & youth, and is a strong proponent of Science, Technology and Innovation as drivers for sustainable economic growth,
Audia completed her PhD. Studies at the University of the West Indies on a unique disaccharide with exciting nutraceutical properties and which is present in Oyster Mushrooms.
Olga Chernoloz
CSO, Wake Network
As a trained neuropharmacologist and a registered pharmacist, Olga has held a number of roles in clinical trial management, drug development, biotech, and pharmaceutics. Dr. Chernoloz is a specialist in the pharmacology of psychoactive compounds.
She is a Chief Scientific Officer at the Wake Network and a scientific advisor to Psychedelics Studies Research Group at the University of Toronto.
Olga is interested in the therapeutic potential of cannabinoids and psychedelic drugs in the treatment of mental health disorders and the improvement of quality of life in healthy individuals.
Terri-Pauline Smith
CEO, Wake Jamaica
Terri Smith, CEO of Wake Jamaica and co-owner of the Jamaica Exotic Mushrooms, Terri is an accomplished keynote speaker, social entrepreneur and craft mushroom grower.
After years of research the Ronald and Terri Smith developed a unique process that converts bamboo leaves and lemongrass into an ideal substrate for growing dozens of different strains of mushrooms.
Terri has worked with groups of rural women and other stakeholders to establish micro mushroom farmer development centers and clusters of farmers across Jamaica.

The Conscious Fund invests in early stage ventures in plant powered medicine. We are helping the psychedelic medicine space to grow ethically and sustainably through our work with Seed to Series A companies.

Microdose is the source for psychedelic insights spanning events, videocasts & podcasts, insider news and balanced reporting on the space. From investment through science to patient pathways, we've got it covered.

Psyindex is a media partner with the leading psychedelics index, powered by CFN Enterprises Inc. (OTCQB: CNFN). A leading agency and financial media network dedicated to the cannabis industry, CFN helps private, pre-public and public cannabis companies in the US and Canada attract capital, investors and media attention.
OUR EVENTS
In addition to our huge Virtual Psychedelic Conference where 1,100 experts gathered to hear 100+ speakers over 2 days. We've also held several investment summits across Europe, including London, Malta and Luxembourg.
Through these events we have hosted thousands of investors and international cannabis and psychedelics companies. Attendees included UHNWIs, Family Offices, and VCs with a combined AUM of €15bn+.
BECOME A SPONSOR
Sponsors present and showcase their companies to our diverse network of investors, including UHNWIs, Family Offices, VCs, PEs and other Funds.
TICKETS
All tickets are offered on a first-come first-served basis. If you are an accredited or high net worth investor, please contact us for a complimentary ticket at info@microdose.buzz
If you are an accredited member of the press, please contact us for a media pass at info@microdose.buzz
* Please note that companies and speakers may change from time to time. The sector is so busy that we occasionally have to make amendments on short notice.
Date and time
Location
Refund policy
Contact the organiser to request a refund.
Eventbrite's fee is nonrefundable.