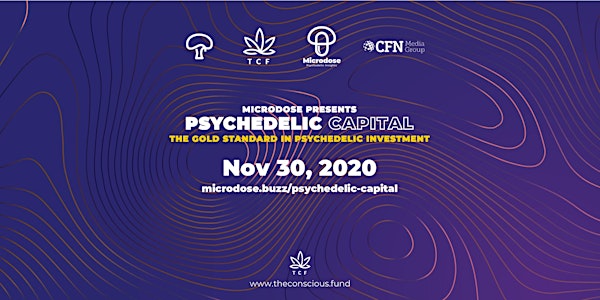 Psychedelic Capital November - The gold standard for psychedelic investment
Event Information
Refund policy
Contact the organiser to request a refund.
Eventbrite's fee is nonrefundable.
A virtual psychedelic investment conference covering the top companies, the latest IPOs, the newest opportunities & the deepest insights.
About this event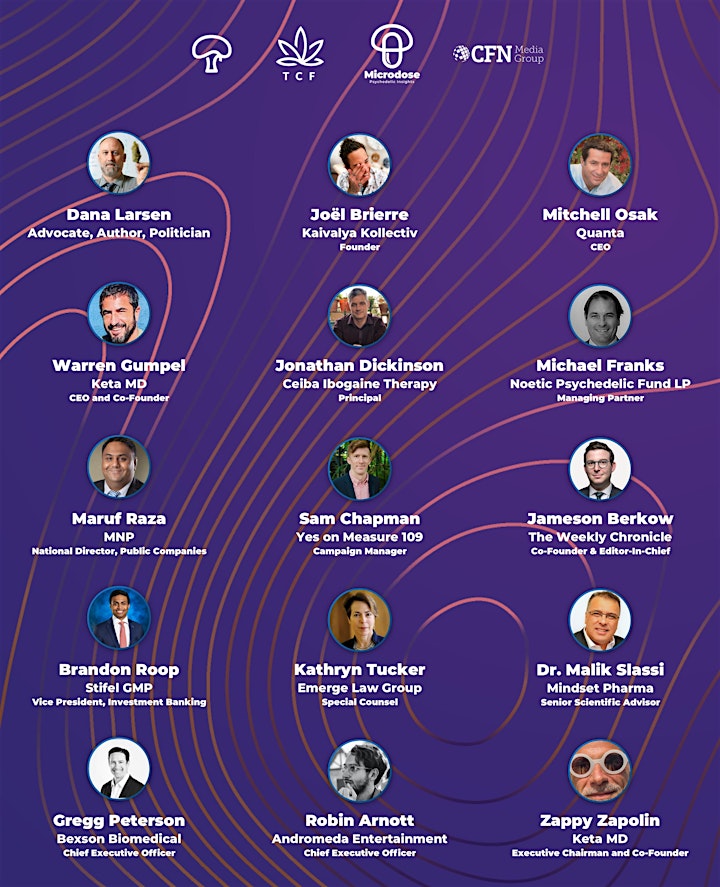 NOVEMBER 2020 EDITION / MONTHLY
November 30th / 4:30 - 6:45pm / Toronto / Eastern Time
Can't make the live show? Don't worry, we provide access to recordings for every ticket holder.
COMPANY PRESENTATIONS
Looking at long term psychedelic drug discovery, the market for psychedelic clinics and how the two sectors will interact as the industry evolves.
MARKET INSIGHTS
Understanding how responsible go public tracks and sustainable IPO models will become key parts of the psychedelic investment ecosystem.
PSYCHEDELIC CAPITAL
An investor conference series diving deep into psychedelic medicine investment. Each month, we present a curated group of CEOs, capital advisors, and investment luminaries from around the world.
Each session features two tracks. The first looks at the bigger picture, helping investors understand the psychedelic landscape. The second is a chance to hear from the hottest companies directly, in conversation with our experts.
The topics we explore include:
Public Markets & IPOs
Early Stage Opportunities
Business & Operations
Law & Regulation
The Future


Andromeda Entertainment
Andromeda Entertainment is the first publisher to super-serve the growing interest in wellness with transformative interactive experiences.
For Andromeda, fun is the means towards transformation and healing. Our games find a home both on the couch, and in the clinic.
As a publisher, we provide capital, technology, marketing, and distribution to developers in exchange for 30–70% of the title's revenue. We also have an internal development studio, that is currently focused on ecstatic experiences for psychedelic therapy.

Kaivalya Kollectiv
Kaivalya Kollectiv is a multifaceted platform both mobile and physical, where talented teachers and psychedelic practitioners can share their gifts via retreats, courses, teacher trainings,(and more) around the world. Combining ancient eastern and indigenous practices with modern science and western therapies, Kaivalya draws on "ancient roots for modern growth". With the flagship center set to open in the beautiful Tepoztlan (MX) in 2023, Kaivalya is set to be the central hub for spiritual and mental wellness. Kaivalya's main areas of focus are psychedelics/plant medicine, yoga/meditation, sacred sexuality/tantra, breathwork, and research. Carefully selecting only top quality leaders with both experience and integrity, as well as a full staff that fits the brand, Kaivalya aims to set the bar for spiritual tourism as well as education.

MNP
MNP is a leading national accounting, tax and business consulting firm in Canada. We proudly serve and respond to the needs of our clients in the public, private and not-for-profit sectors. Through partner-led engagements, we provide a collaborative, cost-effective approach to doing business and personalized strategies to help organizations succeed across the country and around the world.

KetaMD
KetaMD is a HIPAA-compliant telemedicine platform that provides affordable and life-changing at-home medical ketamine treatments. Prescribed by medical professionals and guided by registered nurses, the KetaMD treatment protocol provides a safe and effective alternative for the millions of adults that currently rely on traditional mental health, pain, and addiction therapies.
Through the KetaMD direct-to-consumer distribution model, adults who have received a qualifying diagnosis from a licensed medical prescriber receive an at-home treatment plan. KetaMD's nationwide network of medical professionals and leadership team have a combined 10 years in the ketamine space.
Sam Chapman
Campaign Manager, Yes on IP 109
Sam Chapman is the Campaign Manager for the Yes On Measure 109 Campaign, a statewide ballot measure seeking to create the first ever state wide regulated psilocybin therapy program in the United States. Sam has over a decade of experience in advocating for progressive drug policy reforms at the local, state, and national level. His previous experience includes consulting for statewide political campaigns, assisting local governments in writing rules and regulations, crafting and advocating for equitable access to emerging healthcare treatment options, and identifying new opportunities within emerging industries. Sam has been a resident of Oregon for 25 years. He holds a bachelor's degree from the University of Oregon in Philosophy and Political Science.
Robin Arnott
CEO, Andromeda Entertainment
Robin Arnott, CEO of Andromeda Entertainment, is a game designer and longstanding public speaker in the industry of consciousness technology. He was featured in Netflix's Screenland and the documentary Game Loading: Rise of the Indies. As the lead developer of SoundSelf: A Technodelic, Robin is an expert in the means by which technology can profoundly impact player consciousness.
Dana Larsen
Advocate, Author, Politician
"Civil disobedience is the path to freedom." Dana Larsen is a Vancouver, British Columbia activist, author, businessman, and politician with a particular interest in ending the global war on drugs. Larson has some radical fun by publishing graphic novels under his Pothead Books label and encouraging Canadians to plant cannabis and poppy victory gardens across the country.
Larsen has founded or co-founded numerous organizations, including the BC Marijuana Party, the Canadian Marijuana Party, Sensible BC (for cannabis reform), the Vancouver Dispensary Society, GetYourDrugsTested.com, and the Medicinal Mushroom Dispensary.
Joël Brierre
Founder, Kaivalya Kollectiv
Joël Brierre, or Joël the entheogenic yogi, has been a pioneer in the modern entheogenic movement, specifically in the realm of 5-MeO-DMT and Bufo Alvarious toad. His unique approach of applying classical yogic philosophy as geography for both preparation and integration from the entheogenic experience gained attention around the world at the first WBAC (World Bufo Alvarius Congress).
Joël works specifically in the retreat setting and with over a decade of retreat experience, has curated a container that is meant to facilitate lasting change. Drawing from a combination of eastern, as well as contemporary western integrative practices, the retreats give participants a space to safely unfold, address trauma, undergo cathartic release, and have the support system to put themselves back together (along with their emotional patterning) in a way that serves their higher calling. With a heavy focus on integration and aftercare, participants are able to create lasting change and find deeper states of peace than they thought conceivable
Joël and his team at Kaivalya Kollectiv are aiming to raise the bar for entheogenic and spiritual retreats, working in breathtakingly beautiful areas and led by top notch teachers and facilitators with extensive experience. Safety is the number one priority, followed closely by a warm and welcoming container that is both nurturing and expansive.
Mitchell Osak
CEO, Quanta
Mitchell is a trusted advisor and consultant to the psychedelics and cannabis sectors. He has delivered over 200 business consulting projects to more than 100 companies across the globe. Mitchell's objective, frank and fact-based style of advising has made him a sought-after speaker, writer and media commentator on the psychedelics and cannabis industries. Mitchell has a MBA from the University of Toronto and is a former P&G brand manager.
Warren Gumpel
Co-Founder & CEO, KetaMD
Warren Gumpel is the CEO and Co-Founder of KetaMD, a platform created to facilitate at-home Ketamine treatments. KetaMD's focus is to provide this miracle treatment safely, effectively, and affordably, to the millions of people who need it.
Warren is also the Co-Founder of the 501(c)3 Ketamine Fund, focused on subsidizing costs for Ketamine Treatments for Veterans in need. The Ketamine Fund has already provided over 400 free treatments To Veterans and family members of Veterans.
Zappy Zapolin
Co-Founder & Executive Charman, KetaMD
Zappy is the Executive Chairman and Co-Founder of KetaMD a platform created to facilitate at-home ketamine treatments.  Zappy has been working in the ketamine space for more than 4 years in the areas of operations, marketing, and protocol development.
Zappy is best known for his popular film, "The Reality of Truth," which focuses on the importance of going inside one's own mind for answers and healing. The film features actress Michelle Rodriguez, Deepak Chopra, Ram Das, Dr. Drew, Marianne Williamson, and Joel Osteen.
Zappy won the Amsterdam Film Festival's Van Gogh Award for Documentary Directing for the film. Playboy Magazine called him "The Man Who Wants to Change the World with Psychedelics."
His latest film, "Lamar Odom: Reborn," documents the psychedelic intervention Zappy gave the basketball star over the last two years using the breakthrough treatments of ketamine and ibogaine.
Zappy is the founder of the Mind Army social movement which is fighting for the right to pursue happiness.
A regular guest of the media, Zappy is often referred to as a "psychedelic concierge" for celebrities and influencers. He is also the creator of the Harvard Business School elective "eBusiness" and recently moderated a first-of-its-kind panel at the Milken Global Conference titled "Highs and Lows of the Cannabis Economy." Zappy is the visionary behind such internet brands as Music.com, Beer.com, Computer.com, Creditcards.com, Diamond.com, and Silver.com.
Maruf Raza
National Director, Public Companies, MNP
Maruf Raza, CPA, CA, serves as an advisor to public companies, and private companies planning on going public through direct initial public offerings or reverse mergers.
Regarded as a thought leader on International Financial Accounting Standards (IFRS), Maruf has conducted technical research on IFRS and U.S. accounting standards, including being part of the CPA Canada's IFRS Discussion Group and various committees at the Ontario Securities Commission. He has worked in many countries around the globe and specializes in helping finance these companies in Canada, either through public or private transactions. Maruf has extensive experience working with clients in emerging sectors such as cannabis, technology, mining and gaming. He is also involved with investment funds and Exempt Market Dealers.
Jameson Berkow
Co-Founder & Editor-In-Chief, The Weekly Chronicle
After more than a decade in financial journalism with the Financial Post and BNN Bloomberg, Jameson Berkow joined The Globe and Mail in 2018 to cover the end of cannabis prohibition through an economic lens. In early 2020 he built and launched The Rise – an online magazine for cannabis entrepreneurs – on behalf of venture capital firm Canopy Rivers. He started working on the concept for Weekly Chronicle in the summer of 2020 after finding Business of Cannabis to be an ideal partner. Jameson is a member of the Society of American Business Editors and Writers (SABEW) and holds an honours degree in international economics from Queen's University.
Kathryn Tucker
Special Counsel, Emerge Law Group
Tucker worked on Oregon's successful psilocybin therapy initiative, has worked on various decrim efforts, and is representing an oncology clinic in the first effort to apply Right to Try to psilocybin.
Brandon Roop
Vice President, Investment Banking, Stifel GMP
Brandon Roop has over 8 years of M&A and capital markets experience. He joined GMP in 2015 and covers the Healthcare & Wellness sector. Previously, he was at PwC Corporate Finance, providing M&A advisory services within the healthcare, consumer retail, industrial, real estate and technology sectors. Earlier in his career, Brandon worked at Collins Barrow Toronto (now RSM), providing assurance and tax services to both public and private companies. He received a BBA from Wilfrid Laurier, is a Chartered Accountant (CA, CPA) and is a Chartered Financial Analyst (CFA) Charterholder.
Dr. Malik Slassi
Senior Scientific Advisor, Mindset Pharma
Dr. Slassi was the Founder, President and Chief Scientific Officer of Fluorinov Pharma Inc. acquired by Trillium in January 2016. Dr. Slassi has over 30 years of experience in the successful identification of small molecule drug candidates across multiple therapeutic areas including Neurology, Oncology, Immunology and Gastro-intestinal. Prior to founding Fluorinov, Dr. Slassi was Director and Vice President of Medicinal Chemistry and Manufacturing & Drug Development at NPS Pharmaceuticals and Cascade Therapeutics, respectively, and earlier he held management and scientific positions at Allelix Biopharmaceuticals Inc., Boehringer Ingelheim Research Inc., and Rhône Poulenc. During his career he has been involved in numerous multinational R&D collaborations including with Hoechst AG (Sanofi-Aventis), AstraZeneca, Johnson & Johnson, Forest Laboratories, GlaxoSmithKline, and Memory Pharmaceuticals. For seven years, he served on the steering committee for the multinational collaboration on the metabotropic Glutamate Receptors (mGluRs) program between NPS Pharma and AstraZeneca. Dr. Slassi has a strong track record of drug development with over 20 drug candidates advanced into late-stage preclinical and clinical development. Dr. Slassi has extensive experience in the areas of intellectual property management and scientific operations. He is an inventor with over 130 issued and published patents and patent applications, and author of more than 65 scientific and review articles published in international peer reviewed journals. Dr. Slassi holds a Ph.D. in chemistry from the University of Claude Bernard, Lyon, France and completed his postdoctoral work in the Chemistry Department at the University of Montreal, Canada.
Gregg Peterson
CEO, Bexson Biomedical
Gregg has over 20 years of experience developing pharmaceutical, medical device, biologic and combination products, leading the commercial launch of over a dozen products globally. He was previously a Global R&D Program Lead for an S&P500 company with a focus on US, EU and AsiaPac.
Michael Franks
Managing Partner, Noetic Psychedelic Fund LP
Michael is currently Managing Partner Noetic Psychedelic Fund. He has 7 years in venture capital in Silicon Valley, background in biochemistry UofT, BA economics Queens University, MBA Trinity College, education Stanford/Harvard, 2 Eco-Challenges Adventure races (Morocco/British Columbia), Canadian Ironman (Penticton).
Jonathan Dickinson
Principal, Ceiba Ibogaine Therapy
Jonathan Dickinson is a recovery coach and consultant who has been working with iboga and ibogaine in both clinical and ceremonial contexts in Canada, Mexico, and Costa Rica since 2009. He currently resides in Tijuana, Mexico and has a private practice called Ceiba Ibogaine Therapy supporting people through the ibogaine treatment process. He previously served as the Director of the Global Ibogaine Therapy Alliance (GITA), during which time he led the development of the Clinical Guidelines for Ibogaine-Assisted Detoxification, a risk management guide that remains a standard in the field. He organized several conferences on ibogaine therapy practice and safety protocols, and has collaborated with researchers in multiple disciplines, publishing peer reviewed work and presenting at numerous conferences internationally. In 2014, Jonathan was initiated into a Dissoumba/Fang tradition of Bwiti in Gabon, and remains actively involved with both clinical and ceremonial approaches.


Our full list of past sponsors includes:
Field Trip Health
Havn Life
Pure Extraction Corp.
Mindset Pharma
Numinus
New Wave
FIVE Pharmaceuticals
Ehave
Aion Therapeutic Inc.
Cybin Corp
MagicMed Industries
Bexson Biomedical
Wake Network
Magical Brands
Universal Ibogaine

The Conscious Fund invests in early stage ventures in plant powered medicine. We are helping the psychedelic medicine space to grow ethically and sustainably through our work with Seed to Series A companies.

Microdose is the source for psychedelic insights spanning events, videocasts & podcasts, insider news and balanced reporting on the space. From investment through science to patient pathways, we've got it covered.

Psyindex is a media partner with the leading psychedelics index, powered by CFN Enterprises Inc. (OTCQB: CNFN). A leading agency and financial media network dedicated to the cannabis industry, CFN helps private, pre-public and public cannabis companies in the US and Canada attract capital, investors and media attention.

Shroom Street is the leading Psychedelic business account closely monitoring the emerging billion-dollar psychedelic medicine industry.
OUR EVENTS
In addition to our huge Virtual Psychedelic Conference where 1,100 experts gathered to hear 100+ speakers over 2 days. We've also held several investment summits across Europe, including London, Malta and Luxembourg.
Through these events we have hosted thousands of investors and international cannabis and psychedelics companies. Attendees included UHNWIs, Family Offices, and VCs with a combined AUM of €15bn+.
BECOME A SPONSOR
Sponsors present and showcase their companies to our diverse network of investors, including UHNWIs, Family Offices, VCs, PEs and other Funds.
TICKETS
All tickets are offered on a first-come first-served basis. If you are an accredited or high net worth investor, please contact us for a complimentary ticket at info@microdose.buzz
If you are an accredited member of the press, please contact us for a media pass at info@microdose.buzz
* Please note that companies and speakers may change from time to time. The sector is so busy that we occasionally have to make amendments on short notice.
Date and time
Location
Refund policy
Contact the organiser to request a refund.
Eventbrite's fee is nonrefundable.