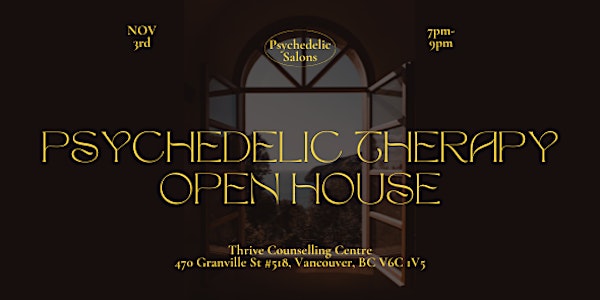 Psychedelic Therapy Open House
Break through personal barriers and explore your self—and the world—through new perspectives
When and where
Location
470 Granville St 470 Granville Street Vancouver, BC V6C 1V4 Canada
About this event
Mind-altering plants and compounds have been used for thousands of years, more recently finding their way into modern clinical settings. Some areas they have demonstrated benefit:
Depression and anxiety
Alcoholism and addictions
Reconnecting to emotions
Releasing trapped grief
Fear of death; end of life
Spirituality and 'waking up'
Rewiring old habits
Inner child work
Childhood trauma
Identity and authenticity
Media such as Michael Pollan's How To Change Your Mind has created great excitement about psychedelics and healing. While this is great to destigmatize medicine work, Thrive wants to meet this excitement with realistic cautions, helping to educate the public on when psychedelics are and are not a good idea.
Psychedelics and Change
The habits of how we think and feel across our whole lives start as early as when we are in the womb. With age, these patterns of emotion and identity tend to become very fixed and rigid. What happens if our emotional momentum is guided by traumatic memories? Is there a way to steer ourselves off a path of anxious and depressive symptoms that respond to events that aren't even happening anymore?
Psychedelics may present hope. In many cases, safe and well planned use of psychedelics can help to interrupt deeply practiced neural-patterns, creating the opportunity to 'rehearse' new ways of being—thoughts, emotions and actions based on safety, connection and purpose.
The Thrive Approach
Thrive Downtown Counselling Centre is based on its founder's model of working with trauma, developed over the last 11 years. In translating his decade of work with military veterans to civilians, Thrive has become a Vancouver institution of helping all walks of people to move from aloneness into wellbeing and purpose.
The last four years has seen the team build a trauma-informed model of using psychedelics in healing, based on its co-founders' lifetimes of practice and research. Thrive takes pride in being one of the most informed (and clinically cautious) teams publicly working with psychedelics in North America.
Come peek behind the curtain's of Thrive's operations for a fun, friendly and free open house. Chat with other psychedelic enthusiasts as well as Thrive's therapists while enjoying some refreshments and having questions answered.