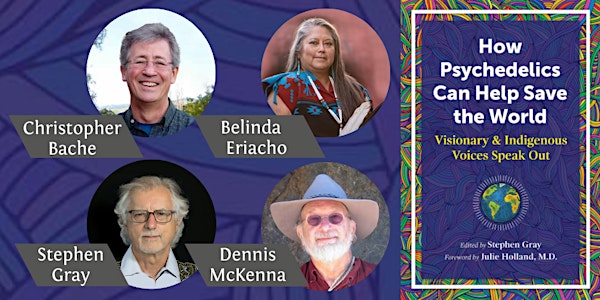 Psychedelics ~ Dennis McKenna, Chris Bache, Belinda Eriacho, Stephen Gray
Dennis McKenna, Belinda Eriacho, Stephen Gray. and Christopher Bache discuss How Psychedelics Can Help Save the World.
About this event
Hi, everyone! We are planning to go live on YouTube!
Join Banyen Books for an illuminating panel discussion with Dennis McKenna, Belinda Eriacho, Stephen Gray, and Christopher M. Bache on How Psychedelics Can Help Save the World: Visionary and Indigenous Voices Speak Out. This new book explores the immense healing intelligence of nature, the wisdom of ancient indigenous prophecies and shamanic practices, the importance of the Divine Feminine for environmental regeneration, and the crucial role of psychedelic and entheogenic plants in initiating transformations of consciousness.
Christopher M. Bache, PhD, is professor emeritus in the Department of Philosophy and Religious Studies at Youngstown State University where he taught for 33 years. He is also adjunct faculty at the California Institute of Integral Studies and a Fellow at the Institute of Noetic Sciences. An award winning teacher, Chris' work explores the philosophical implications of non-ordinary states of consciousness, especially psychedelic states. He is the author of Lifecycles – a study of reincarnation in light of contemporary consciousness research; Dark Night, Early Dawn – a pioneering work in psychedelic philosophy and collective consciousness; The Living Classroom, an exploration of teaching and collective fields of consciousness. His latest book is LSD and the Mind of the Universe.
Belinda Eriacho is of Dine' (Navajo) and A:shiwi (Pueblo of Zuni) descent. Her maternal clan is One-Who-Walks-Around and she was born for the Zuni Pueblo people. Belinda was born and raised on the Navajo reservation, located in Arizona, USA. She is the wisdom carrier, healer, and founder of Kaalogii LLC, focused on cultural and traditional teaching, inner healing, and an international speaker on various topics impacting Native American communities in the United States. Belinda holds degrees in Health Sciences, Technology, and Public Health. In addition, Belinda has participated in the Multidisciplinary Association for Psychedelic Studies, MDMA People of Color, and Eye Desensitization and Reprocessing Therapy Training Programs. Belinda is Board member of the Church of the Eagle and the Condor, a Program Advisor for Naropa University, and a Native American Traditional Advisor for SoundMind.
Dennis McKenna's research has focused on the interdisciplinary study of Amazonian ethnopharmacology. He has conducted extensive ethnobotanical fieldwork in the Peruvian Amazon. His Ph.D. research focused on the ethnopharmacology of ayahuasca and oo-koo-he, two tryptamine-based hallucinogens used by indigenous peoples in the Northwest Amazon. He is a founding board member of the Heffter Research Institute, and was a key organizer and participant in the Hoasca Project, the first biomedical investigation of ayahuasca. He is the younger brother of Terence McKenna. From 2000 to 2017, he taught courses on Ethnopharmacology and Plants in Human affairs in the Center for Spirituality and Healing at the University of Minnesota. In 2019, in collaboration with colleagues, he incorporated a new non-profit, the McKenna Academy of Natural Philosophy. Dr. McKenna is one of our strongest advocates on behalf of the entheogenic plant medicines and is often called upon to speak at related conferences and symposia. He is the author of The Brotherhood of the Screaming Abyss: My Life with Terence McKenna. Dennis McKenna Ph.D. is the CEO & President of Symbio Life Sciences.
Stephen Gray is an author, editor, event organizer and speaker, and ceremony leader. He has been deeply involved with spiritual practices and sacramental (psychedelic) medicine work for over 40 years, including Tibetan Buddhism, the Native American Church (peyote prayer ceremonies), and ayahuasca. Stephen Gray is the main organizer of the Spirit Plant Medicine Conference (SPMC). He is the author of Returning to Sacred World: A Spiritual Toolkit for the Emerging Reality, and Cannabis and Spirituality: An Explorer's Guide to an Ancient Plant Spirit Ally. Mr. Gray is the editor and a contributor to the book, in which he and 17 influential voices of the modern cannabis movement (Julie Holland, Kathleen Harrison, Chris Bennett, Steven Hager etc) reveal the potential of "the people's plant" to enhance a wide range of spiritual practices such as meditation, yoga, creative work, etc. Stephen's latest book, continuing in his role as editor/contributor, is How Psychedelics Can Help Save the World with 26 influential contributors.