Join Psychic Medium's Makena Sherwood & Janet Parsons for an afternoon of messages from Spirit that bring hope, healing, and connection!
About this event
Join Psychic Medium's Janet Parsons and Makena Sherwood for an afternoon of messages from Spirit that bring healing messages, connection, and guidance. This event is perfect for those who are looking to connect with a loved one who has crossed over or those who are looking to receive clarity around an aspect of their life. Nothing is off-limits, however, we always want to be clear that Spirit is in control of what does (or doesn't) come through. This event is limited to 10 spots only and not everyone is guaranteed a reading.
Your hosts of the evening:
Janet Parsons is a Psychic Medium, Energy Healer, and Visual Artist. Through her mentoring she is committed to helping those feeling lost, stuck, or disconnected, find their way back home to their inner compass and creative power. She is also devoted to being a loving messenger for the spirit world. Bringing fourth words of truth, hope, and healing to the bereaved within her private readings. Janet believes in the divine orchestration at play; and that both the highlights and hardships hold great value and purpose in our Soul's evolution.
Learn more about her at: www.JanetParsons.ca
Makena Sherwood is a Psychic Medium and Intuitive Reader. She channels messages from Spirit to help you move through emotional blocks in your life, connect with your loved ones that have crossed over, and to teach you that we are all worthy of this guidance and support. Her modern approach to readings will connect you with Spirit through sacred, relevant, and powerful messages.
Learn more about her at: www.MakenaSherwood.com
Here are some things to note before our time together:
Please make sure you are alone and in a quiet space
We recommend having a pen and paper close by
Janet and Makena recommend setting some intentions before the event. The best way to do this is to give your loved ones in Spirit a shoutout to come through nice and strong or write down some questions you have/topics you would like clarity on if you are here for Psychic messages
A gentle reminder that not everyone is guaranteed a reading although Janet and Makena will do their best to read for as many people as possible
Finally, please keep an open mind! Janet and Makena are not in control of what Spirit chooses (or doesn't choose) to bring through.
Note:
All information provided by Janet Parsons and Makena Sherwood tonight are based from an intuitive perspective. By attending this event you recognize that intuitive readings are not meant to replace traditional medical or psychological treatment. You agree that if I need additional support in any way during or following this event, it is your responsibility to seek appropriate care. And you acknowledge that you are over the age of 18 years old.
(No refunds offered for this event.)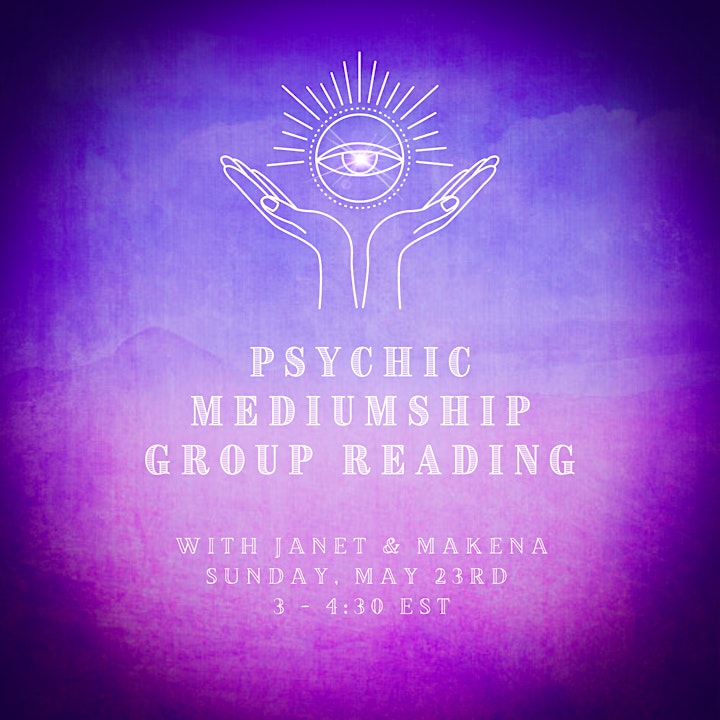 Organizer of Psychic Mediumship Group Reading