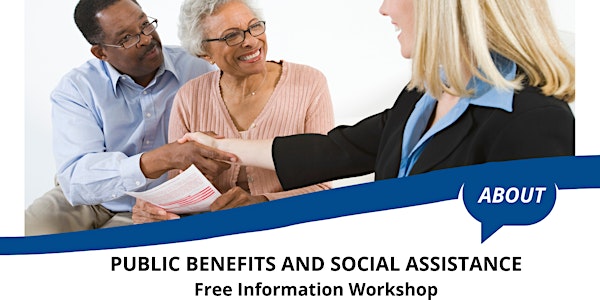 Public Benefits and Social Assistance Workshop
Want to learn more about the public benefits and social assistance programs available to you as an older adult? Join us June 7 at 10:00am!
Date and time
Wed, Jun 7, 2023 7:00 AM - 9:00 AM PDT
About this event
Volunteer Halton is pleased to present "Public Benefits and Social Assistance" - a workshop featuring Halton Community Legal Services on Wednesday June 7, 2023 at 10:00am via ZOOM. Do you have trouble making ends meet? Do you know what income programs and benefits are available to you as an older adult? What can you do if you are denied benefits?
Join us June 7 to learn more about the programs and benefits available to you!
About the organizer
Volunteer Halton is a program of Community Development Halton (CDH) and as such provides unique services to the entire Halton Region, Ontario. Volunteer Halton's mandate is to strengthen communities by building a strong civil society that fosters equity at the community level.
The purpose of the Volunteer Halton program is to link people who want to volunteer with organizations that need volunteers, and to advocate and act as a catalyst for civic engagement by providing leadership and education for volunteers and community agencies employing a volunteer base.
Located in Burlington, Ontario and serving the Halton Region (Burlington, Oakville, Milton and Halton Hills), Volunteer Halton is an advocate and catalyst for volunteerism, providing leadership and support for volunteer efforts to build the capacity of the community. Volunteer Halton advocates for volunteer rights and expectations through its membership and association with provincial and national organizations.
Within the Halton community, Volunteer Halton supports non-profit agencies with training, an online matching program, consulting and the promotion of volunteerism such as Volunteer Week celebrations.