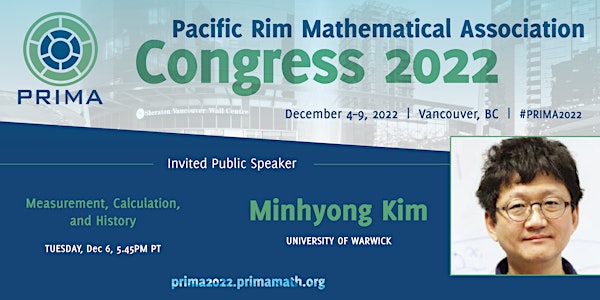 Public Lecture: Measurement, Calculation, and History
PRIMA 2022 Invited Public Speaker: Minhyong Kim (University of Warwick)
When and where
Location
Sheraton Vancouver Wall Centre 1000 Burrard Street Vancouver, BC V6Z 2R9 Canada
About this event
Title: Measurement, Calculation, and History
Abstract: Some of the most remarkable achievements of science are the mind-boggling measurements it has contributed throughout history to our collective understanding of the universe. For example, a simple Google search will reveal that the radius of our galaxy is 52850 light years, and that the Andromeda galaxy is 2.537 million light years away. You can also findout that the mass of an electron is 0.00000000000000000000000000091093837 grams. Sadly, I don't think I will have time to discuss these great numbers in this lecture. However, I will mention a few simpler, but still great measurements in history, and how they involved calculating with precision. I will also reflect on what our knowledge of such matters tells us about the nature of mathematics as a human heritage.
More: This event is a part of the PRIMA 2022 Congress. It is open to the public. Registration will take place at the location of the event (Sheraton Wall Centre).
About PRIMA:
The 2022 Pacific Rim Mathematical Association Congress will be taking place in Vancouver, Canada, between December 4-9, 2022. The fourth meeting will be hosted by the Pacific Institute for the Mathematical Sciences (PIMS).
Every four years, mathematical scientists from around the Pacific Rim converge to discuss the latest developments in Mathematics. The Pacific Rim Mathematical Association (PRIMA) was established to bring a well coordinated and concerted effort among our institutions and countries to stimulate a vibrant and interconnected mathematical community whose activities have an unprecedented impact on our economic, social, and cultural development.