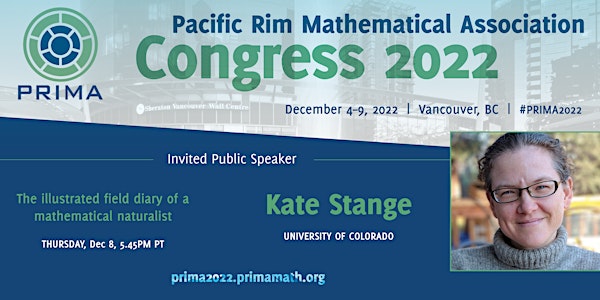 Public Lecture: The illustrated field diary of a mathematical naturalist
PRIMA 2022 Invited Public Speaker: Kate Stange (University of Colorado)
When and where
Location
Sheraton Vancouver Wall Centre 1000 Burrard Street Vancouver, BC V6Z 2R9 Canada
About this event
Title: The illustrated field diary of a mathematical naturalist
Abstract: Mathematics is a jungle: A jubilee of flowering plants and mysterious animals. The mathematician is a naturalist, describing the behaviours of whatever she encounters on her tours. With the advent of computers and modern technologies, the dispatches of the naturalist can now be illustrated in full colour. In my own travels, I've collected some illustrations that I hope will surprise and delight you. I'll show you -- in technicolour -- some of the lesser-known antics of the inhabitants of the mathematical realm, including complex and rational numbers and the roots of polynomials.
More: This event is a part of the PRIMA 2022 Congress. It is open to the public. Registration will take place at the location of the event (Sheraton Wall Centre).
About PRIMA:
The 2022 Pacific Rim Mathematical Association Congress will be taking place in Vancouver, Canada, between December 4-9, 2022. The fourth meeting will be hosted by the Pacific Institute for the Mathematical Sciences (PIMS).
Every four years, mathematical scientists from around the Pacific Rim converge to discuss the latest developments in Mathematics. The Pacific Rim Mathematical Association (PRIMA) was established to bring a well coordinated and concerted effort among our institutions and countries to stimulate a vibrant and interconnected mathematical community whose activities have an unprecedented impact on our economic, social, and cultural development.