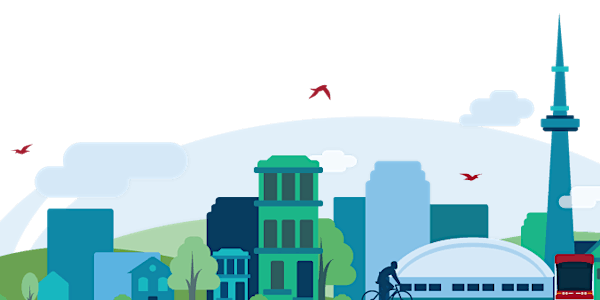 Public Meeting: City of Toronto TransformTO Climate Action Strategy
You are invited to a public meeting on August 8 to provide input to help inform the TransformTO Implementation Plan to 2023.
About this event
In 2017, Toronto City Council unanimously voted to pass TransformTO, the City's climate action strategy to reduce greenhouse gas emissions by 80 percent of 1990 levels by 2050. To reach this target, Toronto needs to make transformative changes to the ways we travel, build, use energy, and manage waste— and the City needs your input on the next set of short-term climate actions from 2021-2023 that will support those transformations.
The TransformTO Implementation Plan will be presented to City Council in early 2020. The actions in the Implementation Plan aim to reduce greenhouse gas emissions and integrate climate resilience, while maximizing benefits to the community.
Join us on August 8 to give input on what climate action priorities should be included in the TransformTO Implementation Plan to 2023 to support the City in reaching its 2050 target.
In July and August, the City is also convening the TransformTO Reference Panel on Climate Action. The Reference Panel is a randomly selected group of Toronto residents who are also tasked with making recommendations about what actions the City should take to reduce greenhouse gas emissions in the next few years. They will incorporate learnings from the August 8th public meeting into their deliberations and final report. To learn more about the Reference Panel, visit http://toronto.ca/transformto.
How to get to the Scarborough Civic Centre:
By Public Transit: Scarborough Civic Centre is a two minute walk from Scarborough Centre Station on Line 3 (Blue Line). You can transfer to Line 3 at Kennedy Station on Line 2 (Green Line). 
Pay Parking: There is visitor parking all around the Civic Centre, including at Scarborough Town Centre (300 Borough Drive), 200 Town Centre Court, and meters along Borough Drive.
Wheel Trans: Request to be dropped off by the library on Borough Drive.

Organizer of Public Meeting: City of Toronto TransformTO Climate Action Strategy