For Historic Calgary Week, we invite your family to gather at Lougheed House for a reading of "Clarence's Engine" by author Trudy Cowan.
About this event
CLARENCE'S ENGINE
Did you ever lose a toy that you really liked? Clarence Lougheed was 6 when his family moved to their big, new, sandstone home in 1891. While everything was being packed, his favourite toy train engine went missing. Come with Clarence to the historic Lougheed House where author Trudy Cowan will tell you the story and lead a Lougheed House art activity.
Sunday, August 1 at 11 am, 45 minute program
Reading will take place in our formal gardens on the east side of Lougheed House. In case of poor weather, the reading will take place inside the museum in our drawing room.
Address: 707 – 13 Avenue SW
This program is designed for children aged 4-7 years old.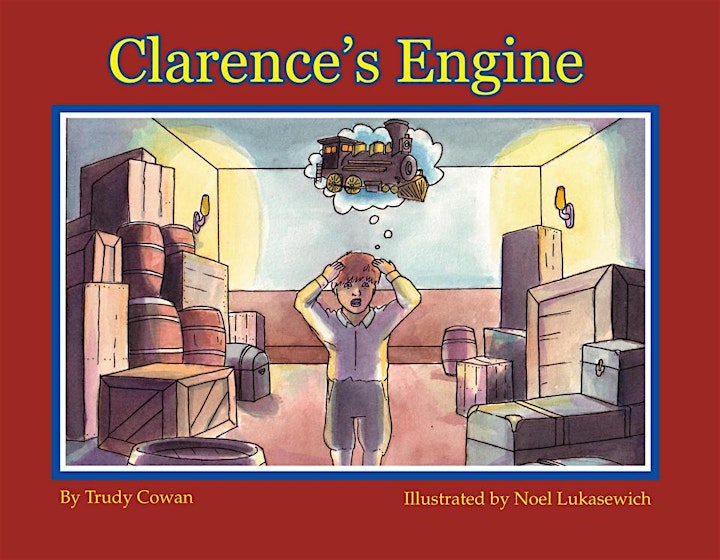 Your free admission to Trudy Cowan's reading also includes free admission to Lougheed House! On your self-guided tour, you will get to immerse yourself in the grand architecture and unique finishings that make Lougheed House a truly special place to visit. Please note that COVID-19 safety protocols including masking, contact tracing, and physical distancing are in effect. See here for more information.
Guests can also take in the two temporary exhibits running until October 17th. We Were Here: Stories from Early Chinatown features artwork, sound and story from local artists of Chinese descent. We invite you to celebrate Chinese culture in Calgary and to learn more about the first two iterations of our city's Chinatown.
Lougheed House is also proud to premiere a new travelling exhibit by artist Kay Burns, Beyond the Edge. Take an historical look at the Flat Earth Society of Canada and its later iterations, along with curious details about two of its enigmatic members. The exhibit embodies how inquiry plays an important role in critical thinking and knowledge acquisition.
Our Shop is open if you're inspired to take home a unique gift item from one of our local artisans whose creations we are proud to sell.
Add a mouthwatering meal by Chef Judy Wood to your experience by requesting a reservation for Afternoon Tea or Brunch either before or after your exploration. Reservations can be booked by calling 403-410-9288 or emailing info@flavouryyc.com
Interested in a Guided Tour of Lougheed House? Follow the link to learn more about our small group guided tours, led by one of our Interpreters.