About this Event
We are fortunate to host Neil Pearson, PT, MSc (RHBS), BA-BPHE, CIAYT, ERYT500. M. Pearson is a physiotherapist, yoga teacher, UBC Clinical Assistant Professor and is the founding chair of the Canadian Physiotherapy Pain Science Division.
This seminar aims to give the attendees a better understanding of chronic pain and tools to improve pain self-management.
Main learning objectives:
1. Learn the science of pain and pain care: understand that pain is complex, that individuals have abilities to influence pain, and that there is hope.
2. Understand how the body & brain respond to pain: recognize that when pain persists, improvements require as much focus on changing the nervous systems as it does on getting the body healthy again.
3. Learn new pain care techniques: list four strategies to assist with moving with more ease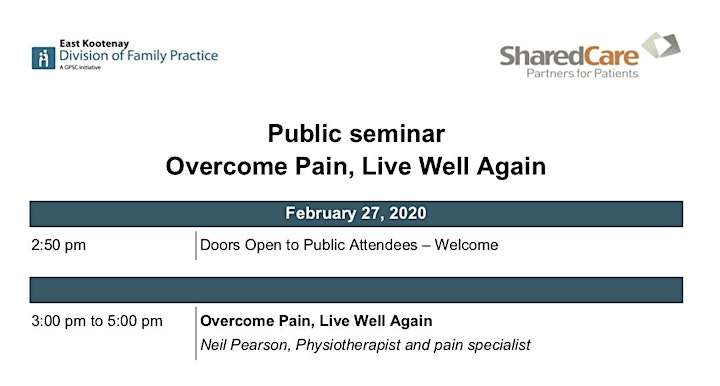 Snacks and hot drinks will be provided.
The seminar is free, thanks to the financial support of Shared Care and Teck.
Places are limited, so please make sure to register.