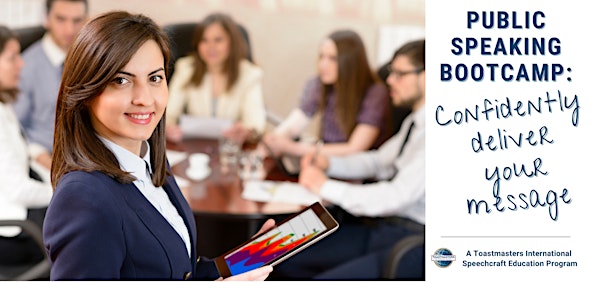 Public Speaking Bootcamp: Confidently Deliver Your Message - 2022-02-07
Event Information
Refund policy
Contact the organizer to request a refund.
Eventbrite's fee is nonrefundable.
This four week course starts Monday, February 7th and will help you gain the experience to be a confident public speaker!
About this event
Whether your dream is to be a motivational speaker, an entrepreneur, a leader of a team, or be CEO of a company of 500+, everyone needs the tools to be comfortable public speaking.
Join our four-week program, Public Speaking Bootcamp: Confidently Deliver your Message.
Dates of the Workshops are on these Mondays: February 7, 14, 21 and 28, 2022
A proven course offered by Toastmasters International, you will gain the expertise you need to confidently speak, motivate and inspire your audience through public speaking. In this experiential learning platform, you will learn the skills and secrets that the best public speakers use and implement.
Over the course of the month of February, you will boost your personal and professional goals to:
Deliver high quality online presentations and workshops with clear structure leaving your audience and clients coming back for more.
Connect with your audience through more effective verbal and non-verbal authentic communication.
Give and receive constructive and genuine feedback that leaves others feeling motivated to continue growing.
Increase your confidence to allow yourself to be more present and mindful in every day conversation.
Understand how a proper introductions prepares your audeince to positively receive your message.
Program Length: 4 Sessions / Location: Online
FAQ:
What does the registration fee include?
Your registration fee includes the FOUR workshops offered 2022-02-07; 14; 21 and 28, and seven months of membership to Toastmasters International - where you will continue to develop and hone your skills with education material and the support of a like-minded community.
I feel I am a novice. Am I welcome?
Yes! A Toastmasters environment is built on the foundation of providing a supportive and positive learning experience in which members are empowered to develop communication and leadership skills, resulting in greater self-confidence and personal growth.
I have been speaking publicly for years. Is this workshop for me?
Yes! Every speaker, including those who are well polished and confident, can always use positive, constructive feedback to improve how our message is received. Not only will you receive feedback, but you will have a chance to hone your communication and mentoring skills to help those who may need lifting and encouragement.
About Toastmasters International
Toastmasters International is a worldwide non for profit educational organization that empowers individuals to become more effective communicators and leaders. Headquartered in Englewood, Colo., the organization's membership exceeds 364,000 in more than 16,200 clubs in 145 countries. Since 1924, Toastmasters International has helped people from diverse backgrounds become more confident speakers, communicators and leaders.
The online projects include instruction on subjects that are designed to directly and immediately impact each participant's public speaking skills. The projects are Choose a Topic, Prepare to Present, Giving and Receiving Feedback, Know your Purpose ,Body Language, How to Evaluate, Vocal Variety, and Powerful Words.
The group is kept small so that we can still focus on each individual's needs while harnessing the power of a shared experience.
Your participation in the Public Speaking Bootcamp is your acceptance to the following: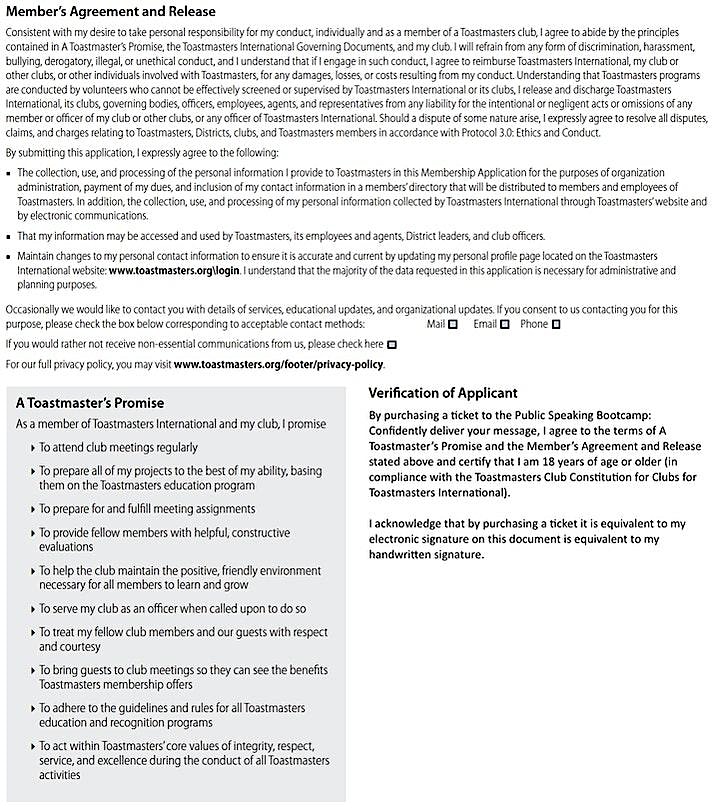 Date and time
Location
Refund policy
Contact the organizer to request a refund.
Eventbrite's fee is nonrefundable.