Sales Have Ended
Registrations are closed
http://www.doitindurham.biz
Sales Have Ended
Registrations are closed
http://www.doitindurham.biz
Description
Do It In Durham is in celebration of Global Entrepreneurship Week. In Durham we have over 30 events happening to celebrate, inspire and motivate entrepreneurship. There is a rich eco-system of support, funding and entrepreneurial resources for businesses.
Regardless of what business you are in, you must tap into the powerful strategy of speaking. Speaking will help you and your business to Standout in the crowded marketplace, increase your Credibility, attract your Ideal Client and increase your Cash-flow
Public Speaking For Entrepreneurial Success™ is an interactive presentation that introduces entrepreneurs to World Class speaking tools and strategies that will empower them to take control of their business success and grow their business with speaking. In today's competitive market- place, entrepreneurs cannot afford to be passive or reactive, they must be proactive.
Entrepreneurs need a powerful strategy to standout as the Go-to-Expert in their community. That strategy is Public Speaking For Entrepreneurial Success™
In this interactive presentation, you will discover:
◆ How to make your product or service valuable in the marketplace
◆ 3 Strategies to attract your Ideal Client with your 60 second presentation
◆ The Secret to Selling what the marketplace is buying
◆ The Key to establishing You as the Go-to-Expert
About the Presenter: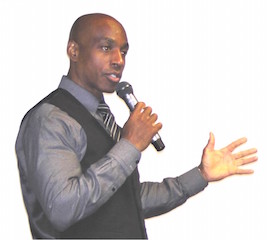 416.995.2130 www.SpeakAndGrowYourBusiness.com
"Even with a career behind me of speaking to leaders, top executives or hundreds of employees at a time I still took pages of notes. I would highly recommend Marlon to anyone who wants to improve their confidence in speaking to others, in large or small audiences. Whatever the message, he can help you understand how to structure the communication so it is clear, and accurately shared."
� Scott Fisher Business & Executive Development Specialist {LMI Canada)