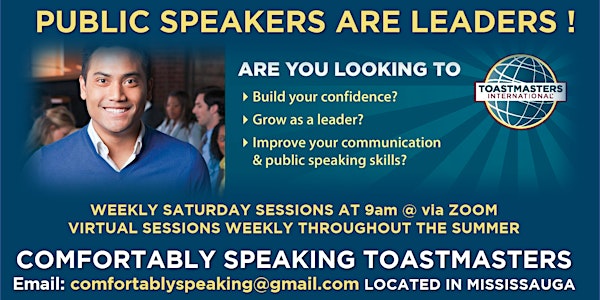 Public Speaking & Leadership Program @ Comfortably Speaking Toastmasters
Develop your public speaking skills from the comfort of your home. We are a public speaking & leadership & development club in Mississauga.
When and where
Location
Comfortably Speaking Toastmasters Club Due to Covid-19 - Meetings are on Zoom Email: comfortablyspeaking@outlook.com Mississauga, ON L5B 3Y3 Canada
About this event
We will send connection information out on Thursday and Friday.
Note - Toastmasters has a minimum registration age of 18 years or older. For those under 18 search for "gavel clubs" that serve those studying in public school. Our session is online every Saturday. Session starts at 9am. Guests can attend free.
We are an experienced club with high quality members who are committed to personal and professional development.  Leadership is a practice, it is not something that one learns on an MBA course, communication skills are the key to that leadership development. 
The program is experiential learning based, self-paced and geared to the learning goals of each member.
Toastmasters International is "Where Leaders Are Made"(™).  We provide Toastmasters Pathways program.  For more information about Pathways go to http://www.toastmasters.org
We look forward to inviting you as a guest at one of our sessions.  Please register and RSVP and see for yourself the difference the program at Comfortably Speaking Toastmasters has made for 300,000+ Toastmaster members around the world. 
Email comfortablyspeaking@gmail.com for more information.