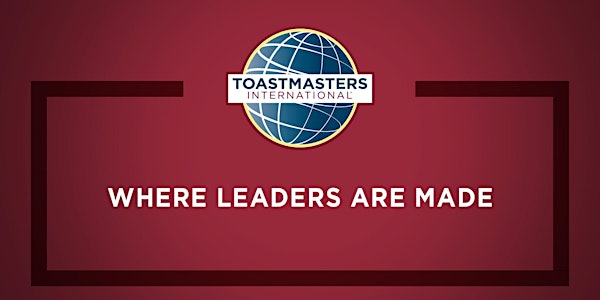 Public Speaking & Leadership Program @ Momentum Toastmasters
Public Speaking & Leadership Program @ Momentum Toastmasters
About this event
Momentum Toastmasters is a communication and leadership development club located on 27 Allstate Parkway, Markham, Ontario ,eRM Room (4th floor). We are now virtually due to COVID-19. We train through asking attendees impromptu questions, having brief prepared speeches focused on strengthening speaking skills, and providing brief oral/written speech evaluations. We encourage anyone interested building self-confidence through improving their leadership, listening, and communication skills to attend.
"Online Meetings - the New Way to Communicate, Collaborate, and Connect."
Improve your influence through communication and leadership skills. Toastmasters is the premier communication and leadership organization, where you learn by doing
Education is an important part of every Toastmaster's journey, and it is a critical aspect of all club meetings around the world. Develop and practice communication and leadership skills in the safe, supportive environment of your club, working through projects and assignments that enable you to build real–world skills in a variety of disciplines. Learn at your own pace in a proven curriculum that was built on four guiding principles that have been in place since Toastmasters was founded in 1924:
Experiential learning – By giving speeches and fulfilling leadership roles, you practice and improve.
Peer feedback – Grow and improve through honest and supportive peer evaluation.
Mentoring – Experienced mentors encourage, guide and support you in your goals and help you to achieve more than you thought possible.
Self-paced program – Develop skills at your own pace and comfort level.
Toastmasters education is comprised of the traditional education program, the Pathways learning experience, the Youth Leadership Program, the Interpersonal Communication Program and the Speechcraft Program.