Refund policy
Contact the organizer to request a refund.
Eventbrite's fee is nonrefundable.
WOTS Toronto presents The City Imagines, a series of discussions about books that shape cities, ft. authors Cory Doctorow and James Wilt
About this event
For our fourth City Imagines panel, Radicalized author Cory Doctorow speaks with James Wilt, author of Do Androids Dream of Electric Cars? Public Transit in the Age of Google, Uber, and Elon Musk.
For North American cities built around cars, public transportation was already in crisis. So what happens when a tech giant enters the transit ecosystem? Join us for this wide-ranging discussion about how transportation affects climate change, inequality, accessibility, safety, labour issues, and information privacy. What should public transit look like in a green and equitable city? And what's needed for citizens to exert power over how cities are built and for whom?
Presented by The Word On The Street, City Imagines explores books that shape cities. Join us online for a wide ranging series of discussions about cities and the people who shape them. The full City Imagines schedule can be found here.
Streaming details for this session will be emailed to attendees 24-hours before the event.
PANELISTS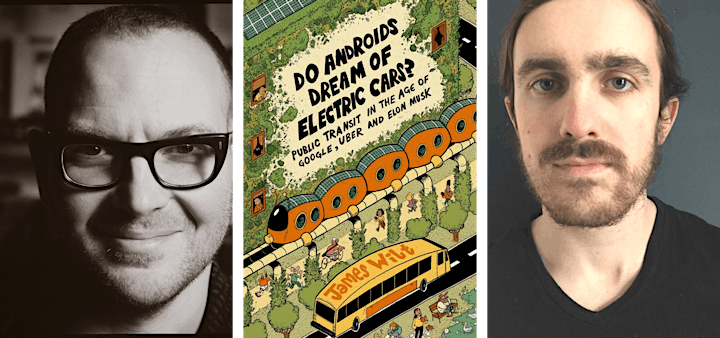 CORY DOCTOROW (craphound.com) is a science fiction author, activist and journalist. He is the author of many books, most recently Radicalized and Walkaway, science fiction for adults, In Real Life, a graphic novel; Information Doesn't Want To Be Free, a book about earning a living in the Internet age, and Homeland, a YA sequel to Little Brother. His latest book is Poesy The Monster Slayer, a picture book for young readers. His next book is Attack Surface, an adult sequel to Little Brother.
JAMES WILT is a freelance journalist and graduate student based in Winnipeg. He frequently contributes to Canadian publications including Canadian Dimension, Briarpatch, and Passage.
Do Androids Dream of Electric Cars? Public Transport in the age of Google, Uber, and Elon Musk
Public transportation is in crisis. Through an assessment of the history of automobility in North America, the "three revolutions" in automotive transportation, as well as the current work of committed people advocating for a different way forward, James Wilt imagines what public transit should look like in order to be green and equitable. Wilt considers environment and climate change, economic and racial inequality, urban density, accessibility and safety, work and labour unions, privacy and control of personal data, as well as the importance of public and democratic decision-making.
Based on interviews with more than forty experts, including community activists, academics, transit planners, authors, and journalists, Do Androids Dream of Electric Cars? explores our ability to exert power over how cities are built and for whom.
OFFICIAL BOOKSELLER

Support your local bookstores! Shop online for Fit Cities & more great reads at Another Story Bookshop
THE WORD ON THE STREET

The Word On The Street is an annual celebration of storytelling, ideas and imagination, hosting Canada's largest FREE book and magazine festival each September and promoting great books by Canadian and Indigenous authors year-round. To support this year's festival, visit CanadaHelps.