Join us for a publishers' session with editors of the six leading publications on applied linguistics in Canada and beyond!
About this event
This free event promises to provide attendees not only with valuable information on the various journals that publish applied linguistics research (including their goals, procedures, and requirements), but to also help authors to better understand the publication process.
The editors of the Canadian Journal of Applied Linguistics, the Canadian Modern Language Review, Language Awareness, Journal of Belonging, Identity, Language and Diversity (J-BILD), TESL Canada Journal, and La Revue de l'AQEFLS will come together to explain how to select the best journal for one's work, address reviewer feedback and understand editorial decisions, as well as the intricacies of publishing in French. The audience will be invited to interact with the editors as a group as well as individually (in breakout rooms).
Save the date and join us for an illuminating session on how to get published in applied linguistics journals!
A Zoom link will be sent to participants on the morning of the event.
__________________________________________
Cet événement gratuit offrira à l'auditoire de l'information importante concernant les différentes revues qui publient de la recherche en linguistique appliquée (incluant leurs objectifs, leurs procédures et leurs attentes), mais aidera également les auteurs à mieux comprendre le processus de publication.
Les éditeurs de la Revue canadienne de linguistique appliquée, de la Revue canadienne des langues vivantes, de Language Awareness, de la Revue de langage, d'identité, de diversité et d'appartenance, de TESL Canada Journal et de la Revue de l'AQEFLS se réuniront pour expliquer comment choisir un lieu de publication et comment tenir compte des commentaires des évaluateurs. Les subtilités en lien avec la publication en français seront aussi abordées. Les membres de l'auditoire seront enfin appelés à interagir avec les éditeurs en groupes et individuellement.
Nous vous invitons donc à cet événement qui promet d'offrir un éclairage précieux sur les processus de publication dans les revues portant sur la linguistique appliquée!
Le lien Zoom permettant de prendre part au panel sera envoyé aux participants le matin de l'événement.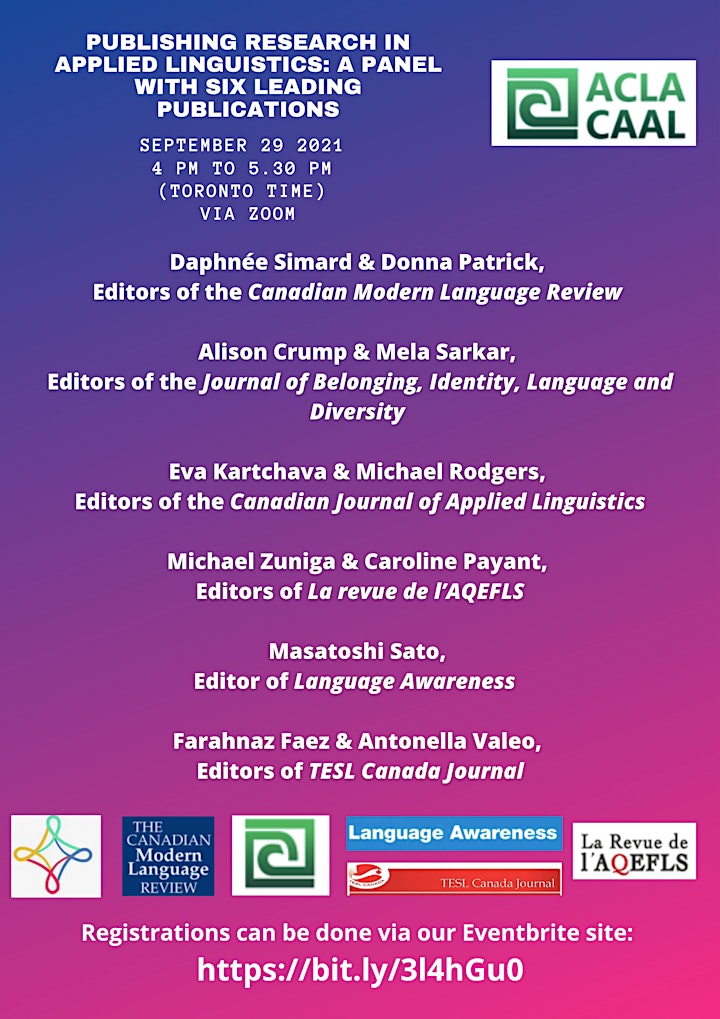 Organizer of Publishing research in applied linguistics