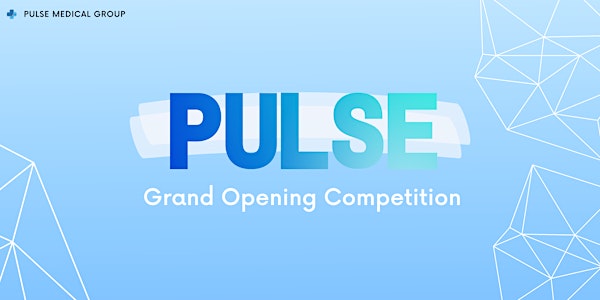 Pulse Grand Opening Competition
Pulse's Grand Opening Competition engages competitors with various medical prompts, fostering innovative and holistic solutions.
Refund Policy
Contact the organizer to request a refund.
Eventbrite's fee is nonrefundable.
About this event
On Thursday, October 6th, 2022, Pulse's Grand Opening Competition will kick off at 12:00 pm, releasing a medical prompt in which competitors will have the next 48 hours to complete!
Teams may range from 1-4 competitors, where all team members must purchase a ticket in order to participate. The team registry will open several days before the competition, where proof of purchase will be required.
Within the 48 hours, teams must produce a creative solution that follows the given prompt, in the form of an APA-cited, 250-word scientific abstract, alongside a 1-minute video summarizing the team's solution and approach.
Selected teams will be required to present again on Sunday, October 9th, in front of a live panel of judges for a 5-minute discourse, where teams will be questioned on their submission's science and feasibility.
Topics may include:
- Global Health Issues
- New Medical Technologies
- Promising Scientific Research
- Novel Disease Treatments
To register, please click on the register link above.
Registration will close on Tuesday, October 4th, at 11:59 pm.
Following your registration, you will receive an email confirming your enrollment, and more information will be provided shortly.