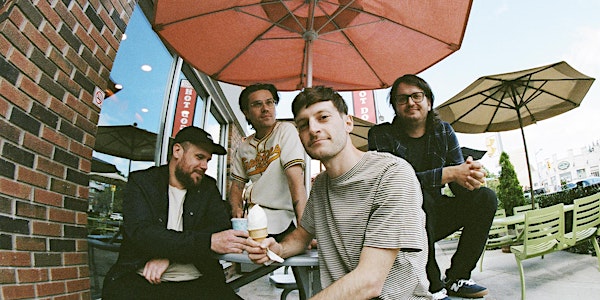 Event Information
Performers
Location
Bridgeworks
200 Caroline St. N. (off Barton St. W.)
Hamilton, ON L8R 0A6
Canada
PUP — Live At Bridgeworks!
About this event
Overflowing with attitude, energy, and hooky guitar figures, PUP is a Toronto-based punk combo whose acclaimed 2013 debut helped earn them a widespread audience both inside and outside of Canada. PUP quickly became a touring dynamo with a larger label (SideOneDummy) behind them, and their quirky sense of humour and engaging songwriting played out over albums like 2016's The Dream Is Over and the slightly more polished Morbid Stuff, which arrived in 2019. PUP has spent the past several years touring the world on the back of these records, which earned them love and accolades from The New York Times, Pitchfork, SPIN, and helped to cement them as one the most energetic and exciting up and coming bands in the punk community.
Featuring Stefan Babcock on vocals and guitar, Steve Sladkowski on guitar and vocals, Nestor Chumak on bass and vocals, and Zack Mykula on drums and vocals, all longtime friends who met in elementary school, PUP formed in 2011 under the name Topanga. The original name was a reference to Topanga Lawrence, a character played by Danielle Fishel on the '90s sitcom Boy Meets World, but when the members learned Fishel would be reviving the character in 2014 in a spin-off titled Girl Meets World, they chose to change the name to PUP, standing for "Pathetic Use of Potential." Topanga released a digital EP titled Oceans, and positive press and attention from other bands helped create a buzz about the group. In 2013, they became PUP, releasing their self-titled debut album through the Royal Mountain label. The album was a hit with both critics and fans, with the group being named Best Live Show and Best New Artist by CBC Radio 3. The band toured extensively, playing throughout Canada and making their way to England and the United States. By the end of 2013, PUP had signed a record deal with the well-established punk label Side One Dummy, and spent much of 2014 and 2015 touring in support of SOD's reissue of their debut LP, launching their first headlining tours of the United States and Canada, as well as making their Australian debut.
In February 2016, PUP teased a new single called "DVP" in advance of their second full-length album, The Dream Is Over. Released in May of that year, the album's title is a reference to a prognosis Babcock received from his doctor: he'd severely damaged his vocal cords after enduring years of non-stop touring. In true punk fashion, PUP used the doctor's glib comment as the rallying cry for another set of hard-hitting, self-deprecating punk tunes. The band promoted the effort with an international tour over the next year before returning to the studio to write and record the follow-up. They spent most of 2018 working on the album, which saw release in April 2019. Titled Morbid Stuff, the record was produced with Dave Schiffman (the Mars Volta, Weezer) and lyrically focused on Babcock's mental health struggles, with the resulting session both a noisy, biting, and recklessly fun ode to nihilism and depression and the band's best and most complete effort to date. The album earned them critical acclaim, countless year-end nods, a late-night debut on Late Night With Seth Meyers, the JUNO Award for Alternative Album of The Year, the short list for the Polaris Music Prize, and sold-out shows across the globe. They then greeted 2020 with the aptly titled EP, This Place Sucks Ass (whose title referenced one of their long-standing touring inside jokes), and the live album Live at The Electric Ballroom, the proceeds of which earned almost $30K for Critical Resistance + Breakaway Addiction Services in Toronto.
This year, PUP returned with two new tracks — "Waiting" and "Kill Something" — released alongside concert dates throughout the U.S. and Canada for early 2022. The tracks are their first original material of 2021, both produced by Grammy-winning producer Peter Katis (Interpol, The National, Kurt Vile). "Waiting", which features fellow Canadian punk artist Kathryn McCaughey (NOBRO), is a riotous, joyful and ridiculously fun track that has everything you want from a PUP song, and more. Stefan explains why: "'Waiting' came about by smashing the heaviest riff Nestor could write with the simplest, most uplifting chorus I could write, just to see what would happen. The results were very quintessentially PUP, in that the song is a flurry of darkness and anger through the joyous lens of four guys just happy to be here, four guys who don't take themselves seriously enough to make music that doesn't feel like fun, regardless of the subject matter." "Kill Something", meanwhile, is about Stefan's dog Moose, who loves to destroy his favourite things, and then is sad that those things are destroyed. (We feel you, Moose.)
Instagram | Facebook | Twitter | Spotify | Apple Music
•
Known for their studied sound and supercharged live performances, Casper Skulls have been hailed by the likes of FADER, MTV and Billboard. On the back of their live shows opening for Thurston Moore, The Julie Ruin, PUP, and Charly Bliss, they're one of the most exciting emerging Canadian bands. There was already a palpable distance between the scrappy young noiseniks who first turned heads with their debut single, "King of Gold," in 2015, to 2016's artfully buzzing Lips and Skull EP, and then a year later the more contemplative and confidently nuanced full-length, Mercy Works. On Knows No Kindness, their sophomore album to be released in November 2021 by Next Door Records, Casper Skulls become the otherworldly outfit hinted at in Mercy Works, on 2018's "O My Enemy," and last year's Françoise Hardy cover, "Ou va la chançe." KNK functions as a collage of memories that have shaped singer Melanie St-Pierre from her youth in Northern Ontario through to adulthood in Toronto. Each song tells a story of an experience that has affected the course of her life. There's a new depth to the arrangements here, realized with an arsenal of ethereal effects, illustrative percussion, cinematic guitar noise, and vividly on-point singing and songwriting, picking up melodically where SOCAN Songwriting Prize-nominated devastator "Lingua Franca" left off. Casper Skulls have been ready for their closeup for a while. With KNK, they've gone and made an album that's simply too good to neglect.
Instagram | Facebook | Twitter | Spotify | Apple Music
••
General Admission standing Licensed/All-Ages event. Mobility accommodations available upon request. Valid government issued photo ID is required in order to enter. Artists and schedule subject to change. Event subject to change in support of evolving public health protocols.
Performers
Date and time
Location
Bridgeworks
200 Caroline St. N. (off Barton St. W.)
Hamilton, ON L8R 0A6
Canada
Refund policy