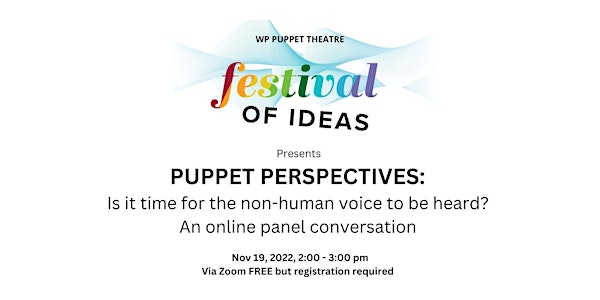 Puppet Perspectives - online conversation
Is it time for the non-human voice to be heard? Join us for an intriguing online conversation.
About this event
Sentience is in question. Personhood is at issue. Anthropocentrism is challenged.
WP Puppet Theatre's Festival of Ideas explores the power of puppetry, as applied in areas of social justice, community issues and cultural anthropology. Sometimes it is crystal clear that puppetry can be a tool for teaching literacy, grab attention in a parade for social action or build community through sharing cultural traditions.
In this case of non-human perspectives or different points of view are puppets are relevant? And if so how? Are puppets really inanimate? Are they really insentient?
Inspired by our evening performance of Caws and Effect, an award-winning production by Vancouver's Mind of A Snail, they describe it as "large-scale shadow theatre from a bird's eye view. Crows are re-dreaming the world. Is the future all it's cracked up to be?"
What can we learn from the puppet crows?
Festival of Ideas Nov 19th, 2022 Program of Events (times listed in Mountain Time)
11:00 - 12:30 pm - Overhead Projector Shadow Puppetry Workshop - Mind of a Snail - In-Person at Cspace OR Livestream
2:00 - 3:00 pm - Puppet Perspectives - Online conversation via Zoom (FREE but Registration required. Included with performance / workshop ticket purchase.)
7:00 - 8:15 pm - Performance - Caws & Effect -Mind of a Snail - In-Person at Cspace OR Livestream