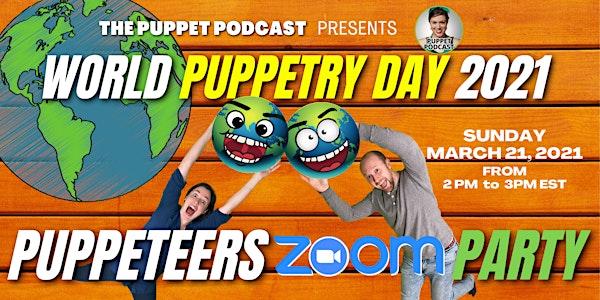 Puppet Podcast ZOOM Party: World Puppetry Day 2021
What better way to celebrate World Puppetry Day 2021 than to gather all of the Puppeteers Community on a ZOOM call of entertainment!
Refund Policy
Contact the organizer to request a refund.
About this event
*All proceeds of ticket sales will be given as a donation to UNIMA International from the Puppet Podcast. We suggest a 10$USD minimum but you can decide to register for free or to give a smaller amount if you want. :)
Welcome to our 2nd Puppet Podcast Gathering for Puppeteers on ZOOM!
This time, we gather online to celebrate together the WORLD PUPPETRY DAY 2021!!!
We are very happy to invite you to join us and puppeteers from all around the world on this very special day that celebrates this art that we all cherish.
We want to gather more than 300 puppeteers for this event.
During this ZOOM event, there will be:
A LIVE Performance
Group Puppet Lypsync
Lots of laughter! :-)
Videos
A SPECIAL ANNOUNCEMENT
Raffle to win an ANNUAL Subscription to our Patreon Community. (84$USD value)
Raffle to win a 1 hour FREE CONSULTATION about social media strategies to help your business as a puppeteer online. (100$USD value)
Informations about our Coaching Group for Puppeteers, Entertainers and Educators
We firmly believe that puppeteers, entertainers and educators should be able to support each other through these difficult times. By creating these regular events, we hope to engage with you more and more and to connect with artists all over the world.
Welcome to this amazing ZOOM gathering and please invite all your puppeteers, entertainers and educators friends. :)
Let's be more than 300 people during this LIVE ZOOM event!
BRING YOUR PUPPETS !!!!!! :-)