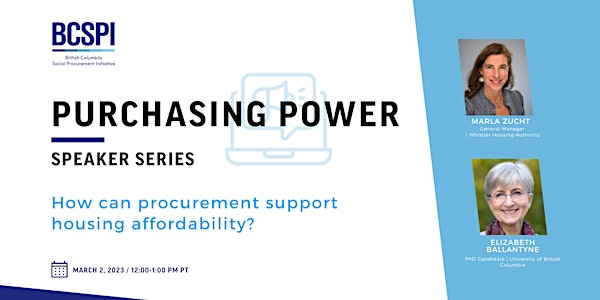 Purchasing Power: How can procurement support housing affordability?
Join us to learn more about how procurement can help support housing affordability and security.
By British Columbia Social Procurement Initiative
When and where
Date and time
Thu, Mar 2, 2023 12:00 PM - 1:00 PM PST
About this event
Are you interested in learning about how your purchasing can support systemic changes to promote housing affordability?
Purchasing Power is a speaker series featuring experts who are putting the principles of a social value marketplace into action, hosted by the British Columbia Social Procurement Initiative (BCSPI).
In this event, speakers will explore how procurement can be used as a tool to support housing affordability for community vibrancy and wellbeing. Tori Williamson, moderator and BCSPI project delivery team member, is joined by two leaders in this area: Marla Zucht from Whistler Housing Authority, and Elizabeth Ballantyne, a Doctoral Candidate at the School of Community & Regional Planning in the University of British Columbia.
To learn more about how BCSPI can empower your purchasing, explore bcspi.ca.
About the organizer
The British Columbia Social Procurement Initiative (BCSPI) helps local governments and institutional purchasers turn their procurement dollars into achievable and measurable community benefits