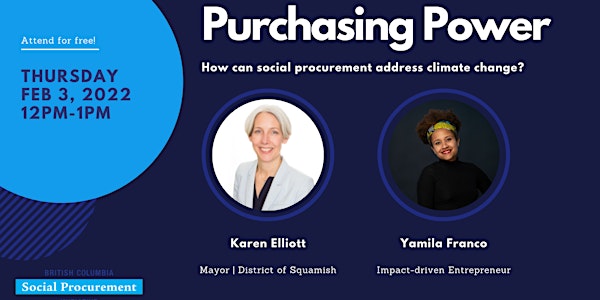 Purchasing Power: How can social procurement address climate change?
Join us for a lively conversation about how social procurement can improve climate change response and environmental wellbeing.
About this event
Are you interested in learning about climate change response and environmental wellbeing in your community?
Purchasing Power is a six part speaker series featuring several experts who are putting the principles of a social value marketplace into action, hosted by the British Columbia Social Procurement Initiative (BCSPI).
In this event, we look at how social procurement can address climate change. Kristi Fairholm-Mader, series moderator and program manager for BCSPI, is joined by two leaders in this area: Mayor Karen Elliott from the District of Squamish, and Yamila Franco, co-founder of Nyoka Design Labs and the Afro Hub Market.
Karen Elliott was elected as Mayor of the District of Squamish in October 2018 after serving as a member of Squamish Council from 2014-2018. She moved to Squamish in 2012 after spending six years abroad in Melbourne, Australia. Karen decided to run for elected office because she quickly realized the significant opportunities and challenges that lay ahead for Squamish as it experienced significant growth and big city pressures, despite its small town feel.
Karen is a co-chair of the British Columbia Social Procurement Initiative. The District of Squamish joined BCSPI in 2020 and adopted a new procurement policy in December 2020 to achieve social value objectives such as reduced Green House Gas emissions, low carbon materials, learning opportunities among marginalized populations, increased local business opportunities, ethical sourcing, as well as value for money. In addition, Karen has 15 years of consulting experience as a specialist in organizational effectiveness and leadership development. She supports her clients with strategic planning, team and leadership development, change management and large group facilitation. When she is not at work, Karen is a literacy tutor and enjoys spending time with her family and friends exploring the beautiful environment around Squamish.
With an award-winning career in the clean technology, social impact and finances, Yamila Franco began her professional career with her first social enterprise, Nyoka Design Labs, a clean technology social enterprise addressing the plastic waste challenges across the world and creating sustainable alternatives to toxic, plastic products with the circular economy. As a proud Afro-Indigenous womxn, Yamila brings an intersectional lens and leadership practices to foster sustainable, inclusive innovation opportunities and to advance the participation of groups systemically excluded from STEM and entrepreneurship.
Combining her passions for technology, finance and advancing the UN sustainable development goals, Yamila's firm, the National Financial Literacy Campaign, now focuses on creating more accessible opportunities for communities to gain financial literacy and entrepreneurial education, scaling impact initiatives and laying the base foundation to build sustainable social enterprises to advance the UN Sustainable Development Goals.
The Purchasing Power series will explore how local governments and institutions can use purchasing power to address the issues that matter to your community. Our last session after this will be a Purchasing Power wrap-up, featuring member governments from BCSPI.
To learn more about how BCSPI can empower your purchasing, explore bcspi.ca.
—
Sign up for BCSPI's newsletter to receive updates about events, member benefits, social procurement news, resources and more.