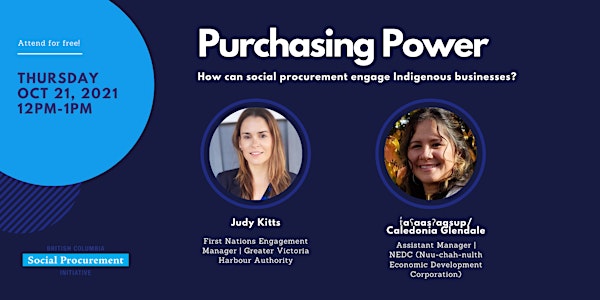 Purchasing Power: How can social procurement engage Indigenous businesses?
Join us for a lively conversation about what social procurement can do to improve the health and wellbeing of local communities in B.C.
About this event
Are you interested in learning about economic reconciliation and supporting Indigenous businesses?
Purchasing Power is a six part speaker series featuring several experts who are putting the principles of a social value marketplace into action, hosted by the British Columbia Social Procurement Initiative (BCSPI).
In the first event of this speaker series, we look at how social procurement can engage Indigenous businesses. Kristi Fairholm-Mader, series moderator and project manager for BCSPI, is joined by two leaders in this area: Judy Kitts from the Greater Victoria Harbour Authority (GVHA) and t̓aʕaasʔaqsup/Caledonia Glendale from NEDC.
Judy Kitts is the First Nations Engagement Manager for the GVHA. Her role includes increasing the recognition of the Lekwungen People in and around the facilities and land GVHA manages and supporting economic development initiatives through the First Nations Economic Development Committee.
Kitts has worked in Indigenous relations for more than 10 years. Most recently, Kitts worked at the Port of Vancouver, leading consultation with Indigenous groups on port development projects. She is honoured to live and work in Victoria in the traditional territories of the Esquimalt Nation and Songhees Nation.
t̓aʕaasʔaqsup/Caledonia Glendale is a proud member of the Tseshaht First Nation, a member of the Nuu-chah-nulth Nations. In 2000, Caledonia began her employment with the Nuu-chah-nulth Economic Development Corporation (NEDC). Since then she has worked as a Business Services Officer, Business Development Officer, and now as Assistant Manager.
She owned her own business for a few years assisting small Aboriginal businesses with their financial management (closing the business to take the Business Service Officer position with NEDC to avoid conflict in interest). She established inisa Consulting and Training Services in 2019 offering business consulting and training. She also volunteers in a variety of areas including community events, assisting and fundraising for people in need.
The Purchasing Power series will explore how local governments and institutions can use purchasing power to address the issues that matter to your community. Upcoming topics are:
Feb TBA: How can social procurement address climate change
Feb TBA: Purchasing Power wrap-up
To learn more about how BCSPI can empower your purchasing, explore bcspi.ca.