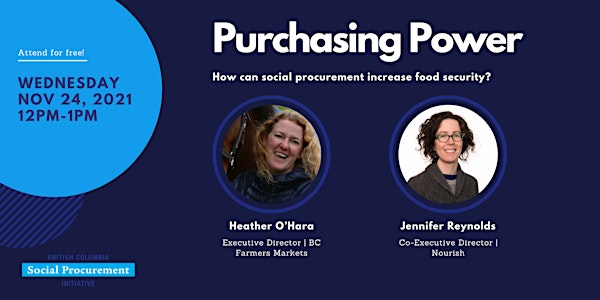 Purchasing Power: How can social procurement increase food security?
Join us for a lively conversation about what social procurement can do to improve the health and wellbeing of local communities in B.C.
About this event
Are you interested in learning about how to increase food security for your community?
Purchasing Power is a six part speaker series featuring several experts who are putting the principles of a social value marketplace into action, hosted by the British Columbia Social Procurement Initiative (BCSPI).
In this event, we look at how social procurement can support local economies. Kristi Fairholm-Mader, series moderator and project manager for BCSPI, is joined by two leaders in this area: Heather O'Hara from BC Farmers Markets and Jennifer Reynolds from Nourish.
Heather O'Hara joined the BC Association of Farmer's Markets in August of 2016 and brings over 15 years of experience in non-profit and social enterprise leadership to her position as Executive Director. Although originally from Manitoba, where her family has deep farming roots, Heather has called BC home since 2000.
As an entrepreneur and food lover at heart, Heather believes deeply in farmers' markets and small-scale farmers as a critical force in our regional food system. For 8 years, Heather served as executive director of Potluck Café Society, an award-winning social enterprise that creates jobs and provides healthy, fresh food for people living in Vancouver's Downtown Eastside.
Jennifer Reynolds is the Co-Executive Director of Nourish: The Future of Food in Healthcare. In this role, Jennifer is working to bring local, sustainable, cultural food into a more central role for health and healing in the health care sector. She believes that aligning mission, mandate and margin can transform systems, and that delicious food will drive innovation in healthy eating and sustainability.
She has worked with farmers, community organizations, institutions and policy makers at Food Secure Canada, Select Nova Scotia (the Province of Nova Scotia's Buy Local Campaign) and FoodShare Toronto. Jennifer has over 20 years' experience in sustainable agriculture, local food promotion, community food security and food policy.
The Purchasing Power series will explore how local governments and institutions can use purchasing power to address the issues that matter to your community. Upcoming topics are:
Feb TBA: How can social procurement address climate change
Feb TBA: Purchasing Power wrap-up
To learn more about how BCSPI can empower your purchasing, explore bcspi.ca.