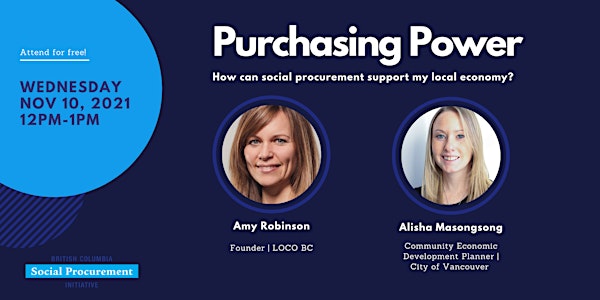 Purchasing Power: How can social procurement support my local economy?
Join us for a lively conversation about what social procurement can do to improve the health and wellbeing of local communities in B.C.
About this event
Are you interested in learning about creating a healthy local economy?
Purchasing Power is a six part speaker series featuring several experts who are putting the principles of a social value marketplace into action, hosted by the British Columbia Social Procurement Initiative (BCSPI).
In this event, we look at how social procurement can support local economies. Kristi Fairholm-Mader, series moderator and project manager for BCSPI, is joined by two leaders in this area: Amy Robinson from LOCO BC and Alisha Masongsong from the City of Vancouver.
Amy Robinson has over 20 years' experience working with businesses to embed sustainability into operations. She has worked with organizations ranging from small and medium sized enterprises (SMEs) to big industry, regional governments and the UN. However, she has a passion for small businesses, with their unique challenges and opportunities. In 2009, Amy founded the not-for-profit organization LOCO BC. At LOCO Amy has spearheaded important research on local business.
Amy is a recognized local economy leader, she was a 2013 fellow with the Business Alliance for Local Living Economies (now Common Future), was nominated for a YWCA Women of Distinction Award in 2020, and has been a sessional instructor at SFU in Local Economics since 2019.
Alisha Masongsong is a Social Planner in Community Economic Development at the City of Vancouver, where some of her portfolio focuses on implementing the City's Community Benefit Agreement policy and building the capacity of local social enterprises and small businesses. Prior to working for the City, Alisha has worked over 10 years in Vancouver's Downtown Eastside; including frontline social service work in the housing and health sectors, as the Acting Director at Exchange Inner City, and as the Manager of Community Engagement for Buy Social Canada.
It was through her work at Exchange Inner City and Buy Social Canada that she deepened her knowledge about social procurement, and was involved in advocating for and supporting the development of the City's CBA policy and social procurement framework.
The Purchasing Power series will explore how local governments and institutions can use purchasing power to address the issues that matter to your community. Upcoming topics are:
Feb TBA: How can social procurement address climate change
Feb TBA: Purchasing Power wrap-up
To learn more about how BCSPI can empower your purchasing, explore bcspi.ca.