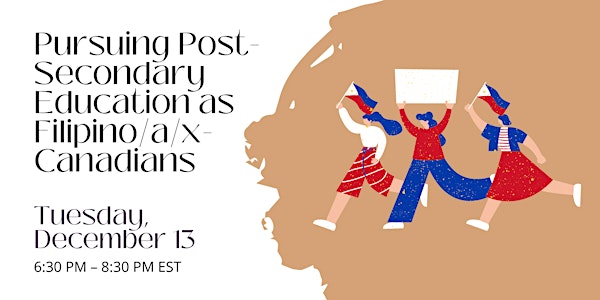 Pursuing Post-Secondary Education as Filipino/a/x-Canadians
Come and join this workshop and panel to learn more about pursuing post-secondary education, and hear about the Filipino/a/x experience!
About this event
Join Kabangka and Filipino/a/x-Canadian youth pursuing post-secondary at various universities across the country to learn more about their experiences at different levels of education.
For this event, we will be delving into a short workshop about what post-secondary education looks like in Canada, and exploring different levels of education within it including the application process, what to consider when you're in it and learning how to find a community. Furthermore, listen to Filipino/a/x-Canadian youth experiences in post-secondary across the country from the Bachelors, Masters, Law and PhD level.
Panel Speakers:
Jovelee Santos Herrera (she/her) is a 1L Juris Doctor Candidate in the University of Ottawa's English Common Law Program. She holds an Honours Bachelor of Arts in Politics and Governance from Toronto Metropolitan University. Born in Toronto, Ontario, Jovelee is proud to be a daughter of the Ilocano diaspora in Pangasinan and Isabela. Throughout Jovelee's undergraduate career, her academic interests encompassed an array of topics, specifically the impact of Canadian immigration agencies and policies on immigrants. As a law student, Jovelee hopes to explore the areas of immigration, criminal, health, and disability law. Her ultimate goal is to become a legal advisor for low-income members of racialized communities. Outside of her studies, Jovelee enjoys journaling, learning about the human mind, and watching basketball casually.
Micah Leonida (she/her/elle)
Hello! Bonjour! Kamusta! Micah Leonida was born and raised on Treaty 6 Territory in Amiskwaciwâskahikan (Beaver Mountain House) or Edmonton, Alberta. She holds a Bachelor of Arts (Combined Honors) degree in Political Science and French Language and Literature from the University of Alberta, and she is currently completing a Master of Public Administration (MPA) at the University of Victoria. Her thesis (although still in progress) focuses on the integration and settlement experiences of internationally-educated nurses from the Philippines and their pursuits of accreditation in Victoria, BC.
Micah's passion for community and democratic engagement has encouraged her to pursue work in non-for-profit and government sectors. Previously, she worked as the Edmonton RISE Program Coordinator with Apathy is Boring, as a Junior Evaluations Analyst for Public Services and Procurement Canada (PSPC), and she now serves as a Junior Policy Analyst for Employment and Social Development Canada (ESDC).
Outside of school and work, Micah enjoys crocheting beanies for her friends, co-producing podcast episodes about Pilipinx identies in the diaspora with What's the Tsismis, and volunteering with the Bayanihan Community Center in Victoria, BC.
Kevin Chavez Laxamana is a Filipino-Canadian sociocultural anthropologist, communications professional, and educator. Kevin has worked in higher-ed communications as a writer and digital and social media strategist since 2015. As an educator, Kevin has teaching and faculty appointments at NorQuest College (Edmonton), MacEwan University (Edmonton), Portage College (Cold Lake) and the University of the Philippines Baguio. He is currently the Programming Coordinator for the Centre for Graduate Professional Development (CGPD) at the University of Toronto.
As a Ph.D. student in anthropology, his primary research, training, and focus are on comparative gender studies in Southeast Asia. Currently, he is working on a SSHRC-funded project on food and memories focusing on Filipinos in the Canadian Prairies. In 2020, Kevin was honoured as one of Alberta's Top 30 Under 30, and shortlisted for a Golden Balangay Award in 2021. You can find more about his work on his website: www.kevinlaxamana.com
Moderator: Josel Angelica Gerardo (she/they) is a MA Student in Political Science at the University of Toronto with research interests in the politics of identity and belonging, and a young professional working at the Toronto Metropolitan University. As a young queer Filipina immigrant, Josel enjoys being involved in the community advocating for positive social change locally and nationally, while encouraging the current and next generations of Filipino/a/x youth to become leaders in the community and learn more about the Filipino/a/x culture. She was also quite involved in student leadership where she led and participated in student government, student groups and university research projects focusing on mobilization, and equity, diversity and inclusion.
--
If you require any accessibility accommodations, please contact info@kabangka.org.
--
About Kabangka Leadership & Learning
New this year, Kabangka seeks to engage young Filipino/a/x-Canadians through opportunities of leadership & learning. From workshops on practical skills to implement in our everyday lives, emerging technical skills to learning more about our Filipino/a/x heritage and celebrating our Filipino/a/x community, Kabangka is here for you. With our focus on featuring Filipino/a/x facilitators, we ensure that young Filipino/a/x-Canadians are well-equipped with the skills and knowledge they desire to have.
Some of our leadership & learning events and workshops will be exclusive to Kabangka Members only. Sign up now to be a Kabangka Member on our website and hear about our events and workshops firsthand.
Interested in a specific type of event or workshop, let us know by emailing us at info@kabangka.org.
About Kabangka
Founded in 2021, Kabangka is a registered non-for-profit that is youth-led and youth-centered leadership organization that unites young Filipino/a/x-Canadians to support Filipino/a/x-Canadian representation in a variety of sectors. Kabangka aims to create a space and support fellow Filipino/a/x-Canadian youth to network, learn new and develop existing skills, build connections, inspire action, and empower young people as leaders in their communities.