PUSH.PULL presents Body Love with Dainty Smith Workshop
Body Love with Dainty Smith is a 2 hour introductory lesson in the art of storytelling through burlesque. Date and Time: Wed Apr 28 6-8p
About this event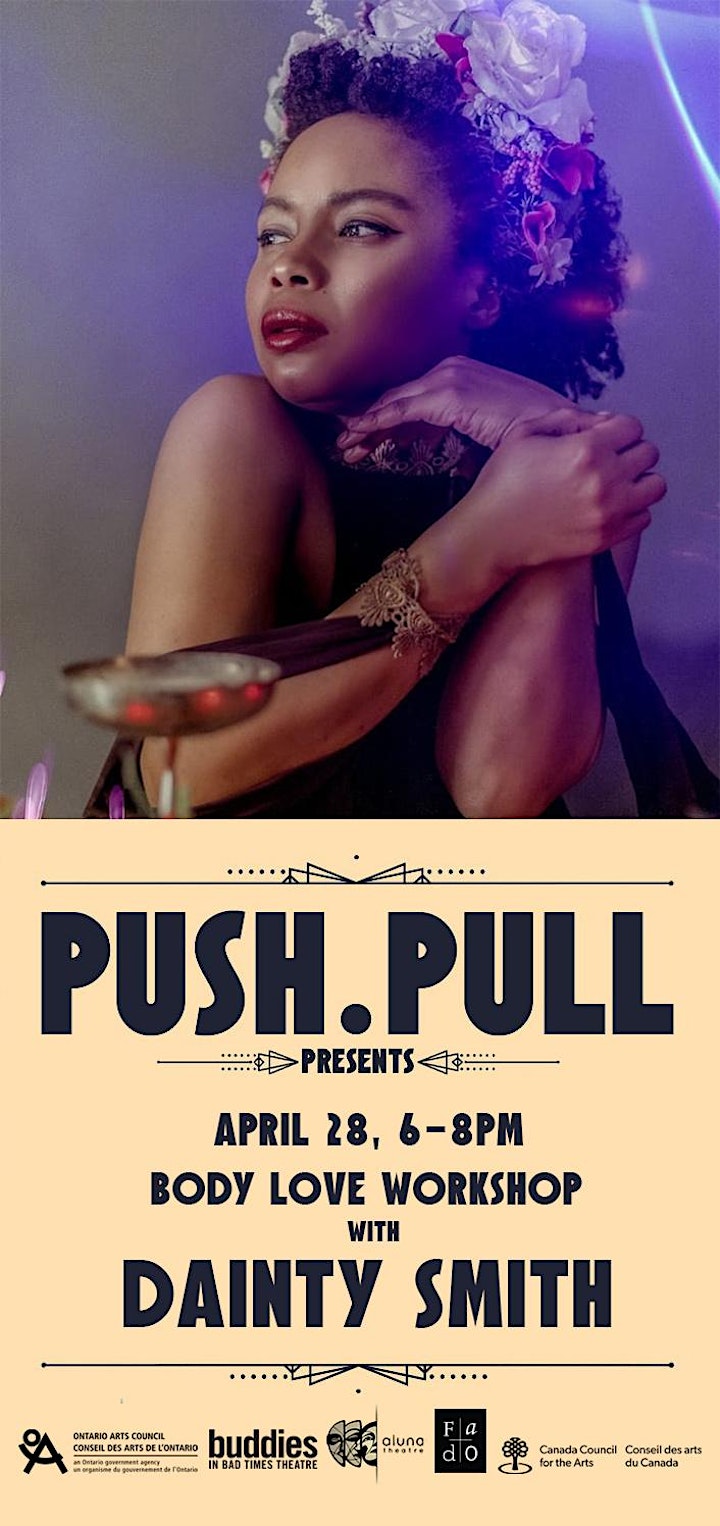 The BODY LOVE with DAINTY SMITH is a 2 hour introductory lesson in the art of storytelling through burlesque.
Date and Time: Wed Apr 28 6-8p
Registration is required for this workshop. Capacity 15 people.
The Body Love workshop program created by Dainty Smith and multidisciplinary artist Ravyn Wnzg.
Body Love is a burlesque and storytelling program designed to empower women, femmes, persons and Queer and Trans persons through theatrical elements, dance and performance development. Body Love is a series of movement workshops that begin with self-love meditation exercise then move into movement and choreographic mentor-ship.
The workshop focuses on the love of our bodies – all shapes, sizes and abilities. The core foundation of this workshop is centered around empowerment, affirming body positivity, sexual empowerment and encouraging a deep sense of self and confidence.
For more info about PUSH.PULL Showcases visit https://buddiesinbadtimes.com/show/push-pull/
For more information about PUSH.PULL workshops and artist talks visit https://www.alunatheatre.ca/programming/push-pull-intersection-of-qt-bipoc-cabaret-and-performance-art/
Artist Bio
Dainty Smith is a Toronto based Actor, Burlesque Performer,Playwright, Producer, and Speaker. She is the founder of Les Femme Fatales: Women of Colour burlesque troupe, the first burlesque troupe for women of colour in Canada.
Dainty believes that through the art of storytelling and a willingness to be exposed that genuine human connections can be made. Her performances often tell deeply vulnerable stories regarding race, religion, sexuality and challenging social boundaries.
Dainty studied performing arts at George Brown College and is a powerful self taught storyteller, performer, and orator. She acted in the acclaimed independent theatre group Les Blues. She was a co-producer in the performance art collective Colour Me Dragg. Her work includes, Allyson Mitchell's performance art piece Killjoy's kastle: A Lesbian Haunted House. Victoria Mata's multidisciplinary Callejon de Memoria: The Embodiment Of Memory. Assistant director for Shaunga tagore's play Letters To The Universe. Principal actor in Katie Sly's play Serenity Wild.
She wrote and self produced a multidisciplinary play titled Daughters Of Lilith. The second play by Dainty Smith is titled Blood And Memory. Her diverse array of stage performances include the Mayworks Festival, Rock. Paper. Sistahz for B Current Theatre, Caminos Festival for Aluna Theatre, The Rhubarb Festival at Buddies in Bad Times Theatre, Artscape, and Daniels Spectrum Theatre.
Instagram: @daintysmith