PUSH.PULL presents Writing Comedy Workshop with Anasimone
Writing Comedy with Anasimone George is a 2 hour workshop focused on transforming ideas into stories. Date and Time: Wed Feb 24 6-8p
About this Event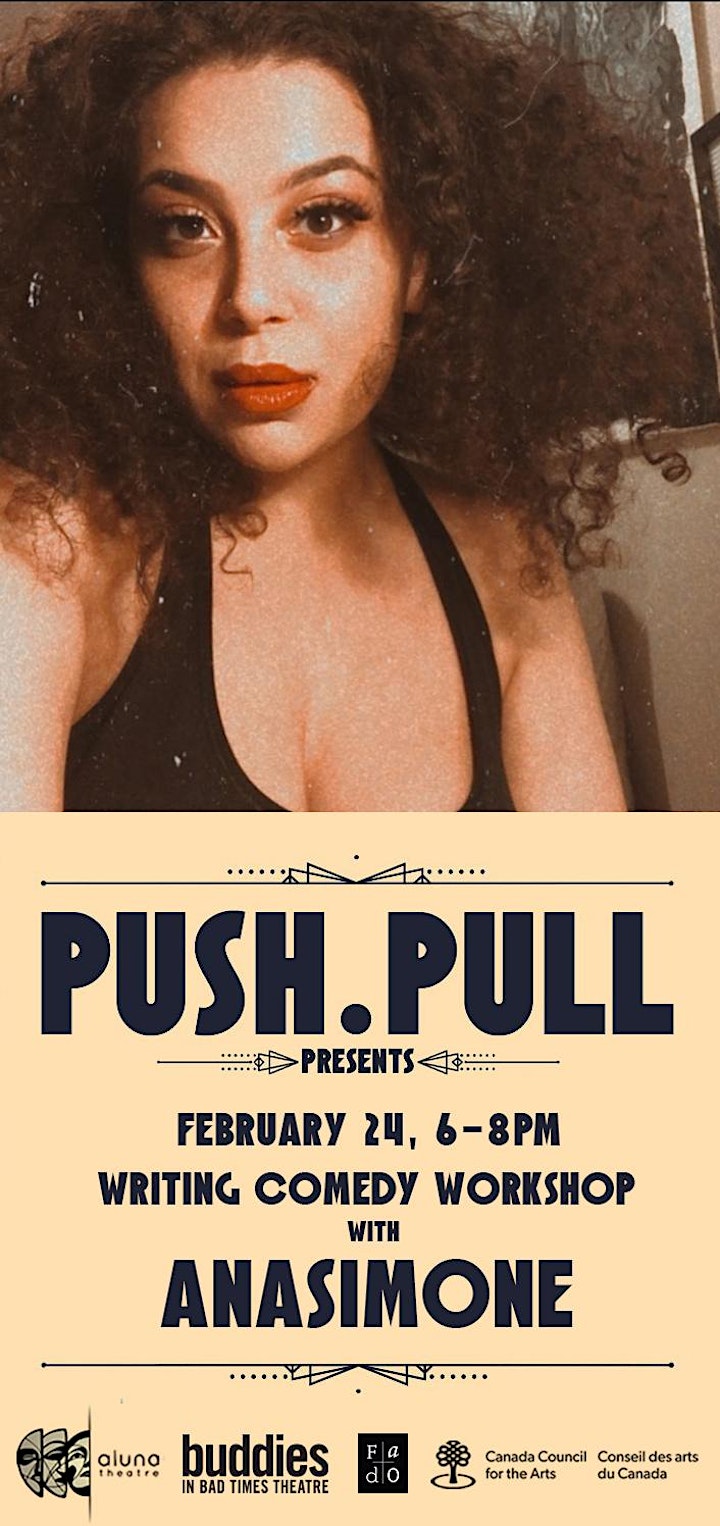 WRITING COMEDY Workshop with ANASIMONE GEORGE is a 2 hour workshop focused on transforming ideas into stories.
Date and Time: Wed Feb 24 6-8p
Registration is required for this workshop. Capacity 20 participants.
Have a story you tucked away because you didn't know what to do with it?
Have you hit a writers-block-wall?
Want to learn how to be funny?
Well, I can only show you how to do the first two things, sadly I can't teach you how to be funny. In this two hour workshop we'll discuss what to do with ideas and concepts, how to lengthen/shorten stories, and how to transform them into different mediums, and… when it's time to put the pen down and stop writing. 
This will be a *very casual workshop* so don't be scared! Lets hang out and laugh together. This will be a coffee-shop style workshop so please don't feel pressured to have the perfect joke or concept, just bring an idea, a cup of tea, and lets get chatting. 
*For folks of all levels.
**Bring a pen/notebook, or just your clickity clackity keyboard, or nothing at all!
Artist Bio:
Anasimone George is a comedian and producer from Toronto, known for her wildly descriptive stories (sometimes a little too descriptive). She is known for producing, hosting, and causing a general ruckus. She has a bunch of credits that don't actually matter, so just trust this bio and hope for the best! 
Instagram: @the.anasimone
+ Don't miss Anasimone perform at PUSH.PULL: TAUNT! For more info about PUSH.PULL Showcases visit https://buddiesinbadtimes.com/show/push-pull/
For more information about PUSH.PULL workshops and artist talks visit https://www.alunatheatre.ca/programming/push-pull-intersection-of-qt-bipoc-cabaret-and-performance-art/