Description
Hosted by the Miistakis Institute and the Alberta Riparian Habitat Management Society (Cows and Fish)
Context
Beavers keep water on the landscape, leading to landscape stability and resiliency which benefits ecosystems, land owners and land managers. In parts of Canada and around the world, beavers are becoming increasingly valued for their role in watershed health including, but not limited to, improved water storage, stream temperature moderation, reduced stream velocities, and habitat creation. As a result, beavers have gained recognition as a tool for climate change adaptation and species-at-risk recovery. There is a growing interest in Alberta for using beavers as a tool for watershed restoration.
The "Putting Beavers to Work for Watershed Resiliency and Restoration" collaborative has been exploring the role that beavers can play in watershed restoration in Alberta. To date, the collaborative has focused its efforts on generating awareness about the role of beavers as ecosystem engineers and promoting coexistence through the demonstration and implementation of various coexistence tools. Through this work we have identified the need to bring stakeholders together to reflect on and highlight some of the great work that has been on-going within the field of beaver coexistence in Alberta and surrounding regions. There are a variety of groups, ranging from municipalities to environmental non-government organizations to land owners and researchers, who are doing important work to advance the use of beavers to realize watershed health. These efforts will be highlighted and celebrated at the 'Putting Beavers to Work for Watershed Resiliency and Restoration Symposium' in an effort to pass on knowledge of lessons learned and new research to those working to see beavers and humans mutually benefit from coexistence.
Purpose
The purpose of this symposium is to bring together a diversity of stakeholders interested in beaver coexistence to showcase outcomes of past and on-going beaver coexistence work and to discuss lessons learned and how we can continue to move forward with fostering coexistence with beavers.
Symposium Themes
Presentations and panel discussions for the symposium will be focused on three theme areas:
Beaver Ecology, Biology, and Research: research initiatives and contextual background information on beaver ecology and life history.

Beaver Management in Alberta: current regulation and management, social tolerances, watershed health impacts.

Human-beaver Coexistence Approaches: including collaborative outreach work, private landowner experiences, and municipality experiences
Agenda (December 7, 2017)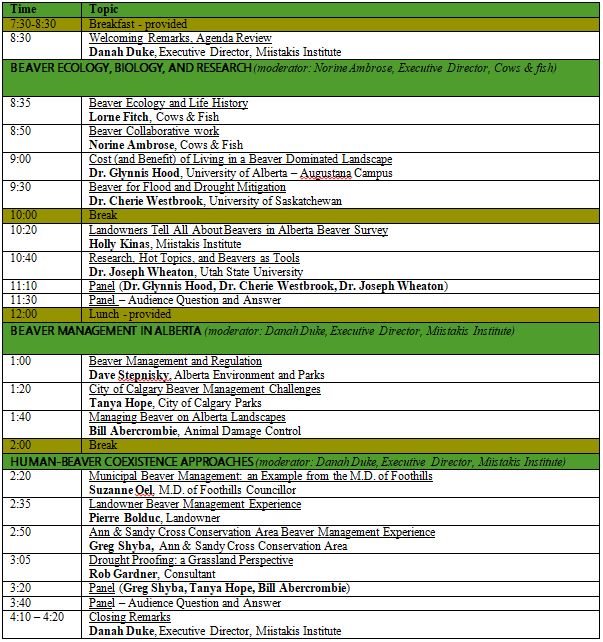 Audience
The targeted audience includes: government agencies, municipal staff (operations, ecology, agricultural fieldmen, rural extension staff, planners, and councilors), academia, ENGOs, land owners, land managers, media, and anyone with a desire to learn more about beavers and how to coexist with them.