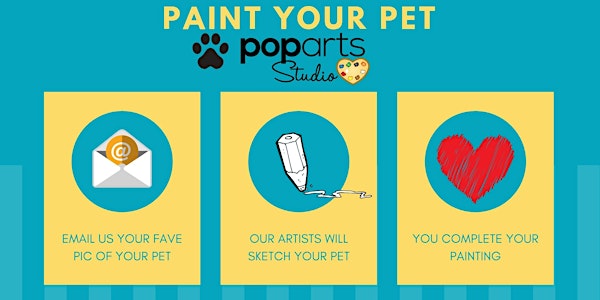 PYOP Paint Your Own Pet - Customized Painting Experience
Event Information
Location
PopArts Studio
8180 11 Street Southeast
#600
Calgary, AB T2H 3B5
Canada
Description
PYOP - Paint Your Own Pet
Doors open at 7pm / Painting Starts at 7:30pm
Imagine being able to paint YOUR beautiful pet. Whether you are lucky enough to have your dog, cat, bird (or other) with you, alternatively maybe your beloved pet has passed. We want to immortalize your special friend/family member and have an amazing customized painting event where you get to paint a beautiful and colorful painting of them and take it home for you to keep.
This is how it works.
1. Send us your favorite picture of your pet
2. Our Artists will do their magic and sketch a custom hand made portrait of your pet and create a cool background ( in pencil outline )
3. You attend our PYOP Night and you can get paint in your pet with our carefully selected paint palette that will allow you to paint your pet as he/she looks
4. Our Artist will instruct you in a class environment and guide you with step x step instructions to paint your very own special pet with a cool Pop Art Themed background
5. Take Your Painting Home and Enjoy your beautiful painting!
Location
PopArts Studio
8180 11 Street Southeast
#600
Calgary, AB T2H 3B5
Canada
Refund policy