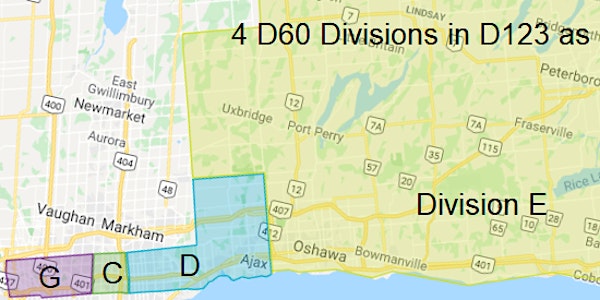 Multiple dates
Q& A Session - Draft #1 D123 Alignment Report for D60 Clubs
1 Hour Q&A Session to answer any questions that D60 Presidents / VPEs & Area Directors have about Draft #1 of the D123 Alignment Report
Date and time
Mon, Jan 18, 2021 3:45 PM - Sat, Jan 23, 2021 11:15 AM PST
About this event
Club Presidents / VPEs & Area Directors of clubs north of Dixon/Lawrence Ave in Toronto or Division E in District 60:
Thank you to all Club Presidents / VPEs & Area Directors that responded to our Alignment questionaire sent in November / December.
Draft #1 of the District 123 Alignment Report has been released for your review at www.toastmasters60.com/alignment123/ in Excel and PDF formats. As part of our annual review process, some changes have been recommended to re-balance Areas and Divisions due to growth in some Divisions and decline in some Areas.
Your questions and feedback are welcomed at one of our 1 hour Q&A ZOOM sessions on Mon Jan 18 from 7 to 8 pm or Sat Jan 23 from 1 to 2 pm. Your feedback and any changes in the status of clubs will help develop Draft #2 to be released on Feb 12th. You will vote on Draft #3 at our District Council Meeting on Sat Apr 17, 2021.
This session will include a 20 minute overview followed by answers to your questions.
Please send in questions in advance to alignment123@toastmasters60.com and register for one of the two dates.
About the organizer
We are part of Toastmasters International's family of 123 Districts, serving Canada's greater Toronto area (GTA) and Eastern Ontario. We're a not-for-profit organization, which through our Distinguished Club Program, focuses on developing communication skills (i.e. public speaking, presentations, event hosting, group facilitation, confidence building, etc.) and leadership skills (i.e. team building, evaluation, delegation, event planning, project management , etc.).
We are 4,500 members strong, with over 205 clubs (and growing), in 45 areas, and 9 Divisions within our geographical boundaries.