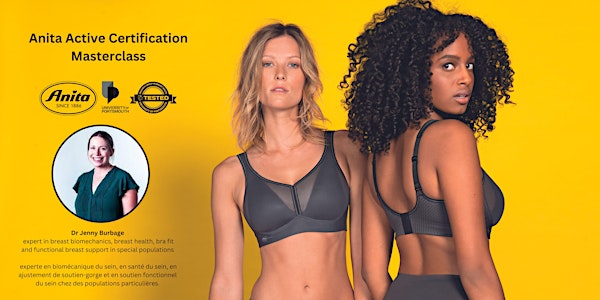 Q&A session with Dr Jenny | Questions pour Dr Jenny
The head of Research on breast health will answer you questions La responsable de la recherche sur la santé des seins vous répond
About this event
Add an ACE in Sports to your repertoire
Get your ACE Sport Certification
We are launching a new certification class in partnership with Portsmouth University, UK
The Anita Active Sport Bra free masterclass
The Anita Centre of Excellence (ACE) is your online training platform for increased sales success. The new Anita Certification Sport Bra free Masterclass was created by Dr Jenny Burbage, researcher in breast biomechanics, breast health, bra fit and functional breast support in special populations (such as maternity). The masterclass includes a detailed course on Anita Active hero styles.
For the initial launch, a one time only live session with Dr Burbage is planned for  October 19th at 3pm (EST). During this online live session you will be able to ask your questions* to Dr Jenny! Sign up for the live session here. The session will be conducted in english.
*We highly encourage you to complete the masterclass before the live session.
-------------------------------------------------------------------------------------------
Ajoutez un ACE in Sports à votre répertoire
Obtenez votre certification ACE en sport
Nous lançons un nouveau cours de certification en partenariat avec l'Université de Portsmouth, au Royaume-Uni.
La masterclass gratuite sur le soutien-gorge de sport Anita Active
Le Centre d'excellence Anita (ACE) est votre plateforme de formation en ligne pour un succès commercial accru. Le nouveau cours de maître gratuit sur le soutien-gorge de sport Anita Active a été créé par le Dr Jenny Burbage, chercheuse en biomécanique mammaire, santé des seins, ajustement des soutiens-gorge et soutien fonctionnel des seins dans des populations particulières (comme la maternité). La masterclass comprend un cours détaillé sur les styles de héros Anita Active.
Pour le lancement initial, une session unique en direct avec le Dr Burbage est prévue le 19 octobre à 15 heures (HNE). Pendant cette session en direct, vous pourrez poser vos questions* au Dr Jenny ! Inscrivez-vous à la session en direct ici. La session sera présenter en anglais.
*Nous vous encourageons vivement à suivre la masterclass avant la session en direct.