Description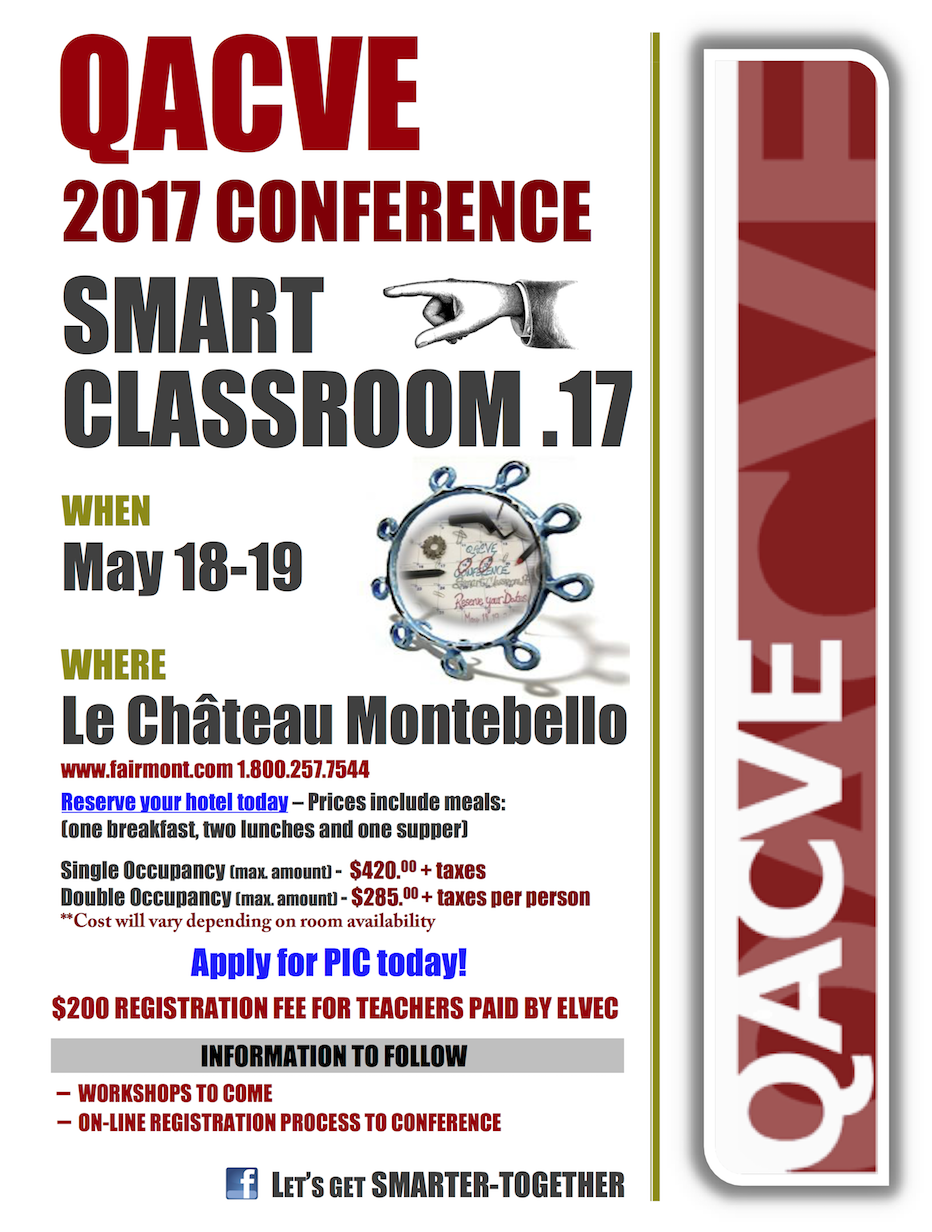 QACVE
QACVE is a sub-committee of PROCEDE and plays an active role in supporting its member school boards in the following areas:
Pedagogical organization
Program content
Program evaluation
Student evaluation
Student certification
Teacher in-service activities
Complementary services
The Coneference
This biannual conference gathers vocational education teachers from the nine English School Boards of Quebec. It is always a highly anticipated conference because it offers a rare opportunity to bring together teachers from across the province to listen to experts speak directly to the realities of teaching in vocational education.
The Hotel
Come enjoy these content rich workshops and great networking opportunities located in the beautifully appointed Montebello Chateau Fairmont in Quebec. Please register at the hotel directly by either calling 1-800-257-7544 or visiting their website at: http://www.fairmont.com/montebello/
Le château Montebello
www.fairmont.com 1.800.257.7544
Reserve your hotel TODAY and ask your PIC for hotel and travel expense. Prices range from 235$ to 285$ double occupancy. Prices range from 320$ to 420$ plus tax for single occupancy. Includes room & meals (1 breakfast, 2 lunches and 1 dinner). Get these excellent prices by giving the PROMO code: QACVE
The Registration Cost
Please note that for the teachers the registration fees will be paid by the English Language Vocational Education Council (ELVEC) provided that along with your registration you sign in once on site. As for consultants and administrators, your registration fees will not be covered by ELVEC so please prepare a 200$ check payable to PROCEDE and bring it with you to be handed in at the conference
Please note that you will be asked to create a free account using Sched to register for your specfic workshops.
Questions
If you have any questions regarding registrations please feel free to call Mr. Charbel Mourad at (514) 422-3000 extension 31522.