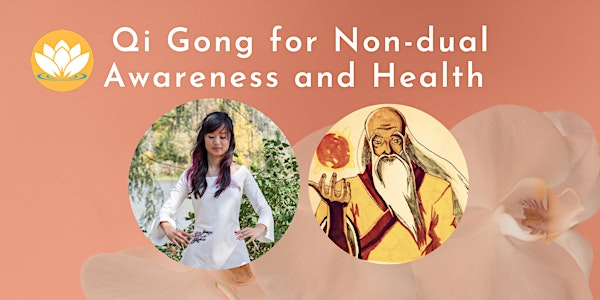 Qigong Applications for Life -The Eye in the Storm (Sundays 10AM ET) JULY
Refund policy
Contact the organizer to request a refund.
Eventbrite's fee is nonrefundable.
Emptying the Mind for Inner Harmony
About this event
Application of Qigong for daily life: "Being the eye of the storm"
Emptying the Mind with us on Sunday!
Excellent class for building on existing practice of qigong.
In our day to day lives, we experience a lot of events, conversations or life changes that leave us feeling disempowered, hopeless, or tired. This is a common experience and our qigong classes focus on accepting and if suitable, gently changing the energy around those challenging experiences using "chi".
It may not go away completely at one time, but we start to build our little muscles in 1) observing our energy (ie., feelings, body state), 2) noticing intraceptively where 'stuck' sensations are in the body; 3) how to make gentle shifts in ourselves.
I welcome participants from all walks of life, and we have a respectful and safe shared space of the qigong practice lead by Jacqueline Chan, MA & her mother, Master Teresa Yeung. Our shared intentions and practice start to make gentle shifts in our energy which bring gentle, gradual and powerful changes in our lives.
We change our relationship to those inner experiences and open the channel for a path to lasting tranquility, hope, and optimism.
~~~~
Our instructor, Jacqueline Chan, has been learning Qi Gong from a young child along with her mother Master Teresa and Grandmaster Wu for about two decades. With contining Qi Gong practices and training, she has been developing her style in balancing the mind and spirit to improve inner harmony by releasing challenging heart-based experiences. She also has successfully integrated many learning lessons from a challenging youth, where she did not fit in. As an unconventionally deep/sensitive youth, she was also discovering her sexual orientation that went against the grain of her previously conversative religious peer-groups.
As a scholarship-minded person, she takes an integrated approach to qigong, bringing in both the foundations of energy and the intersection of mind-body, to achieve harmony in living in a chaotic and moving world. She has spoken and demonstrated Qi Gong in conferences and symposiums.
She has a background in psychology, early childhood studies, clinical research, and is currently studying psychotherapy through a Buddhist/Daoist theological lens. In her class, she likes to bring some of her learnings to shine and inspire you!
Will you be interested to explore how to empty your mind with Qi Gong and bring in a new harmony with Jacqueline?
~~~~
West meets East perspective
Emptying the mind is to go to the awareness beneath the form of thoughts and images, also sometimes called "clear light" awareness...
Three Takeaways:
Challenging: Adding to participants' knowledge of mindfulness by introducing a movement form of mindfulness with a long tradition and lineage
Integrative: This is presented through an integrative perspective of West meets East with a scientific context
Actionable: Attendees can walk away with knowledge of a practice they can do anywhere and learn about the utilization of their breath
Types of practices:
Releasing
Emptying the Mind Practice
Active eight pieces of silk brocade
Better breathing, breathe easy qi gong
Stress-reducing 8 movement qi gong
Tai chi qi gong: Willowtree
Qi gong for office
EXCELLENT FOR
Reduce fatigue & burnout
Reduce stress & anxiety
Meditative movement & breath
mood swing eg frustrations
menstrual pain and issues
fatigue, sleeping problems
Tips:
Practiced sitting, standing, or modified
No equipment/mat or change of clothes required
A chair and a quiet space is best
(every month is a new link)
INSTRUCTOR: JACQUELINE CHAN, M.A.
Website:
http://www.chiwithjacqueline.com/
instagram.com/chiwithjacqueline
Facebook.com/purelandqigong (mother school)
PurelandQiGong.com/workshops (school)
Request for Personal Qigong Session:
Email: Chiwith Jacqueline@gmail.com
(with ability in the evenings in 40 minute and 60 minute sessions)
Jacqueline H. Chan is a research staff in the SickKids Research Institute as well as a member of The Mindfulness Project Team at The Hospital for Sick Children (SickKids). She is an instructor of Qigong (pronounced "chi-gong"). Jacqueline grew up in a Qigong school within the lineage of Master Weizhao Wu and Master Teresa, and has shared this peaceful traditional Chinese healing art in symposiums and conferences. Jacqueline has been providing Qigong to SickKids staff for over 2 years and is an active participant in Wellness programming provided by Occupational Health at SickKids. Qigong is a gentle and serene form of moving meditation, a kind of Mindfulness in motion that integrates one's body and mind.
She is dedicated to having a diverse and LGBTQ2+ inclusive space. Jacqueline Chan is currently studying for a Masters of Pastoral Studies, in Spiritual Care and Psychotherapy, at The University of Toronto. She has a MA in Early Childhood Studies and a BA in Psychology.
Learn more at www.ChiwithJacqueline.com.
This video is part of the project, Windvane: Paths to Wellbeing. Aimed primarily at students in higher education, Windvane offers paths for exploring how we can connect with our natural elements and energies, harmonizing and localizing them as strengths. The guide includes engaged exercises for self-assessing and promoting wellbeing and flourishing.
Windvane is created by Dr Frances Garrett of the University of Toronto with funding from eCampusOntario.