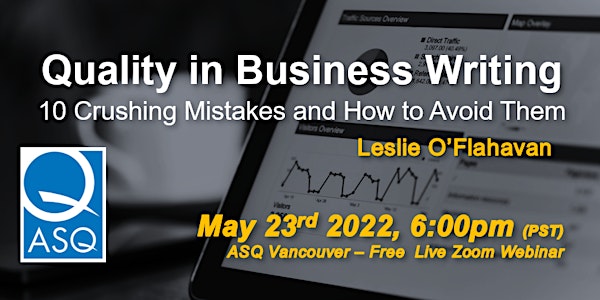 Quality in Business Writing: 10 Crushing Mistakes and How to Avoid Them
In this session, you'll learn which business writing mistakes hurt your document or email the most
About this event
ASQ VANCOUVER MONTHLY QUALITY AND EXCELLENCE PROGRAM
Quality in Business Writing: 10 Crushing Mistakes and How to Avoid Them
Free Webinar!
May 23rd, 2022, 6:00 pm to 7:30pm PST
REGISTRATION INSTRUCTIONS:
1- Register on this EventBrite page with your email.
2- We will send you the Zoom link and information by email.
Note: Please use the same participant name on Eventbrite and the Zoom in order to claim your RU receipt
Event info:
Everyone makes a spelling mistake now and then, and most of us have clicked "send" on an unfinished email. While it's embarrassing to make mistakes like these, you can probably recover from them with a quick edit, re-send, or phone call of apology. But some business writing mistakes, while common, will crush your reader's willingness to plow through your document or their ability to understand what you're trying to say.
In this session, you'll learn which business writing mistakes hurt your document or email the most. You'll review real writing samples of people who work in Quality and analyze whether they've committed any of these crushing mistakes.
You'll also learn strategies for planning and editing your document, so you can avoid these errors.
Takeaways:
• Learn how to ensure the most important parts of your writing get your best attention: your message, your request, your suggestion
• Practice using reliable proofreading strategies that will prevent you from embarrassing yourself or your company.
Come join us!
Earn Recertification units for your ASQ Certification by attending this event
About the Speaker
Leslie O'Flahavan is a get-to-the point writer and an experienced, versatile writing instructor. E-WRITE owner since 1996, Leslie leads customized writing courses for Fortune 500 companies, government agencies, and non-profit organizations. Leslie helps the most stubborn, inexperienced, or word-phobic employees at your organization improve their writing skills, so they can do their jobs better.
As a result of her work, Leslie's clients improve their customer satisfaction ratings, reduce training cycles, improve productivity, and limit legal risk. Leslie is a LinkedIn Learning author of six courses on topics including writing for social media; live chat and text; plain language; and technical writing.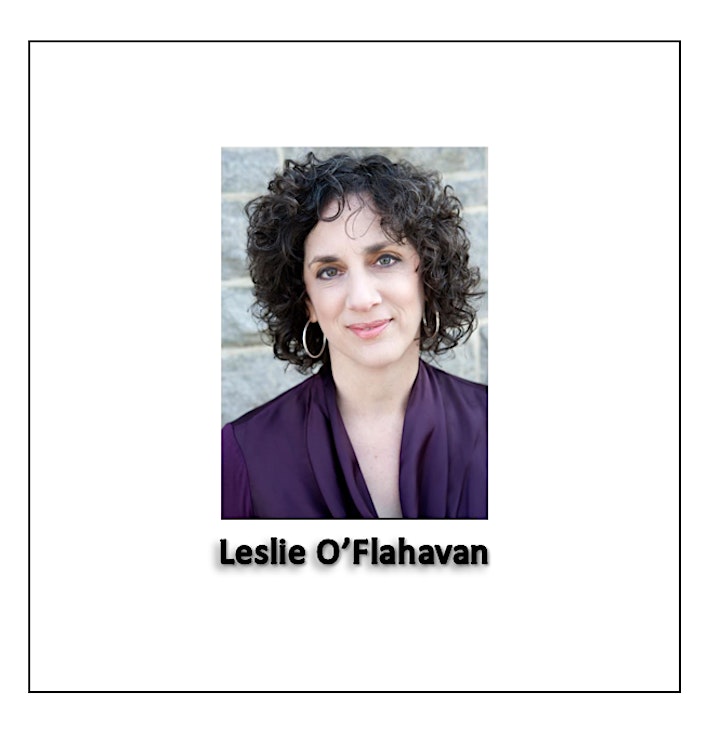 About ASQ Vancouver Section 408:
ASQ Vancouver (ASQ Section 408) has been advancing individual and organizational performance excellence in BC by providing opportunities for learning, quality improvement and knowledge exchange for professionals in quality management, risk management, and sustainability management since 1986. We have over 400 members across British Columbia.
Our objectives are to provide a valuable resource to our members for achieving professional excellence and advancement; to be a provider of information and learning opportunities for all topics related to quality; and to be a leader in operational excellence and delivering value to our local quality community.
Visit WWW.ASQ.BC.CA for more information about our monthly programs.