Quality in Public Health

Tuesday, 22 October 2013 from 8:00 AM to 4:30 PM (EDT)
Event Details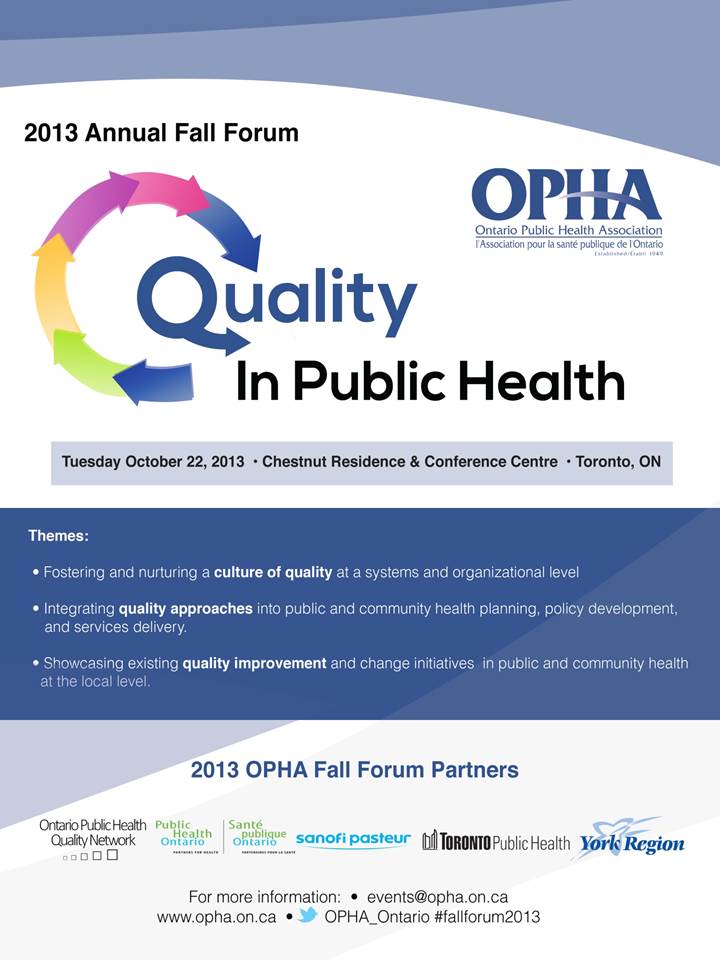 OPHA is excited to announce its 2013 Annual Fall Forum. As one of the most recognized public health events in Ontario, the Forum serves as a key knowledge exchange and networking opportunity around Ontario's most important emerging public health issues.

The theme this year is Quality in Public Health. The focus of the Forum will be on fostering and nurturing a culture of quality within the public and community health sectors and integrating quality approaches in policy development, advocacy, program planning and services delivery. Panels and plenaries of provincial experts and thought leaders including Public Health Ontario and Health Quality Ontario will discuss these issues and concurrent workshops will showcase new and innovative
initiatives in quality within public and community health at the local level.

OPHA invites you and your colleagues to join other front-line professionals, policy makers, researchers, management and executive-level leaders, partner organizations, academic institutions, government stakeholders, and many others interested in learning about creating a quality culture in public health in Ontario and application of quality approaches within the public and community health sectors.



Forum Objectives:                            
Provide a forum for discussion on how to foster and nurture a culture of quality at the systems and organizational levels

Showcase and explore different quality approaches that can be introduced in policy development, advocacy, program planning and services delivery.

Provide opportunity for networking among professionals in public and community health, and other sectors across Ontario

Showcase new initiatives in quality in public and community health at the local level
Topics include (but not limited to):

Why Quality?
What is the current culture of quality in Ontario's public health system?

Fostering a culture of quality in the health system: applications for public health
Challenges and critical success factors for implementing CQI initiatives in public health
Public Health and Health Links: Partners in Success
Implementation
of the Performance Management Framework for Public Health in Ontario
Implementing Plan-Do-Study-Act (PDSA) in public health
Implementing CQI approaches at the local level
and many more!
View the Program here
Confirmed Presenters:
Dr Vivek Goel, CEO and President, Public Health Ontario

Helen Angus, Associate Deputy Minister, Transformation Secretariat, Ministry of Health and Long-term Care
Dr Madelyn Law, Assistant Professor, Brock University
Tricia Willis, Senior Policy Analyst, Ministry of Health and Long-term Care
James Meloche, Senior Director, System Design and Implementation, Central East LHIN
Dr Kieran Moore, Associate Medical Officer of Health, KFLA Public Health Unit
Danielle Dorschner, Director & Executive Lead, Quebec, Accreditation Canada
Dr Douglas Woodhouse, Executive Director and Owner, ApixPerformance

Alex Berry, Quality Improvement Manager, Northwestern Health Unit 

Diane Vanecko, Acting Director, Central Support, Information and Surveillance, Niagara Region Public Health
Dr Jonathan Kerr, Primary Care Lead, Southeast Local Health Integration Network
Nizar Ladak Excutive Vice President and Chief Operating Officer, Health Quality Ontario
Be a Sponsor or Exhibitor!

We invite your organization to join OPHA and its partners in being a vital and visible part of advancing quality in public health. Click here for details

Networking Soiree for New Professionals and Students!
Are you a Public Health student or new professional? Looking for tips on navigating the first few years of your career? 
 
New professionals and students interested are warmly invited to join OPHA hosts Alex Mayer and Melanie Fortune on October 22nd for a relaxed evening of networking and informal mentorship. Here, you will have a chance to meet and network with six well-established public health professionals and OPHA members!  
 
The Networking Soirée is a wonderful opportunity to swap business cards and speak with public health professionals with a wide diversity of experience about their paths as well as your curiosities!

This is a FREE event following the Forum. Please click here for details.

Call for Abstracts
Call for Abstracts is closed. 
Lean Sigma White and Yellow Belt Certificate Workshops
Competency-based workshop provided in partnership with Leading Edge Group

Wednesday October 23 2013 (White Belt)
Thursday October 24, 2013 (Yellow Belt, Prerequisite: White Belt Workshop)

Toronto, Ontario
Seating is limited!

OPHA, in partnership with Leading Edge Group, an expert consulting company is pleased to offer up the: Lean Sigma Certificate Workshops at a great discount (delegates and non-delegates invited to register). A can't-miss competency-based workshop designed specifically for public and community health settings, these one day competency-based programs provide delegates with an understanding and appreciation of the Lean and Six Sigma methodologies and their relevance as part of a quality improvement framework. Delegates learn the key Lean Sigma tools and practices to achieve quality improvement and positive change in public and community health. Concepts are taught through relevant examples and case studies in an interactive workshop setting. Upon completion of the workshop, delegates receive  White or Yellow Belts in Lean Sigma for Public and Community Health. Participants who register for this workshop will receive a White Belt or Yellow Belt certificates of completion by OPHA and Leading Edge Group. 
Click here for details and to register!

OPHA Membership Discount

Become an OPHA member to take advantage of the discounted registration rate. For more information on the benefits of membership and to become a member, please click here.

Collaborating Partners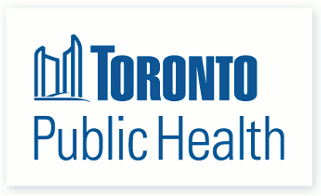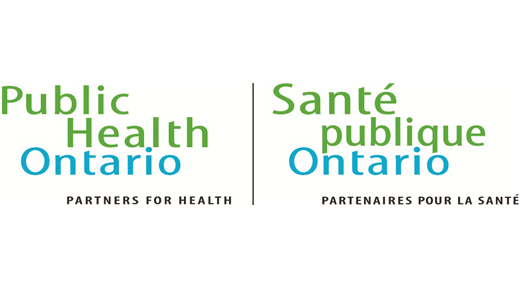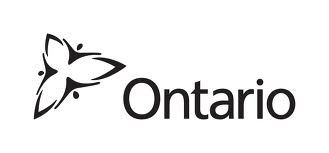 Sponsors

Have any questions? Contact OPHA!
Ontario Public Health Association
439 University Ave, Suite 1850
Toronto, ON M5G 1Y8
E: events@opha.on.ca
T: 416 367 3313 Ext 260
F:416-367-2844
About OPHA          
The Ontario Public Health Association (OPHA) was established in 1949 and is a not-for-profit member-based organization that provides a strong, unified, independent voice that is focused on advancing public health within Ontario.  We are unique in that we have partnerships with six other public health associations:  Association of Community Health Centres, Health Promotion Ontario, Community Health Nursing Interest Group-RNAO, Association of Supervisors of Public Health Inspectors/Canadian Institute of Public Health Inspectors and Ontario Association of Public Health Dentistry.  Through strategic partnerships with public health stakeholders, non-governmental organizations (NGOs), academic institutions, government and community health centres, OPHA has succeeded in influencing and addressing critical public health issues within Ontario and beyond. This has been done by engaging in knowledge exchange and transfer, creating forums for health professionals to dialogue on critical issues, providing advice on public health policy issues and strategies, programming and services delivery and building capacity within public and community health.
For more information visit www.opha.on.ca
When & Where

Chestnut Residence and Conference Center
89 Chestnut St
Toronto, ON M5G 1R1
Canada

Tuesday, 22 October 2013 from 8:00 AM to 4:30 PM (EDT)
Add to my calendar