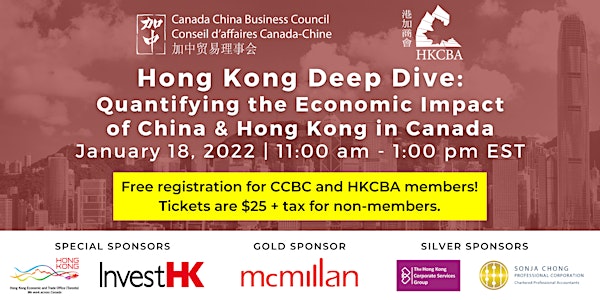 Quantifying the Economic Impact of China & Hong Kong in Canada
Join CCBC and Hong Kong-Canada Business Association for the release of a Hong Kong-focused addendum to CCBC-CIUA's October 2021 report
About this event
On January 18, join CCBC and Hong Kong-Canada Business Association (HKCBA) for the release of a Hong Kong-focused addendum to CCBC-CIUA's October 2021 report, China's Economic Impact on Canada. The October report included statistics on Hong Kong, but this Special Administrative Region of China has unique characteristics that warrant further analysis. Hong Kong is the second-largest destination worldwide for Canadian direct investment abroad, behind only the US, and it plays an important role as an export destination, an international financial hub, and a key part of the Greater Bay Area initiative. It also is a major contributor of Chinese investment into Canada. The report will examine the history and current status of trade and investment between Canada and Hong Kong, as well as an analysis of issues and trends that may influence Hong Kong's future role and relationship with Canada.
Join CCBC, along with HKCBA and our expert panelists, for a series of data-driven discussions and learn how your business can navigate and seize upcoming market opportunities.
This online event will feature:
Exclusive research findings from Jia WANG, Interim Director, The China Institute at the University of Alberta
Real-world case studies from leaders active in Hong Kong: Karen Cvornyek, President, Asia, B+H Architects; Callan Anderson, CEO, The Hong Kong Corporate Services Group; and Stephen Wortley, Executive Partner, Co-Chair, China Practice Group, McMillan LLP
Insights from business experts: Christopher Chen, Head of Investment Promotion – Canada, Invest Hong Kong (Canada); Sarah Kutulakos, Executive Director & COO, CCBC; and Emily Mo, Director, Hong Kong Economic and Trade Office (Toronto)
An interactive Q&A with the entire roster of speakers, moderated by Cindy Ho, National Chair, HKCBA and Partner, DS Lawyers Canada LLP
Registration is free of charge for CCBC and HKCBA members; C$25+tax for non-members.
Special Sponsors:
Hong Kong Economic and Trade Office (Toronto) & Invest Hong Kong (Canada)
Gold Sponsor:
McMillan LLP
Silver Sponsors:
Hong Kong Corporate Services Group & Sonja Chong Professional Corporation
Sponsorships are available, please contact sarah@ccbc.com or nationaled@hkcba.com for more information.