Location
Alternity - Community Hub
333 Bloor Street West
Toronto, ON M5S 1W7
Canada
Refund policy
Contact the organizer to request a refund.
Eventbrite's fee is nonrefundable.
Gain clarity on your dream life, what is holding you back, and learn how to fearlessly follow your dreams
About this event
We all have a dream for what our lives could be like; who we could be if we were living our highest potential, and what our lives could look like if we followed the dreams and desires we have. Maybe you could be publishing that book you've always dreamed of, following a career path that has always intrigued you, or starting to pursue a life of world travel.
More often than not, this idea of our dream life becomes something rather imaginary and not realistic. As we grow up, we begin to experience the struggles of life and push away our dreams for a life that seems more attainable. We are not surrounded by people who are confident + following their dreams...
Whatever dreams + desires you have that you feel are unattainble for your life are absolutely not unattainable - we just have behaviors, beliefs, and wounds that prevent us from living the life of our dreams.
In turn, we don't end up believing that we can have that dream life, and we are blocked from physically beginning to manifest it.
In Quantum Visionary: Live your Dream Life, I will be inspiring and motivating you to follow your dreams. Through inspirational teachings, storytelling, and step-by-step practical practises, I will be helping you understand how the life of your dreams is possible and can become your reality. I will also be helping you uncover what is holding you back from living your dream life and help you heal from those setbacks in order to live the fullest, most fufillng life of your dreams. Through inspirational speeches, teachings, and practises, you will gain a clear understanding of exactly what is holding you back from living your dreams, and what you can do to heal these setbacks.
The truth is, we have only fallen asleep to the illusion that we can not live or follow our dreams. We have complete capacity and ability to follow our dreams and manifest them into our reality, if we choose to.
Self-sabatoging behavior, lack of self worth, and unconfidence are some of the major factors that play into why we don't follow our dreams. We hold ourselves back because of these common wounds and often times have absolutely no idea what we can do about them so that we can get on track in our lives and pursue our dreams. We don't feel confident enough or good enough, so we find ourselves sabatoging the opportunities we can have to live our dreams.
Pairing various practises that I have learnt, and life experience, you will leave this class with a toolbox of miraculous tools that you can use to begin to align to + live your dream life right away.
You will leave this class feeling clear about what is holding you back from pursuing your dreams and have a toolbox of practises that you can use to begin to turn your setbacks into comebacks as you take the next step into manifesting your dream life. You will feel inspired, motivated, and full of self belief that your dreams are possible and you have what it takes to achieve them.
This is for you, if (At least one!)
- You who wants to learn how to create your dream life, but need the practical tools to learn how
- You have dreams for your life and want to learn how to achieve them
- You are currently struggling with low self esteem, low self confidence, low self worth
- Are struggling with self-sabatoging behaviors (addictions, distractions, avoidance, etc)
- Are experiencing challenges in understanding what steps you need to take to get back on track with your life and pursue your dreams
- You need motivation + inspiration to keep moving forward in your life
- You want to gain clairty on what the life of your dreams actually looks like
- You are currently feeling really stuck, unmotivated, and unclear about your next steps in your life
- You are craving change in your life
You will get the chance to
- Gain clarity on your dreams
- Uncover the blocks you are facing to manifesting your dreams
- Learn how to overcome these blocks
- Create change that will help you align to your destiny
- Receive inspiration + motivation
- Learn practical tools + tips to help you manifest your dream life
Doors Open: 7:15pm
Event Ends: Approx. 9:30
*Pricing raises to $30 on June 2nd
**Want to bring a friend? Send an email to Sarah at sjsloan13@gmail.com for a special discount
***Can't attend live? No worries! If you purchase tickets, a recorded copy will be sent to you after the event.
.
Meet your Host
Sarah Sloan is an inspirational and motivational speaker, coach, teacher, and author. She has spent over three years studying all things self help, spirituality, mindset, philosophy and metaphysics and translates her widespread knowledge into coaching sessions, online courses, speeches, and books.
Sarah has always wanted to help others from a young age. Her open heart, empathetic nature, and her compassion for others mixed with her lived experiences with mental illness and trauma has allowed her to create a safe space to help other woman become the best versions of themselves and live their dream lives.
Sarah has suffered from both anxiety and depression and grew up without a healthy parents. She experienced a significant amount of bullying and struggled through the majority of her life. During this time, Sarah always felt that there was something missing from most peoples lives. She felt like it was abnormal that people would go through schooling, get a job, and live in the same town for the rest of their lives. She never saw anybody around her growing, changing, or following their dreams. Sarah always had a dream of travelling the world since she was a young age, but her family + societies norms made her feel like her dreams were not possible. She gave up on this and began to pursue life as a lawyer.
Sloan first had her spiritual awakening after batteling severe depression and anxiety and almost commiting suicide in 2017. Mental health paired with a physical health scare, Sloan began to try to answer life-long questions that she had such as "why are we here," "where did we come from," and "what is my place in this universe," which opened her up to the world of consciousness and spirituality.
Finding purpose, community, and inspiration from spirituality, Sarah went on to creating her own online business.. Since, Sloan has found her place within the spiritual business world and has travelled (and lived in) Mount Shasta, Los Angeles, Vancouver, Squamish, Banff, Sedona, Three Hawaiian Islands, Salt Spring Island, and Vancouver Island.
Sarah has always followed her dreams and her passions, despite any mental health challenge or external adversity she faced. She found herself and her dreams to be more significant than any obstacle that was thrown at her. Sarah currently lives in Ontario, Canada and runs an Online Business where she coaches and teaches woman all around the world how to become the best versions of themselves and live their dream life.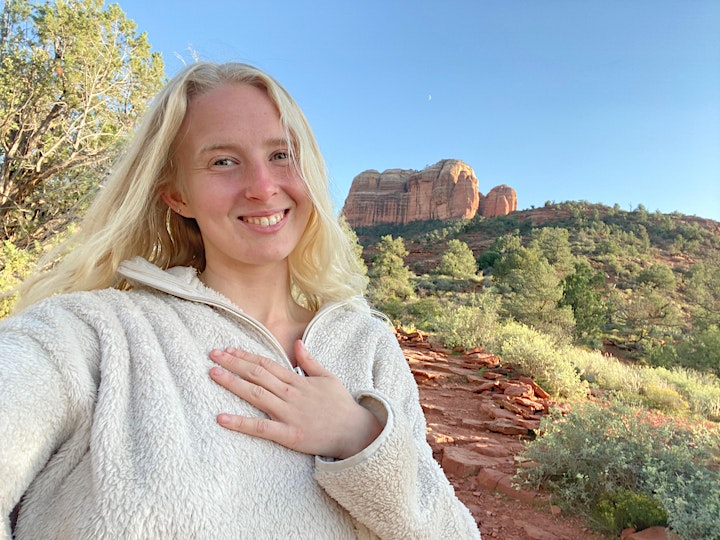 About the Venue, Alternity:
A visionary venue designed to incubate human connection with a thoughtfully crafted environment to facilitate meaningful interactions in realms of wisdom, ceremony and celebration.
The community hub for alternative thinkers, healers, creatives and evolutionaries.
Alter8ing the art of connection and community spirit with an inspiring event space, an innovative health bar and a local crafts market & visionary art gallery.
Alternity offers a well curated selection of delicious, made in house, drinks and snacks. The food is plant-based, organic and packed with nutrients.