Description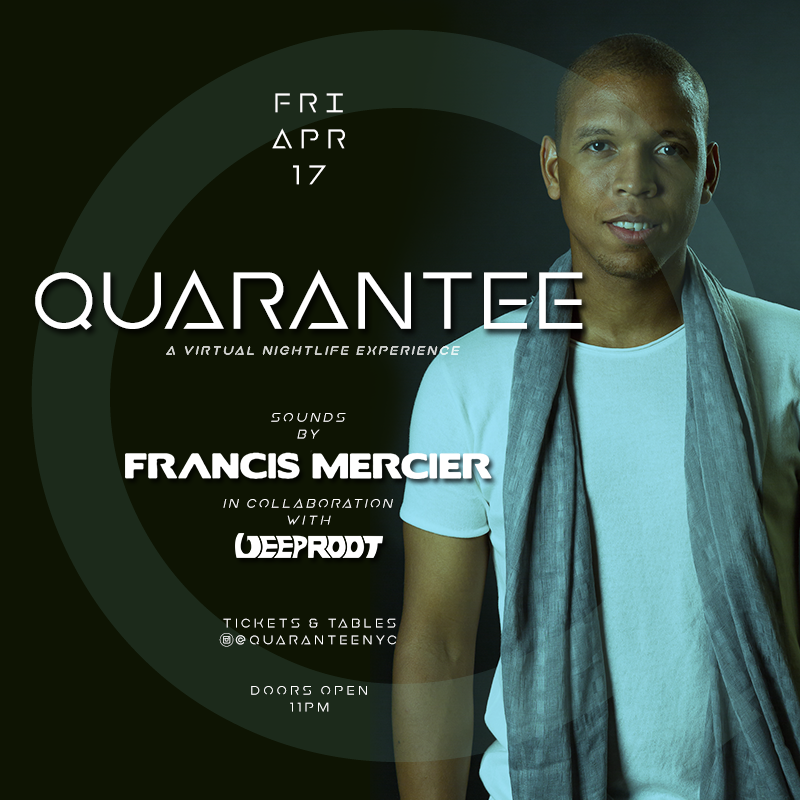 Quarantee - A Virtual Nightlife Experience
Quarantee seeks to virtualize a sophisticated but genuine nightlife experience. Elevating virtual clubbing to unprecedented levels, Quarantee engages internationally acclaimed DJs as well as truly magnificent performers. America's top nightlife promoters guarantee a vibrant and alluring party crowd. Besides general admission, Quarantee offers virtual VIP table service which entails private virtual space with full access to all features of the virtual club.
The outstanding team of nightlife enthusiasts behind Quarantee is devoted to creating cheerful memories in challenging times while keeping everyone safe, that is at home!
To find out more about the provocative concept based on an extremely elaborate utilization of Zoom, please visit @quaranteenyc on Instagram!
No Club without Bottle Service!
Order a craft cocktail kit or bottle of wine from Sourced Craft Cocktails here! Your cocktail kit will include a full 750mL bottle of alcohol, a 32oz batch of the cocktail ingredients - the freshly squeezed juices, homemade syrups/bitters flawlessly mixed into one batched juice bottle, a jigger tool for measuring and instructions on how to prepare your cocktail - giving you the same cocktail quality you'd get at a club but with none of the hassle. Order by 3pm EST for same-day delivery.

Five Easy Steps to Join a Quarantee Event
Enter the Meeting ID in Zoom! It will be posted on Instagram @quaranteenyc at 10pm on the day of the event.
Enter your Instagram handle as your Zoom name in exactly this format: @myinstagram with '@' in front! Otherwise the Meeting Host might not be able to find you in the Waiting Room.
Join the Zoom Meeting and you will arrive in the Waiting Room!
At 11pm or after, send your ticket to @quaranteenyc as a Direct Message! If there are multiple guests on your ticket, please also send a list of all of your guests' Instagram handles!
The door staff answering the Direct Message will forward your Instagram handles to the Meeting Host who will let you in.
About the DJ
Francis Mercier, Deep Root Records founder and label boss, is a force behind the New York City House Music scene as one of its most popular Producers and DJs. His diverse background, growing up in Haiti, finishing his studies at Brown University, traveling through Europe and now residing in New York City, has influenced his understanding of the genre on a worldwide scale. Francis now produces and performs different facets of House Music merging deep, melodic, and tech house with afro, soul and disco influences.
His unparalleled flair, originality, and presence have gained him access to some of the most coveted stages in NY (such as Marquee, Schimanski, Space Ibiza, Webster Hall, Pacha, Output and Lavo) and in major European cities such Munich, Zurich, Lisbon, Belgrade, Stockholm, and Paris where he frequently performs.
On the music side, Francis's records have reached the top of the Beatport charts, with tracks such as 'The Whole World' (released on Erick Morillo's Subliminal Records), 'Stereo High', 'Can You Love Me' and 'Waiting For' peaking at #5 in the Deep House Genre and trending on Spotify's most prestigious playlists. His latest 'Stereo Delight' EP peaked at #11 on Beatport's House Chart and received support from the likes of EDX, A-Trak, Roger Sanchez, and Lost Frequencies. His productions have been played on BBC Radio 1, Sirius XM, Radio 105 Italy, Radio FG, and NRJ France and have been heavily supported by Dance Music icons such as Tiesto, Pete Tong, Erick Morillo, Diplo, Skrillex, Oliver Heldens, and Don Diablo to name a few. His work has also been licensed by world-renowned companies such as Disney, Porsche, IBM, Netflix, Snapchat and more.
Nonetheless, Francis Mercier's artistry continues to evolve as seen by his underground alias, Emvafaya. This new and exciting brand provides a seamless weapon to his musical arsenal that has encapsulated a new audience around the globe. Emvafaya's first release 'Trippin' resonated with all music enthusiasts, including the underground masses.
Francis Mercier's vengeance to solve the world's hunger for original music has profoundly set a new standard within the entire music community!